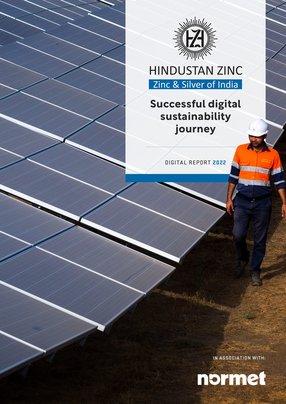 Hindustan Zinc's successful digital sustainability journey
Arun Misra, CEO of Hindustan Zinc, divulges the company's current position and how digitalisation plays a role in making underground mining sustainable
The Indian mining sector produces nearly 95 different minerals, consisting of fossil-fuel, metals, and non-metallic materials, as well as other minor minerals. But as some of the major polluting materials are phased out in years to come, the emphasis is turning towards materials with applications in new technologies for sustainable development.
As focus is shifting to more and more sustainable growth it is imperative that more and more steel used in building infrastructure are galvanised. This will reduce the need for replacement which accounts to almost 15% in infrastructure related steel consumption in India. Moreover, for a static energy storage solution, Zinc batteries will prove to be very crucial in the coming years.
Hindustan Zinc is responsible for the production of those desirable minerals as the second largest zinc and lead miner in India—and the largest producer in the world if you include its silver mining operations. The company was responsible for one million tonnes of metal concentrate produced in 2021 and its figures continue to increase as it witnesses major growth across its underground mining operations, which is something that's not so common across the country.
While the company continues to improve its output and profitability year-on-year—and act as a major contributor to sustainable initiatives—it has its own agenda to take care of, and this includes decarbonising its operations and ensuring the firm remains within its principles as a sustainable mining organisation.
To share just how the company will achieve this, Arun Misra, CEO and Whole Time Director at Hindustan Zinc, divulges its plans for the future and explains how it will promote responsible sourcing, decarbonisation and better use of natural resources.
A leader of mining and smelting
As a leader that is constantly learning, Misra was educated in electrical engineering at the Indian Institute of Technology in Kharagpur, before joining Tata Steel as a graduate trainee with a focus on maintenance functions. After he found a love for mining operations at the company, he began to climb the ranks as a leader, completing his stint at Tata as the Vice President Raw Material.
Putting his love for mining and knowledge of natural resources to use, Misra began work at Hindustan Zinc in November 2019 and quickly realised that India was very much developing its mining industry.
"It has been a very rewarding professional life. I've enjoyed improving my understanding of mining and producing metals & minerals. Mineral processing is my favourite subject aside from mining," Misra says.
He also explains that the global outlook of the business results in a successful turnaround of metals, as the price is dependent on the area in demand and the price within that area.
"At Hindustan Zinc, for the last two years, we have continuously improved our numbers in terms of production volume and profit. We are aware that the price of any metal is not in our hands, it is the factor of supply and demand across the globe."
Sustainability brings commercial mining success
In his leading role at Hindustan Zinc, Misra oversees sustainability at the company and its strategy is clearly aligned with the miner's plans for success. With targets in place, it will begin to show its sustainability credentials and expects to see achievements by 2025. Following this, the company expects to steer ever closer towards net zero by sourcing renewable energy solutions.
The firm expects to increase its renewable energy input through the procurement of 550MW of renewable energy—200 of them is closer by the day as it is in the process of signing a power purchase agreement (PPA).
A further action to reduce emissions across its underground mining sites is the adoption of all-electric underground mining vehicles, including transport trucks and loaders powered by solar energy. Not only does technology development enable this, but it also encourages a safer method of working in a highly dangerous environment.
"We are ready to face challenges in both directions, on the consumption front and the other on the supply front. Our target is to become completely green after 2030, which is one of the biggest challenges that every industry faces. This is more so for us as we operate underground mining and smelting, which are meticulous processes," says Misra.
Another section of the business that Misra deals with is permissions. Social licensing is one of the critical areas of the business alongside the responsible use of resources.
"We cannot relax while we are using water from lakes that is primarily meant for human consumption. We have to ensure that our operations use 100% reusable water supplies," says Misra.
Technology for safer and more efficient mining
As its operations involve venturing deeper underground—roughly 1km below the surface, Hindustan Zinc must navigate through different & varied conditions without compromising health and safety while making production more efficient. According to Misra, the Indian mining industry is not used to such high productivity and neither are staff, meaning there is a gap in the available infrastructure and talent.
Working with its partner organisation, Normet, the company is changing the landscape for mining operations with the inclusion of digitally enabled equipment that can be operated and managed above ground. This involves telecommunication capabilities and digital connectivity. In order for these solutions to work, these systems must be reliable in providing constant data streams between underground and surface-level operations to provide a real-time picture of progress and predictive monitoring.
Operating these systems requires the expertise of technical professionals and data scientists to analyse mining operations for both efficiency and safety underground.
"There is a lot of live streaming of data coming from the mines, and that data is analysed by data scientists to predict operations, forecast failures, and then carry out more predictive maintenance," Misra says.
The miner is also committed to the adoption of all-electric machinery for transport in and out of its mines as well as on-site loaders. Announcing this investment in July 2021, Hindustan is funding a complete switch from diesel in alignment with its sustainability goals.
According to Misra, Normet has become well integrated into Hindustan Zinc's operations. "Normet is a very important partner for us because in mining, you can't do everything by yourself. It requires a lot of supplies and support, for example, to carry explosives, charge the explosives," he explains.
"You also need various utility vehicles, including those for carrying people in the underground mine, during the declining, and when dropping them at workspaces. Normet does a very good job of that, and we have also signed a memorandum of understanding for the supply and joint development of electric vehicles."
As a 'win-win' scenario for both teams, Normet works with Hindustan's dedicated executive team to map out new developments, treating the company as though it is less of a supplier and more a part of the business.
A further feat of digital transformation is shifting procurement and marketing functions online, with almost 50% of its marketing processes through an online platform and nearly all of its procurement being carried out via digital means.
"We are slowly moving to digital—just like COVID-19 spurred other industries to adopt touchless services and contactless delivery. Face-to-face negotiation is a thing of the past; it's all ecommerce," says Misra, as he reiterates why the firm has shifted its procurement functions online.
Shaping the future of mining in India
As the firm moves forward in implementing its sustainable developments and environmental initiatives, technology and corporate strategy are going to play important roles in achieving them alongside its increasing output. The use of natural resources is critical as they shape the company's production as well as its procurement and operational resilience.
The treatment of water is a key area, creating a circular approach to its mining operations, but also in providing clean water for use by local industries and communities.
Misra says: "We have put up sewage water treatment plants in Udaipur. We are carrying out the treatment of the entire sewage generated from Udaipur City and releasing about 30% of treated water back to the river to maintain Ecological Flow for ensuring uninterrupted flow in the river and further usage by the community, whereas the remaining 70% will be consumed by our own industry."
Apart from its technology expansion, sustainable sourcing of goods and services—including renewable energy and the implementation of EV technology—its energy will be sourced from solar and wind power solutions, with excess energy stored for future use.
Beyond its mining and smelting remit, Hindustan Zinc will also look to support the development of Zinc-air batteries as Misra believes this is the next step in sustainable power storage—an industry that the mining firm will be heavily invested in.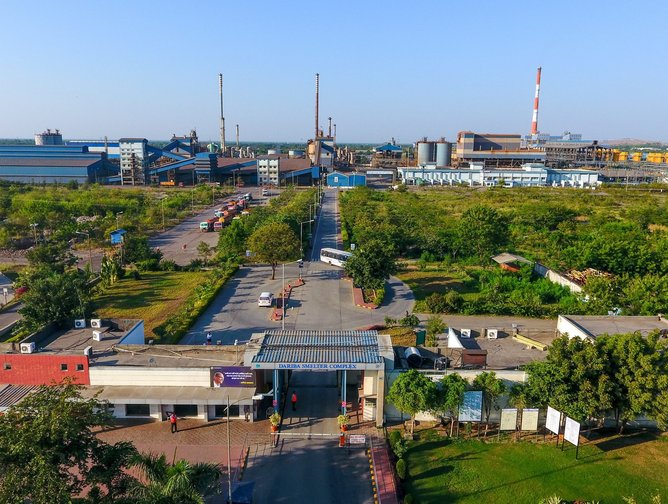 Dariba Smelting Complex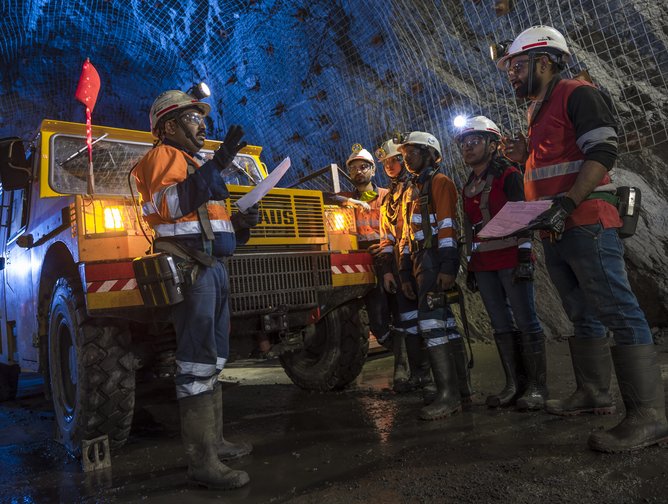 Employees having Discussion at Underground Mine, Rajpura Dariba Complex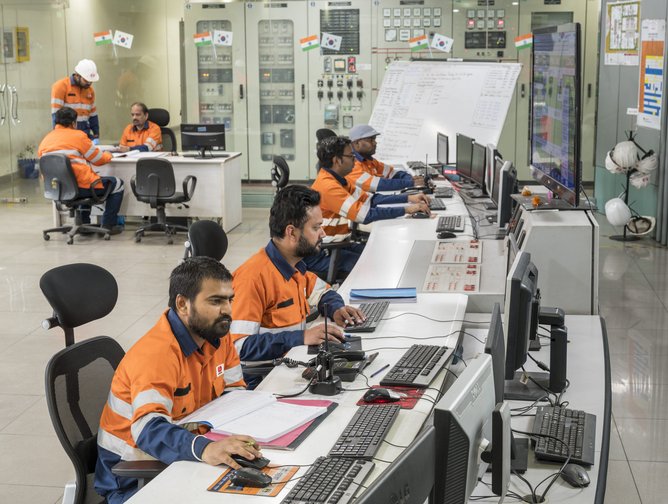 Employees at operational Site - Control Room at HZL Captive Power Plant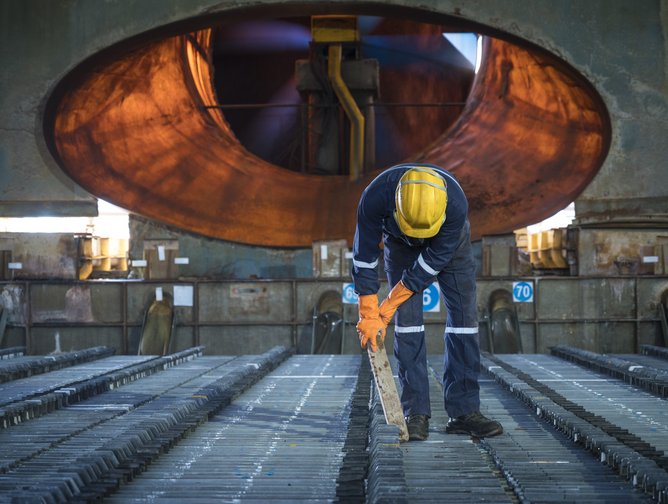 Cell House at Dariba Smelting Complex