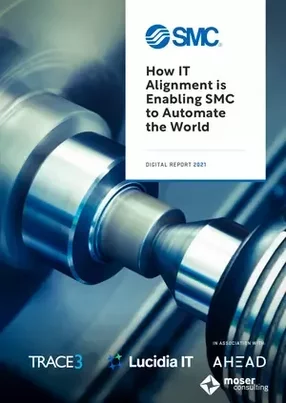 How IT alignment is enabling SMC to automate the world
Technology is the toolkit for SMC - the global leader in manufacturing pneumatic components
"IT alignment at SMC enables us to automate the world, allowing our customers to do incredible things", says Michael Loggins, Global Vice President of IT who is keen to give insight into how this global company is leveraging its digital transformation.
SMC is the global leader in manufacturing pneumatic technology for industrial automation that supports customers in every industrialised nation. The SMC Corporation of America is a subsidiary of the SMC Corporation based in Japan founded more than 50 years ago.
"Our vision is to take our awesome community of people and provide the enablers that allow SMC to automate the world. At SMC we're perfectly aligned with our customers, with our product and our vision, enabling our customers to automate their needs and help build a better planet," said Loggins, speaking from his office in Noblesville, Indiana.
He pointed out that during the past two years SMC has invested US$130m in IT as part of its digital transformation to accelerate their cloud journey, cyber security, streamlining and optimising the digital processes.
"We're the world's largest pneumatic and component manufacturer in the industrial automation space," said Loggins, who has been with the company 15 years. "SMC has offices in more than 83 countries, over 1,000 engineers in the US, the UK, Germany, China, and our headquarters in Japan, to develop these great products. 
"We also have more than 5,000 salespeople scattered across the globe and more than 8,000 people working tirelessly building and shipping out our products on a daily basis in different factories and logistics centres across the world."
Founded in 1959, in Tokyo under the name Sintered Metal Corporation (SMC) the company evolved from basic pneumatics to more sophisticated automation solutions which has granted SMC a global market share of 38%, and 65% in the Japanese market. With 12,000 basic products and more than 700,000 variations, SMC offers solutions from air preparation, instrumentation, through to valves, and actuators covering practically every single step in the automation process.
"At SMC, I have an awesome opportunity to work with amazing people to unify all the global SMC organisations around a common corporate goal and vision by using technology to change the way we deliver our products and help our customers," said Loggins who turned his back on a career as a music teacher to focus on a career in technology.
Each SMC production facility works to ensure the integrity of the best, most inventive designs, and to supply these products to customers with a focus on quality, lead time and cost control. The supply network includes their North American headquarters, production facility and distribution centre in Noblesville, Indiana. SMC's global network also includes facilities in South America, Europe, and Asia.
Digital transformation
Loggins pointed out the digital transformation at SMC is at different stages of maturity due to its vast global presence and highlighted how they are using Industry 4.0 to overcome legacy architecture with a focus on agile assessment.
"Our process efficiency may be slower in some spaces in terms of digital transformation because it wasn't as important to them in the past. Then we have places like the US, Germany, Austria, Hong Kong and Taiwan, where the digital journey needs are much higher, and we've been able to push further down that path," he said.
"For those that are doing a great job with their digital transformation we are offering next opportunities and next levels of maturity to their operations, and finding new ways to create better customer and employee experiences using technology. 
In those places where it hasn't been as important, we're starting to work with them on how to get those projects moving forward and get them into a place where we have a baseline for maturity across the entire organisation. Having that common base of what digital transformation needs to look like, is going to allow us to have a much higher impact across the entire organisation," said Loggins.
Centres of excellence
SMC's cloud journey - which is predominately in the SaaS space - has taken an intentional step during the past two years as they have been building cloud infrastructure. "The goal of that private cloud infrastructure is to design the new operating models that will allow us to leverage the multi-cloud capabilities in the future, and also allow us to consolidate and provide that baseline of technology capabilities across the globe. 
"This will give us the ability to consolidate and improve 83 countries worth of IT infrastructure, applications and capabilities, and then put in a new operating model that allows us to better disperse that technology across, across the entire world."
Loggins said SMC is actively looking at different Machine Learning (ML) and Artificial Intelligence (AI) models as they work towards building centres of excellence. 
"The most important thing is getting the correct data and to start getting some correlations built, leveraging ML technology to help us make quick decisions.  AI is important but a long way off for us, but we will be watching the developments and how we can integrate it into things like call centre applications, RPA applications, data management and data intelligence strategies.
"One of the biggest uses for us right now in the ML and AI space is in our operational technology areas. How we manage the plant floors, how we make better use of our factory resources, how we better plan, where we can leverage our people. For a manufacturing organisation that is one of the big capabilities ML can help us with."
"Technology is our toolkit" 
Commenting on how SMC is engaging its global workforce with digital technology, Loggins says there is no longer an issue with so many digital natives now in the workforce. But he points out the challenge today is matching the right technology to a specific business process.
"Adopting technology is not usually the hardest challenge anymore. Today, the challenge is finding the right technology that matches and enables the business processes, rather than finding a technology to put in because it's technology, we really need to find what the processes are and what the business value is to that technology. 
"Technology isn't our job anymore, we do our job by helping the company grow, but for us in IT, technology is our toolkit. We are very good at technology, we can find new ways of utilising technology, but we've become organisational change agents. We can't just put in and implement new systems, we have to work with the business to figure out how to best adopt those products and find ways to improve them once they're implemented."
Competitive edge 
Loggins said it is the vast range of products that gives SMC its competitive edge in the global market.
"We have a catalogue of products - way over a million parts that we sell - and we're able to customise those parts. We work with our customers to understand their applications. We're trying not to just sell components.  We want to work with our end users. We want to work with our machine builders to make sure that we are delivering value in our products, to what they're trying to build, to what they're trying to release to their end users and to their customers. 
"When you think about the number of engineers and salespeople we have around the globe, I believe we are uniquely capable of providing that to all our customers in a way that our competitors can't. We are also extremely healthy, so we can spend the capital we need to make sure that we can provide new capabilities as fast as possible.
"SMC has invested more than US$130m in the last two years, on increasing our capabilities in IT. That's primarily along the lines of our private cloud journey, and security implementations. But it's also in our capabilities of streamlining and optimising processes for communication, as well as collaboration amongst multiple departments and divisions across the globe. So, our company is very healthy in that manner which has allowed us to do many things that we couldn't do before with that investment."
Best practices 
Loggins commented how the US team has learnt from their Japanese counterparts on the methodology behind every decision and how implementing best practices from other parts of the world is proving beneficial. 
"It is not just about the technology, but by working with our colleagues in Japan we have a better understanding of why we're doing something. Everything we've seen from our Japanese partners is intentional and well thought out. We have gained a lot of maturity, and this has helped us out tremendously across the entire globe. We've matured from just being a technology team in IT to really enabling the business and leveraging our technology background to do that. 
"One of the things we've been able to do by communicating with these other groups is find a small nugget of information, or a new process, that we can leverage. We are able to cross-pollinate those ideas across the globe and get people to start thinking and talking about things very differently." 
SMC and sustainability 
SMC is dedicating a global business continuity plan for our factories and delivery capabilities as well as to focus on a more sustainable future. 
"We are dedicating a great deal of capital, time and people towards our drive for a sustainable future.  For several decades we have relied on centralised engineering and production, but as we keep growing we are now trying to diversify.
Our business continuity plan has a clear objective that we will be prepared for any emergency and have business activities quickly resume without any disruption. As we continue going forward we will make sure a single incident around the globe does not stop us from serving our customers. 
"IT has a huge part to play in this area. We've built out our private cloud, to make sure that when it comes to the data and capabilities of the systems, we're providing the same level of continuity across the globe so our factories can work, our logistics centers have the ability to ship, and our engineers can continue to design great products."
Loggins also pointed out that SMC is working to reduce CO2 emissions from both their factories and products. "If our products are more CO2 aware and less wasteful that allows our customers' factories to emit less CO2 gases and hopefully helps have a positive impact on the environment across the globe."
Partnership with Lucidia, AHEAD, Moser and Trace3
Lucidia has been a long-term partner of SMC and several of their engineers and team members have been a part of SMC's ecosystem. Trace3 is a newer partner but is helping SMC focus on its security. Loggins also commented on the valuable partnership with AHEAD and Moser.
"Lucidia has been a trusted architecture partner of ours for more than 10 years, helping us design and find new ways to build our infrastructure, to support the growth that we have around the globe. They are a partner that helped bring in Dell Technologies, Arista, VMware, and Palo Alto Networks to allow us to build these things that we're doing.
"Trace3 is a fairly new partner but has really allowed us to rapidly increase our capabilities at a security operations level, bringing maturity into a place that we didn't have before and helping us build an organisation that didn't exist six months ago.
"Cyber security is one thing that keeps me awake at night, so finding a great partner like Trace3 who has the ability to look out further than we were doing and get us prepared for what is coming next is huge.
"We've taken a systemic and mature approach to protecting the organisation, relying on our risk management capabilities, and then quickly identifying those risks and mitigating them. Creating a baseline and consistency of security practices and policies and technology across the globe, and making sure that we have a workforce of people across the globe that have enough awareness to be our best defenders.
"We've tried to take an overall approach from the enterprise space and then from the operational technology space, looking at the best way we can protect and grow that footprint, but also make sure that we balance the efficiencies and capabilities with the ability to secure, not only the operations, but our enterprise networks.
"In our constant pursuit of partnerships to advance our innovation initiatives, we've forged an incredibly valuable partnership with AHEAD. They have been instrumental in providing Program Management oversight and leadership for our data centre projects, in addition to their Day 2 VM configurations in-country. This investment in providing in-language and in-country resources to our global teams is instrumental to our global success as these resources ensure we are able to deliver a top-tier service and incomparable assets across multiple work streams. 
"AHEAD has been a valuable partner, offering the knowledge of their highly experienced global network and managing multiple work streams for our data centre builds around the world. In addition to these builds, they are helping provide Day 2 VM support, including an assessment of current conditions in targeted locations to evaluate our current global servers so we can understand the migration path to a new and centralised system."
Commenting on the partnership with Moser Loggins said:  "They have been an advanced strategic partner with SMC for more than five years. Their collaboration and contributions to our teams have been invaluable as we've relied on Moser for assistance in strategy development, Big Data conceptualisation and advanced technology stack development.
"Moser has been instrumental as they have worked on processes across SMC divisions as they contribute to the process analysis and recommended improvements throughout the entirety of the business. They've also done a great deal of work in maintenance and monitoring for North America, leading our efforts to patch and maintain our servers. Through this partnership, Moser has helped SMC streamline our processes and create easier systems for implementations." 
Smart factories of the future
Diving into operational technology will be a focus for SMC during the next 12-18 months. "This will be the biggest focus for us as operational technology will help us in figuring out how we are diversifying our factory capabilities and making sure those factories are smart. It will also help us leverage all the data to help make it more efficient.
"We will continue to find new ways to streamline our businesses and provide new capabilities to allow better collaboration across the globe, allowing us to better serve our global customers in a seamless manner," said Loggins.
ETech
SMC is expanding engineering resources and continually challenging their own innovations. The driving force is to make it easier for customers to do business with them which has inspired innovative design solutions and support in the shape of the foundation for the development and release of ETech.
ETech features several easy-to-use product selection methods, such as parametric selection, solution-based selection, and a hierarchical product catalog. Once a product is configured, 2D and 3D CAD models can be downloaded and inserted into final assembly drawings. In addition, online sizing is available to ensure the right product has been selected for each application. Because ETech is internet-based, you can view and download SMC product information at any time from anywhere.
 ETech represents a long standing digital transformation effort as a partnership between SMC Marketing departments and IT to deliver configuration support that allows customers to download 2D and 3D CAD configured parts to include in their designs.