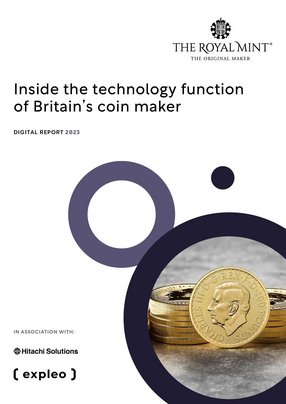 Inside the tech-led reinvention of Britain's coin maker
Richard Hobbs, Group IT Director at The Royal Mint, details how an innovative technology strategy is driving Britain's coin maker into the 21st century
The Royal Mint is a company that needs little introduction, at least not to the majority of the Great British public, coin collectors, or those interested in the Royal Family.
Founded more than 1,100 years ago in around 886 AD, the Mint – as it's colloquially known – is one of the UK's oldest brands and remains the official maker of British coins. It's also billed as the home of precious metals (think gold bullion bars) and recently launched a luxury jewellery collection called 886 by The Royal Mint.
That's without mentioning the illustrious commemorative coins side of the business, which continues to thrive, and the iconic Olympic medals it created for London 2012. It will come as no surprise, however, that The Royal Mint has had to digitally adapt to rapidly-evolving societal norms and technological advances.
Much of that responsibility has fallen to Richard Hobbs, Group IT Director of The Royal Mint, who joined just before the pandemic in early 2020. Hobbs has been spearheading The Royal Mint's technology transformation and implementing a five-year strategy that supports the organisation as it diversifies – which, he believes, is on the right track.
"We're transforming from a traditional manufacturer into a modern, digital-oriented organisation," says Hobbs. "And over the last five years or so, we've been very successful in our commercial diversification but also in introducing new technology into the business."
ERP 'critical' to Sustainable Precious Metals programme
Like all forward-thinking manufacturing businesses, The Royal Mint has come to recognise the undeniable importance of sustainability and, with that, is factoring sustainable practices into its everyday operations.
Later this year, The Royal Mint is opening a plant to recover precious metals from electronic waste. Once up and running, the precious metals recovery site is expected to process 90 tonnes of UK-sourced e-waste every week.
Clearly, then, The Royal Mint requires a powerful ERP system in the form of Microsoft Dynamics 365 for Finance and Operations to support this groundbreaking journey. The aim, Hobbs explains, was for this technology to support that entire manufacturing process – from the minute the e-waste is sourced, all the way through to products reaching the consumer.
That includes being able to track e-waste loads as they come in, manage the process of removing component parts, identify them, and then move them into The Royal Mint's business. Building an effective ERP system was therefore "critical", but also served as a huge opportunity for the tech team.
"There aren't many opportunities to implement a greenfield ERP in an existing business, so we were very quick to recognise it as an opportunity to test drive some of our assumptions and processes," says Hobbs.
"It's been a great learning curve for us to start on our ERP journey and, in fact, we delivered the MVP ERP within 15 weeks of inception. That was done by January and we're already at the end of phase two, which is implementing a second phase of change.
"It's been a really successful programme that's had a big impact on the business."
A cloud success story
The pronounced importance of cloud computing to modern living, technology and the manufacturing industry is well documented. The Royal Mint's IT transformation from on-premise to the cloud allowed for greater technological flexibility.
"Our new ERP sits on the cloud, giving us the ability to be really quick and nimble, keep it updated, and take on technology," says Hobbs. "But it also enables integrations to be fast and effective, allowing us to scale up the product during busy periods and to be elastic without even thinking about it."
Moreover, cloud computing has allowed The Royal Mint to enhance its data management and cybersecurity, both of which lie at the heart of the aforementioned technology strategy. A data management function has been created to appropriately surface information to the business, which is self-serving and maintains an organised, controlled, and secure data team.
Moving to the cloud and the implementation of modern ERP across the Mint has even helped change internal perceptions of the technology department, as Hobbs adds: "We're now seen as much more of an enabling function than a cost function. When the business is moving fast, trying new things, and diversifying quickly, it needs the technology to do it."
In pursuit of partnerships
The Royal Mint has been able to count on a whole host of partners to help carry out its recent technological transformation and activities.
Its primary partner within the ERP space has been Hitachi Solutions, which worked closely with The Royal Mint's tech team to implement the Dynamics 365 system managing the precious metals recovery site.
"We're essentially a public sector organisation, so we have to go through a procurement process," explains Hobbs. "When we spoke to Hitachi, from quite early on we recognised there was a really strong cultural fit.
"Knowing an ERP project is potentially two or three years long, we wanted to make sure we could work together. The technology itself is quite prescribed but, on the softer side of things, Hitachi were able to engage with us and support us in our decision making."
Also key was Hitachi Solutions' experience in working with similar organisations and its success rate in implementing Dynamics 365. This meant that, rather than simply responding to The Royal Mint's questions, project team members were able to add some colour to the conversations around what they'd seen before.
"We were so lucky," Hobbs continues. "Hitachi brought in a great project team who we kept for the whole duration; they engaged with The Royal Mint side of things really effectively. It felt like they were part of our own team.
"Hitachi Solutions has been a great partner of ours for about two years now, helping to shape our story and the build we've just completed."
Using Dynamics 365 and sitting within a Microsoft Azure cloud means the Mint has, of course, worked closely with Microsoft, while Optimizely provides its website platform. The emphasis from The Royal Mint's point of view is on gathering a small but focused group of partners that help the company push through its strategy.
"We recognise that we don't know the answers to everything," says Hobbs. "Picking our partners based on shared synergies and the ability to work well together is the driving factor for me."
Another important partner for The Royal Mint is Expleo, which has grown to become a force in the fields of engineering, technology and consulting.
"Expleo has supported the expansion of our commercial horizons," Hobbs says. "Their team's technical know-how enabled us to improve our development processes and increase efficiencies across the board.
"Expleo facilitated a re-platforming of our website and oversaw the testing process for our switch to a new payments provider. Through this engagement with Expleo, we've been able to expedite time to market with a new product line, unlock viable new revenue streams and become more commercially agile.
"Overall, this phase of automation has allowed us to focus resources on more strategic initiatives, increase productivity, improve customer satisfaction and boost revenue growth."
Growing technology talent
The Royal Mint is focused on working towards a sustainable future for its business and the environment, and this includes developing talent within the technology team.
Hobbs says: "Our technology function is robust and we want to ensure we're sustaining as well as attracting talent to the business."
The Group IT Director and his team have forged partnerships with the University of South Wales and the National Cyber Security Academy. They collaborate in a number of ways, including supporting students with projects and dissertations, attending speaking opportunities and sharing insights to provide students with case studies to aid their assessments.
"It's important for us as a team to engage with the local communities we operate in," Hobbs adds. "It also allows us to demonstrate the amazing local career options that we have on offer, helping us to attract talent into the business. We work closely with educational establishments and it's a mutually beneficial relationship; we offer our knowledge and, eventually, this may make its way back into the business via employment opportunities."
The tech team also works with the Network 75 scheme on technical apprenticeships, allowing students to gain hands-on experience at a world-renowned organisation. The Royal Mint hires directly from university, with three technology team members being employed via this route.
"It's important for me to ensure my team is happy, whilst delivering our technology strategy and offering a premium experience for our customers," Hobbs continues. "Our technology function provides lots of opportunities in which our staff can fully immerse themselves, whether that's working on our new ERP system on the cloud, data management, cybersecurity or working with our project partners."
What next for technology at the Mint?
The outlook for The Royal Mint is transformational, and its technology strategy plays a huge part in delivering some of these exciting plans.
The precious metals recovery site will soon go live and begin putting tonnes of e-waste to good use. Cybersecurity innovation and use of data to enhance customer experience is also on the agenda, as are various improvements to the website. It's projected that the ERP journey will be complete in around 18 months' time.
Furthermore, Hobbs predicts that AI and machine learning will become increasingly influential in both the technology and manufacturing spaces.
"It's really interesting to think about how we can harness new technology like generative AI," he adds. "What impact will it have in the manufacturing space? What can we teach it about our manufacturing processes to constantly enhance and develop them? The scope of potential innovation is boundless."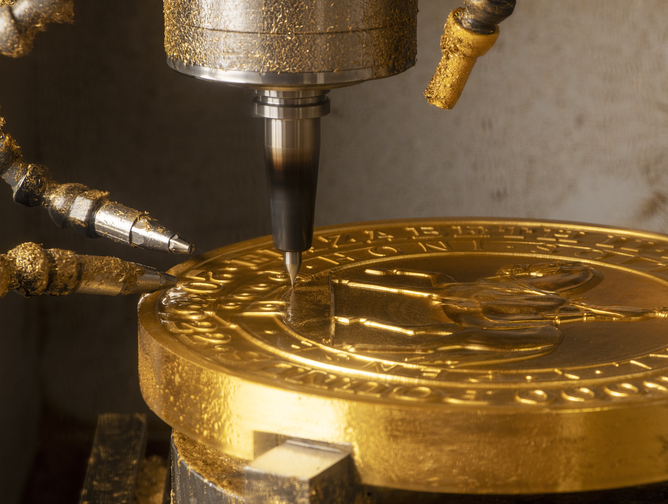 The Royal Mint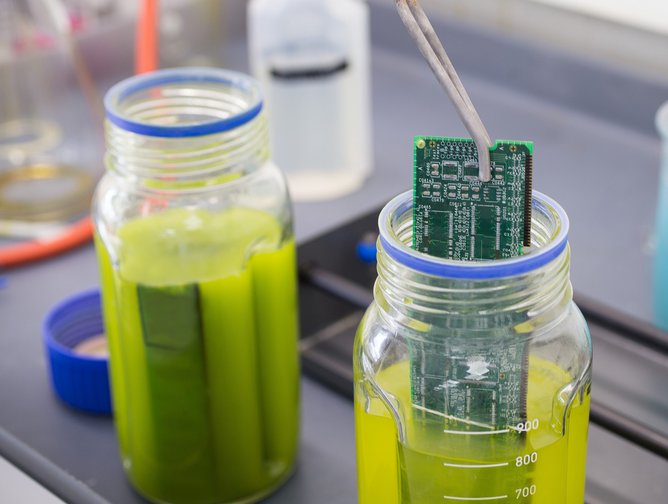 The Royal Mint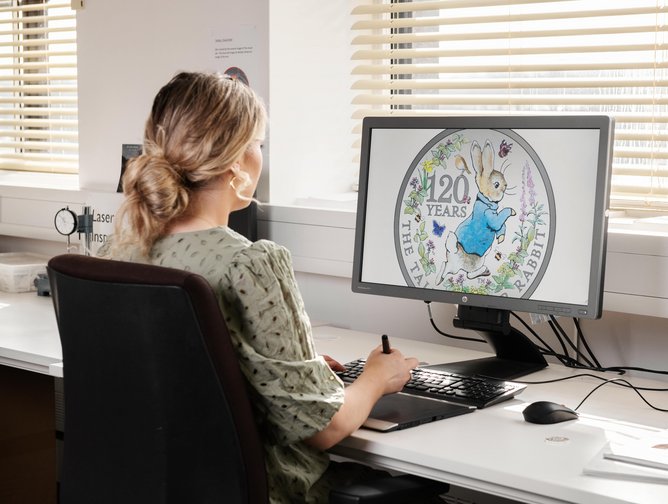 The Royal Mint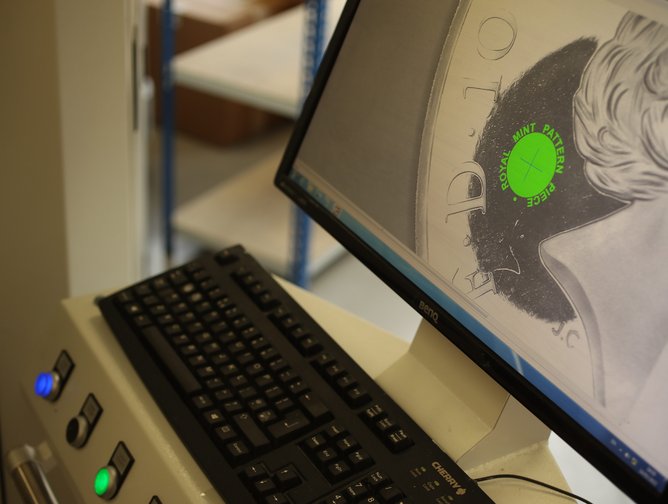 The Royal Mint