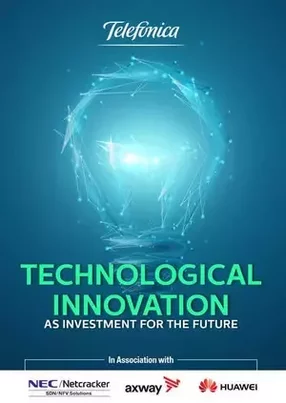 Interview: How Telefónica Central America is at the forefront of technological innovation
Telefónica Central América´s CIO, José Jesús Hijón, talks about digital transformation and innovation at the company...
It is a proven fact that the future of communications will be closely linked to the development of technologies and digitalisation.
Telefónica, leader in the telecommunications sector in Spain, Europe and Latin America, is performing an intense digital transformation process that will lead the company to offer better services to its customers and collaborators in a completely new way.
Business Chief Latin America had the pleasure of talking with José Jesus Hijón, current Chief Information Officer (CIO) for Telefónica Central America, about this transformational process and the challenges that await around the corner.
Hijón, with more than 10 years of work for Telefónica in European and Latin American locations, has developed his professional career in various departments within the company. His work has reported great achievements to Telefónica such as the company's technological implementation in Costa Rica in 2011 (where it operates under the name of Movistar).
Currently, Hijón carries out his role as CIO from Guatemala, managing and leading Telefónica Central América's immersion in the digital disruption.
"Technology is the main axis of Telefónica, which revolves around the business. In the end, at Telefónica what you are trying to do is to be at the forefront of technology and almost all the products and services we sell are based or born of that technology," begins Hijón.
The company is building its digitisation process on four fundamental pillars: the virtualisation of technologies in the cloud, the Telefonica collaborator's team, the digital experience of customers and the automation of internal work.
The virtualisation of technologies in the Cloud
The company created the UNIQUE Project in order to carry out a virtualisation of all its system and network platforms in its own hybrid cloud installation, integrated with Amazon Web Services and Azure. This allows greater availability and better use of infrastructure, important to meet online growth needs and incur lower costs
As explained by Hijón: "Telefonica has chosen two of the big public cloud providers, Amazon Web Services and Microsoft Azure; they are strategic allies."
The two firms, together with Telefonica's WAN2CLOUD, accommodate the virtualised front and back end solutions for customers and internal users.
Telefonica Central America's team
"It is the main resource to be able to address the digital transformation for our customers and company.
"It is necessary to have the best, to train them at the highest level in the latest technologies and to have them in constant motivation for attainment of goals and results", says Hijón about the team of professionals that makes that carry out the changes.
The digital experience of the client
The goal of Telefónica Central America is that all its clients have a fully digital and self-managed experience in which they can manage their services without the need to go to a store or call a customer service centre.
This goal is accompanied by many projects where the cornerstone is Fullstack, a system that allows to unify all the variety and complexities of current systems and operations in one, with different modules, generating the following improvements:
• Omnichannel, which allows the finalisation of the contracting of a service, even if it starts and ends through different channels.
• Smartphones as sales and service channels.
• Online customer self-management.
• Ability to manage complex client hierarchies.
• Exploitation and distribution of data between clients.
• 360º customer view which allows comprehensive services.
• Grouping with digital services (own or third parties).
• Predictive marketing
Offering more insight, Hijón points out: "Around Fullstack, a strategy and a digital plan are generated with parameters that help us to measure what is the interaction of our clients towards us, by what channel and how they do it.
"Surrounding Fullstack, a system map is implemented with big data, artificial intelligence (Novum), activation systems, social networks, ecommerce, etc."
The digitisation of internal work
In order to optimise its performance and improve its services, Telefónica Central America not only focuses on its customers, but also on the management of its own workload as the fourth pillar of its digitalisation.
In this sense, the process is similar to the digitalisation of the client's experience but special attention is paid to how the internal work processes are carried out in order to be more efficient, friendlier to the environment and with safer and autonomous processes.
Hijón notes: "We aim at zero paper use, a mobility plan and reordering of offices with open and collaborative spaces. For the security of our own and our client's information, we are taking to our cloud the VDI (virtual desktop infrastructure) of our employees, in order to have control against computer attacks."
Harnessing big data technology, Telefónica has opened a new line of business in Central America analysing data for the management, process improvement and decision making of other companies.
The Luca and Aura projects
Telefónica launched the Fourth Platform this year, a system that gives cognitive intelligence to its other three operating platforms (network, systems and products and services).
Through big data, the platform unifies the data obtained in previous processes and exploits them using predictive models and artificial intelligence.
The LUCA and AURA Projects, managed by Chema Alonso (Chief Data Officer of Telefónica), were born so that the data drawn in the fourth platform are useful and accessible to customers.
Through AURA, customers will use the NOVUM application to meet their needs for services such as television, roaming packages and incident reporting.
In the same way, LUCA empowers customers to manage their personal information in relation with platforms such as Google, WhatsApp or Telefónica itself, putting the company at the forefront in terms of data protection.
Challenges and opportunities in the future
On the future of the industry, Hijón is blunt: "We live a new revolution – companies have to adapt to this new digital transformation of services and process automation. Within 10 years, three out of 10 jobs will be automated, so companies that are not involved in the transformation process will no longer be attractive to customers and will incur high production and management costs, ceasing to be competitive."
It is clear that Telefónica Central America is investing its passion and resources in taking advantage of the technological revolution to become more optimised and efficient, while offering the best service to its customers.