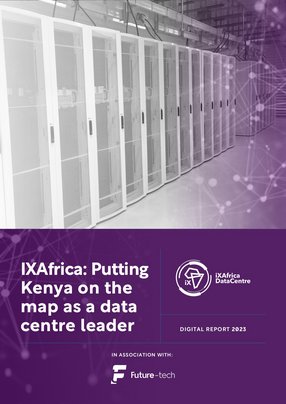 IXAfrica: Putting Kenya on the map as a data centre leader
Co-Founder & Chairman Guy Willner shares IXAfrica's journey from start-up to operator sustaining East Africa's growing demand for digital infrastructure
Kenya may seem like an unconventional place to build a state-of-the-art revolutionary data centre campus, but if anything it boasts better credentials than other geographies, which lend themselves as favourable to sustainable locations.
And that sentiment is echoed by IXAfrica's Co-Founder and Chairman Guy Willner. The seasoned data centre specialist has experience setting up facilities worldwide, and highlights how Kenya boasts a plethora of benefits — both for the environment, operator and its clientele.
"The interesting thing about Kenya is that it uses 90% plus renewable energy. To put that into context, the UK is probably about 25% on a good day. And this is 24 hours, so it's not wind energy or solar, it's geothermal — which means it's available 24/7. It's a massive thing for Kenya."
Kenya's a bit like Nordic nations, like Iceland or Norway with 93% renewable energy — due to its access to hydropower, Willner explains. "But geothermal is neither damaging for the environment like building dams, nor is it only available eight hours a day like solar. This is really serious stuff. I don't think there's one European Union country that gets anywhere close to where Kenya is in terms of renewable power."
IXAfrica's data centre campus expansion in Nairobi, Kenya
Situated in Nairobi, IXAfrica's campus is strategically located amid Africa's growing technology epicentre and is the first hyperscale data centre in East Africa. IXAfrica, in partnership with Tilisi Developments, is expanding its offering with a new, second campus in the Kenyan capital. Last year, IXAfrica announced a US$50m investment into its Nairobi One campus to accelerate its development and help cement IXAfrica's reputation as East Africa's leading hyperscale data centre provider and to cater to the increasing demand for cloud computing services, digital transformation, and edge computing applications in the region.
In collaboration with premier real estate developer Tilisi, IXAfrica purchased 11 acres of land to construct its second data centre campus in the Kenyan capital.
"The new Tilisi development is at 2,200 metres altitude, so it's about five degrees cooler. It's 20 or 21 degrees during the day and maybe 10 at night. Below 14 degrees, you can use free cooling in data centres. So that's what we'll be doing. It's very exciting to have that second campus."
Catering to growing demands in East Africa
Using an analogy of a data centre being the head of the internet as it houses the technology for it to function, Willner likens long distance networks to the body and arms, the fingers are the last mile, whether mobile telecoms, fibre to the home or WiFI in a village.
"Everything is connected and therefore everything has to be built in synchronisation," Willner illustrates. "There's no point in having a data centre if there's no network. This is all part of a whole development in Africa in general. Dozens of companies are now laying fibre across Africa, and also into small communities. We are part of that whole ecosystem where everybody has to do their own thing."
For this reason, Willner attests that IXAfrica's carrier-neutral and vendor-neutral qualities makes it favourable and desirable to its current and future clients.
By providing state-of-the-art infrastructure, green power availability, advanced security measures, and efficient cooling solutions, IXAfrica is poised to play a pivotal role in bolstering East Africa's technology landscape."
"In terms of environmental responsibility I think we're probably about a decade ahead of most of Europe," he says, proudly. "We've been able to use local construction techniques and not import a whole load of glass and steel from Europe or Southeast Asia. We've got 90% green grid. We're in a super lucky position in Kenya to have geothermal energy."
A Kenyan data centre for Kenyan people
"Our mission is to build good businesses with good people, and real businesses that generate profits and contribute to the local economy in terms of people, in terms of training, in terms of taxes," Willner adds, excited by the challenge of this emerging market.
"The excitement here, although there are other data centre players in Kenya, is building up a data centre company that really makes Kenya part of it."
Willner and IXAfrica pride themselves in delivering a project end-to-end with ESG in mind as well as profit and quality of service.
"There's no expats in Nairobi, it's all local employees," he says. "We might have people there for two months at a time or something like that, but Kenyans run the Kenyan business. IXAfrica is a new company, but from the point that we started designing, it was all about keeping Africa."
Trust is a major factor in the data centre workforce, Willner explains, with experience, reliability and a 24-hour infrastructure key to success - needing a workforce braced and ready for any unexpected disasters, whether that be if power fails at 4am on a Saturday morning or otherwise.
"We're the newest game in town. We've made sure that our data centre can cope with some of the most complex concentrated super compute that you can find."
The importance of people
"You build an amazing data centre, but you've got to have people who can operate it and with the passion to make sure this data centre never fails. It's very much about people," he continues. "The two things that I like most about the industry is that it's full of very friendly people who help each other out. And the other thing is the international aspect where you might be doing something in Nairobi — or London or Birmingham or Paris or similar — but the challenges are very similar.
"If I've got a friend running a data centre in Brussels, there's no competition between me and him or him here with my Nairobi business. We can share information, we can share ideas. There's a lot of sharing of ideas and information."
The importance of a skilled, local workforce is something Willner firmly believes in, but appreciates is a pool that needs nurturing to shape the industry of tomorrow. For this reason, Willner and his team are working to establish and operate a data centre academy in Nairobi, working with Moringa School.
"I've always wanted to establish a school and Kenya's a good place to do that because it has a very highly educated population," Willner reveals. "It will benefit us, it'll benefit our competitors, but most importantly it'll benefit the country and the industry. If Kenya is going to be a massive regional hub for compute, then it's good that we get more and more people who are trained up to understand what a data centre is."
Putting Nairobi on the map as a thriving data centre location
Willner envisions IXAfrica further establishing itself as a key player in the Kenyan data centre market. Although in its infancy as an operating data centre company, he has a strong vision of populating his campus with expanding hyperscalers in the space of five or six years.
"With the Tilisi project being in a big business residential park, just northwest of the central business district, it's got fantastic power," he adds. "It's got 66-kilovolt lines coming in, and with geothermal energy, it's in an ideal place."
And Willner hopes to power the progress of IXAfrica's growth with the positive relationships he's built up over his 25 years in the data centre industry.
Looking forward
Likening the next 12 to 18 months to a white-knuckle ride, Willner and his team are working to set up their data centre from a standing start, navigating building an empty data centre into a thriving hub of information exchange, connectivity and thriving business.

Partnerships with powerhouses
Despite feeling strongly about the strength of his team and having a core passion for startups, Willner acknowledges the power of collaboration across the industry.
"A lot of people we've worked with for a long time, like Future-tech and Schneider, help out with our conceptual designs, keeping an eye out to understand what the next steps are in the industry. They help us understand how to operate and keep us on our toes in terms of all the newest technology that's coming in.
"It's really interesting to have big powerhouses behind us where they've got big R&D groups looking at what's going to happen in 20 years so we can guide our designs so they are futureproof."
Sharing values, core morals and ethical practices with partners is equally valuable to Willner, with trusting relationships and ensuring synchronicity, one of the main things looked for when partnering with businesses for the betterment of IXAfrica, the wider data centre industry and the communities they serve.
"You can't do anything on your own," he states. "So you need a bunch of friends and they can also keep you in focus. We're all part of this ecosystem. We're all interlinked because if you've got that trusting relationship, you are going to work to build the right thing."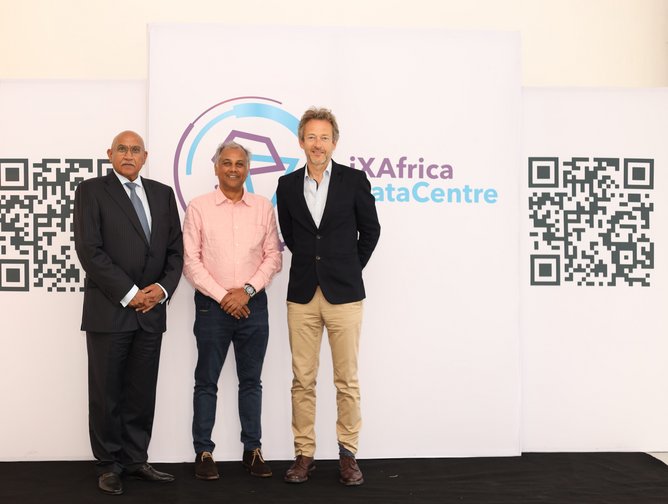 IXAfrica team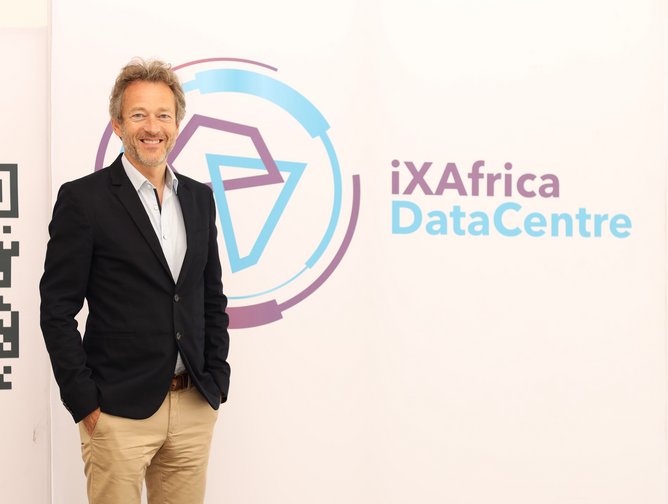 Guy Willner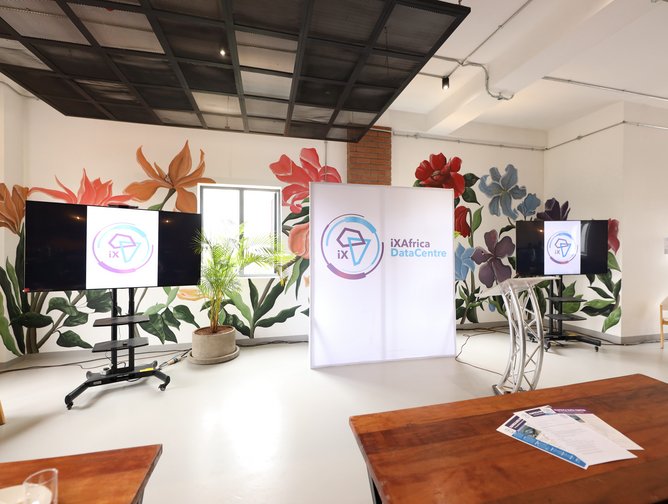 IXAfrica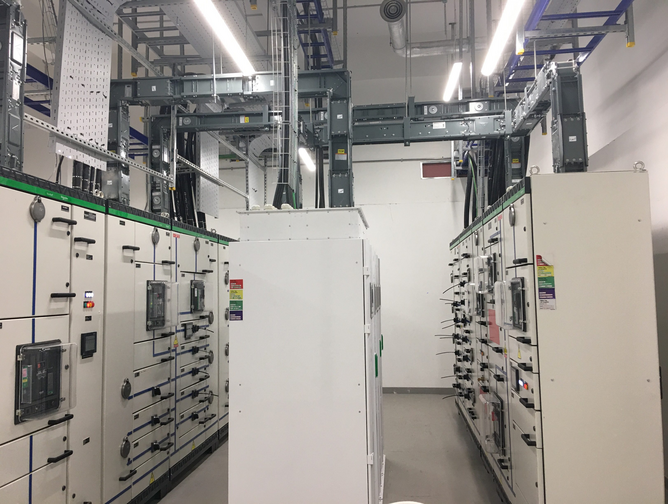 IXAfrica