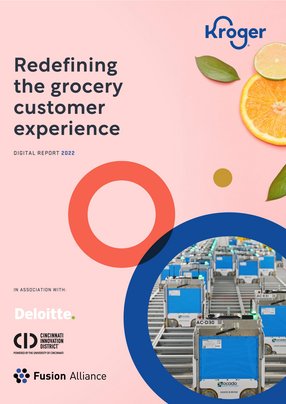 Kroger: Redefining grocery customers experience
Kings of innovation Wesley Rhodes and Dan Whitacre home in on the technology and values that set the Kroger customer experience apart
It's easy to see why Kroger is leading the grocery retail space – and it all centres around a laser focus on the customer. Innovation has been core to the grocer's identity from its founding, when Barney Kroger created the nation's first supermarket.
Kroger Labs, the company's research and development (R&D) arm, plays an active role in its efforts to change the way America eats.
Wesley Rhodes, Vice President of Technology Transformation and R&D for Kroger, spent his career working with companies that are making their next big technological leaps. Today, he brings that expertise to Kroger and leads the team who are uncovering what's next in the grocery retail space.
Rhodes and his team find ways Kroger can make changes – big and small – to introduce that next level of customer service, and these innovations are coming at an increasingly faster pace.
"In the past, innovations were big bets with potentially big rewards created during long development periods," says Rhodes. "Today, we incrementally deliver meaningful innovations much more rapidly by limiting their scope."
To ensure the lab team is focused in the right areas, customer feedback is constantly incorporated into practice and, if necessary, courses can be changed or corrected in response.
As customers continue to evolve, Kroger finds new ways to create an industry-leading experience, both in person and on its digital properties. Recently, the grocer announced a collaboration with Instacart to deliver customer favourites in 30 minutes or fewer, supplying 'need-it-now' staples from a trusted retailer without requiring a compromise on freshness, price or convenience.
The company is also exploring ways to digitally expand its aisle by offering customers the opportunity to purchase sought-after home and baby goods from businesses such as Bed Bath & Beyond and buybuyBaby, alongside the fresh meal solutions already available on Kroger's website. Families can send new parents a crib, nappies and Home Chef ready-to-heat meals – all in one transaction.
In its stores, Kroger leverages technology to make the shopping experience simple. From digital coupons customers can add to their loyalty cards straight from the shelf to in-app wayfinding that helps shoppers efficiently navigate any store, grocery shopping is only getting easier.
Kroger is even exploring opportunities to help customers better understand how their food choices impact their overall health, via the OptUp app. Soon, customers will be able to choose to be alerted when a certain food will negatively interact with a medication or how they can substitute better-for-you options for items in their digital carts.
None of these bets – big or small – would be possible without the team at Kroger Labs exploring cutting-edge technologies that create a seamless customer and associate experience. Rhodes's approach to his work, collaboration ecosystem and commitment to diverse thinking creates a unique space that is ripe for uncovering what's next.
Building a high-impact ecosystem
Alongside his strong team of associates, Rhodes leverages third-party collaborators to accelerate the work of Kroger Labs to the next level.
"That collaboration ecosystem is some of the secret sauce impacting how Kroger Labs works," says Rhodes. "We look for partners that can seamlessly integrate in what we do, trusting them to bring the right kind of skills, to jump in and contribute to what we're trying to do. In this respect, Fusion Alliance here in Cincinnati has been an integral partner, complementing our staff, processes and methods."
Dan Whitacre's role as Senior Director of Kroger Labs and Technology means he is always looking for new opportunities to connect the labs with unique thinkers around the world.
"Building a network of collaborators brings in people we can trust who have different experiences and expertise to our discussion," explains Whitacre.
"For example, Deloitte has worked across multiple parts of Kroger, and they bring those insights with them into the labs, helping us build a framework for innovation. We've worked with them to better connect with outcome-driven initiatives and understand how innovation in Kroger Labs works within this kind of scenario."
The practice of learning quickly and implementing learning repeatedly to iterate new solutions is key to any successful research and development organisation. And Kroger Labs is one of the best.
"A critical skill we've worked on with Deloitte is how to fail fast. They have their own innovation labs and understand how to take big challenges and break them into smaller ones. Teaching us to fail more quickly on the smaller problems enables us to avoid wasting time and instead focuses our energy on finding effective solutions to solve the bigger problems," Whitacre said.
University partnerships are some of Whitacre's favourite interactions in the Kroger Labs ecosystem. The lab team works with multiple universities and colleges to answer unique questions, working directly with faculty and students, and even has physical space on both the University of Cincinnati and Northern Kentucky University campuses – each located minutes from the company's headquarters.
These close connections with students at all levels bring fresh perspectives to the team.
"Creating meaningful outcomes is much simpler when both professors and students are part of the discussion," he says. "We regularly learn from the different approaches of both groups and seek out particular projects within institutes that we can then capitalise on their expertise and insights. Young minds are a joy to challenge!"
"The 1819 Innovation Hub at the University of Cincinnati is a unique building. It's a unique environment," Whitacre continues. "It's a product of several innovation initiatives that are going on across the State of Ohio."
And Kroger is not alone in the space at that university.
"Twenty other companies created labs there too and, just by walking around, I can make a connection with an insurance company, a logistics company, a finance company, a banking company. We get great insights from that," he says.
In addition to Kroger's close working relationship with universities and colleges in its backyard, the company seeks out opportunities to collaborate with academia across the American Midwest and elsewhere that can offer important insights.
Retail's unparalleled science and technology pathfinder
According to Rhodes, the Kroger team's commitment to diversity and a forward-thinking digital approach opens the door to new ideas.
"Diversity of thought is key to creating real change. It allows you to see the problem from different perspectives then seek out and test the best solutions," he says. "R&D thrives in an environment with different backgrounds, experiences, education, and specialties. We tell our team members that they can come to Kroger and get something they won't find anywhere else – freedom to solve the problem."
Each group of interns at Kroger Labs is tasked with the same challenge: storyboard what you think the grocery shopping experience looks like in ten years. In each cohort, interns will come to Kroger with a wide range in age, previous work experience, professional disciplines and much more. Each team member brings a different world view to their ideal experience and their individual aspirations for the future – from making stores more environmentally friendly to exploring additional ways to make shopping more convenient.
After the initial storyboarding session, the labs teams will consider common technological underpinnings as well as where the suggestions diverge. Then, they begin to integrate the solutions into a flexible future-focused technology roadmap the lab team can begin to explore ‒ all with the goal of creating the best possible digital and in-store experience.
"Diversity expands your imagination," says Rhodes. "It expands your possibilities, the breadth of customers you can serve and improves your profitability when associates are given creative licence and mutual respect."
The lab team also looks outside their walls to understand different customer needs.
"We host forums in our communities, cities and states," says Whitacre. "Many of the organisations we connect with are facing the same emerging technology challenges we are. Through these experiences, we learn from each other and create a better outcome together."
Drafting a winning team
Top tech talent is always in high demand – and today's environment allows the best people to work for any company, from anywhere. Rhodes and Whitacre are confident Kroger offers these digital gurus interesting challenges, along with meaningful outcomes.
"At Kroger Technology and Digital, we want people who are passionate and obsessed with making our designs the best," Rhodes says. "We're a people business, so we know that to draw out the ingenuity needed to innovate, our workforce is going to need a certain amount of personal and creative freedom."
Kroger is uniquely positioned for associates to see the outcomes of their work in real time.
"One of my favourite stories is of an associate whose family member struggled with a specific aspect of grocery shopping," says Rhodes. "They brought the challenge to our labs team, and we were able to solve it – not just for that one family member, but for anyone across the U.S. who experienced the same struggle. That associate was so proud to bring their family to the store and show off their solution. It's a small, but meaningful example of the opportunities our associates have every day."
Rhodes and Whitacre have the unique position to be driving some of grocery retail's next big innovations. Their strong collaboration ecosystem of universities and third-party companies bring the best minds to the table, and a commitment to diverse thinking uplifts every associate voice. It's easy to see why the future is a bright one for Kroger Labs.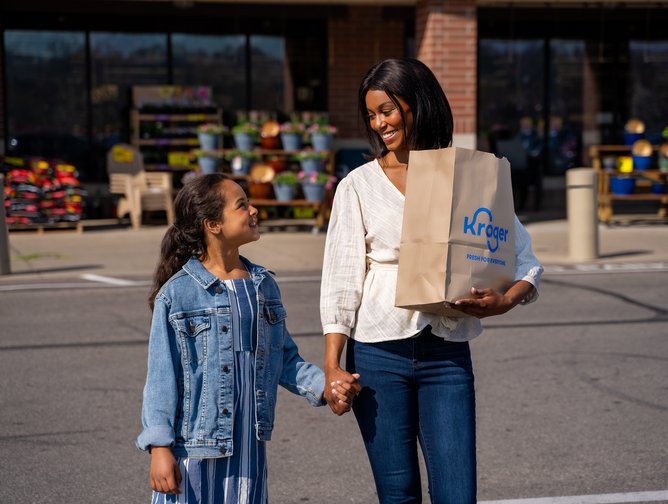 Kroger Technology customers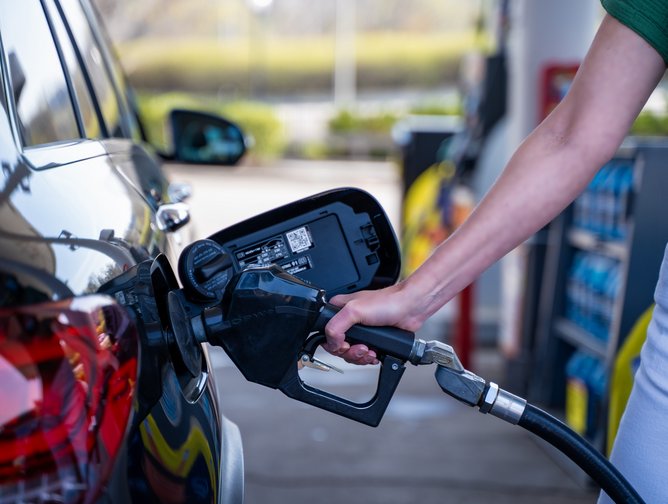 Kroger Technology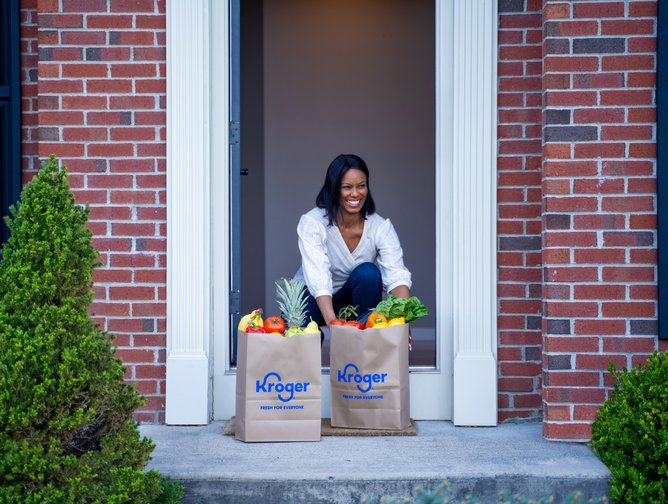 Kroger Technology customer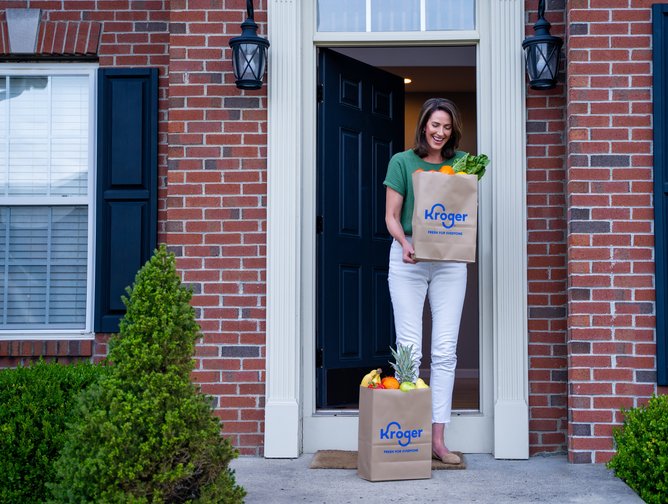 Kroger Technology customer