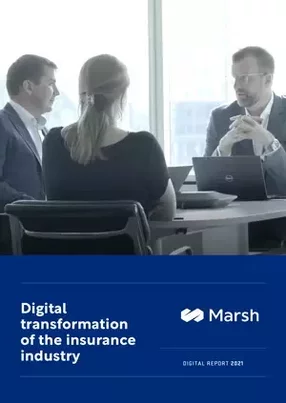 Marsh: Digital transformation of the insurance industry
UK CEO Alistair Fraser-Hawkins and Digital Leader Adam Kemmis Betty of Marsh insurance brokers discuss digital transformation built on 150 years of history
Possibility. A word you hear a lot in insurance circles when it comes to managing risk, but at Marsh it is far more than an empty mantra – it's something the world's leading insurance broker and risk advisor has lived and breathed for more than 150 years. Now, the possibility is also the digital opportunity, which means serving commercial and individual clients better and connecting Marsh's 40,000 colleagues across 130 countries in a new hybrid workplace.
Marsh is renowned for leveraging data, technology, and analytics to help reduce clients' total cost of risk and that move to a digital mindset has only been accelerated during the COVID-19 pandemic.
Alistair Fraser-Hawkins is the Chief Executive Officer of the UK Corporate business at Marsh, which helps Middle Market clients with their risk and insurance needs.
"Marsh is the world's leading risk and insurance advisor and we work with clients across all segments of industry, all sizes of clients from the very smallest to the very largest, working with them to identify risk, understand what risk is involved in their business, and helping to design a risk management and insurance programme that satisfies their needs and allows them to transact their business," says Fraser-Hawkins.
The company has been in business for 150 years and continues to respond to the world's most pressing challenges. The recent pandemic was no exception.  
"2020 was a year like no other," admits Fraser-Hawkins. "For us it brought risk to the forefront of conversations with clients at boardroom level. 
"Many companies now look at not just the risks they can see but at those intangible risks that perhaps historically we would have thought are very rare and would have limited impact. We've also seen that risk isn't just a local issue – it could be a global issue and organisations can be affected by risks  across the world."
Fraser-Hawkins believes the global lockdowns also helped further solidify Marsh as a "global family".
He witnessed increased interaction across the globe in terms of how Marsh helped clients through the pandemic and equally a real shift in terms of their own ability to transact in a digital and virtual sense without dropping the level of service delivered to clients.
"Interestingly, I think it actually brought us closer together as a global business," says Fraser-Hawkins. "The collaboration we see across geographies, across business units, was accelerated despite the fact that it was challenging for all of our colleagues across all the countries we operate in. It was a very challenging but pivotal year that sets us up for the next 150 years."
Putting people first
Fraser-Hawkins talks at length about the people within the business. Marsh is, he says, a people business, which clients appoint for the insight and intellectual capital they bring.
He believes that they are now able to benefit from combining the best of both worlds; both video conferencing and face-to-face engagement will enable Marsh to get in front of clients in a more efficient manner. A true hybrid solution, whereby colleagues from Marsh engage with clients face-to-face but also with the ability to bring in expertise from around the globe at a moment's notice.
The pandemic put a strain on everyone, but Fraser-Hawkins says he is proud of how his colleagues adapted to the situation.
"Our colleagues have been phenomenal throughout the pandemic," he says. "Seeing them work from home anduggle challenges such as homeschooling, while continuing to look after our clients was inspiring. I think the hybrid model that we're adapting going forward means we have the ability to make better work-life choices and support all our colleagues in creating powerful working environments.
"We talk about work-life choices rather than work-life balance because at times you have to make one choice over another, but the flexibility that we've embraced as part of working virtually at times means that it's a great opportunity for us to connect.
I think we've demonstrated how we continue to focus on an approach of leading with kindness. We appreciated that colleagues were dealing with challenges but we moved almost seamlessly to virtual working. I think a number of us were pleasantly surprised to hear how quickly we were operating as 'normal' for being in an abnormal environment."
Fraser-Hawkins says that Marsh's digital transformation journey was already advanced but  wouldn't have accelerated further quite as quickly as it did were it not for COVID-19 – a familiar message we hear from many large organisations who had the foresight to implement digital.
Marsh is a global business that had crisis plans in place should teams need to move to working from home. Most Marsh employees had the technology at hand already to do just that, as well as the processes and procedures for a seamless transition.
"I think it was a very positive experience," says Fraser-Hawkins. "We've learned some brilliant things. That being said, the office is still very important to us, so the hybrid solution sets us up for a great future."
Moving the insurance industry to digital
From an industry perspective, insurance is probably, it's fair to say, one that needs to do the most catching up when it comes to digital transformation. Fraser-Hawkins says this is imperative for servicing clients while also being better for business.
"The ability to get information to our clients quickly, in an easily digestible format, is imperative if we're going to be an agile business going forward," says Fraser-Hawkins. 
"I think the digital generation is a given and I think as an organisation we are embracing it both here in the UK and globally. It gives us a competitive edge when we are transacting with clients. It's vital for us that we're able to serve the smallest businesses right up to the largest, and the core of that is our digital transformation."
Driving Digital Transformation
Adam Kemmis Betty is the Digital Leader for Marsh in the UK & Ireland, responsible for developing and delivering the digital strategy, with a particular focus on client-facing technology.
He tells us that Marsh's digital transformation really started in 2018-2019 and, despite the acceleration of the pandemic, he says the company continues to innovate. 
"We've got a journey to go on," he admits. "The great thing is that we've really got commitment from our business leadership to invest in that journey and to stay the course.
Digital transformation of Marsh really has three components to it which correspond to clients, colleagues, and insurers. 
Firstly, Kemmis Betty is responsible for creating a digital experience for clients. This ranges from enabling small business clients to get insurance quotes and buy insurance in real time online through to supporting large corporate clients to get real-time access to key data and documents, as well as insights and analytics.
The second area is about transforming internal processes – something Marsh calls its operational excellence programme.
"That's not just about technology," says Kemmis Betty. "It's got other components but obviously technology is a big part of that, and that includes modernising some of our core technology platforms. We're moving to a low code no code platform in many regions of the world and it also includes using new technology, such as robotic process automation and AI to make some of our processes more efficient."
The third area is how Marsh interacts digitally with insurers.
Of course, with digital transformation comes digital risk, and many of Marsh's clients have transformed their business models, which has created new areas of risk for them.
"We've seen a huge increase in interest in our cyber consultancy services helping clients to understand and manage that cyber risk, and also in purchasing cyber insurance to protect them against that risk," adds Kemmis Betty.
"For Marsh, the key benefit from digital transformation is enhancing the client experience. The transformation of our internal processes means we're able to respond to clients' needs much more quickly. Then the data that we're able to gain and use through that digital transformation means that we can provide richer insights back to clients which can really help them manage their risk and structure their insurance programmes in the most informed way."
It's not just about the benefits of course, and Kemmis Betty does highlight change as the biggest challenge when it comes to digital transformation, and the associated cost of change when it comes to new technology.
He says the sheer volume of change and level of investment that Marsh is making across all these initiatives means colleagues require support to adapt to new processes and new ways of working at a time when the business is growing – plus of course managing all of that while also trying to serve clients and gauge the right pace of transformation.
"The advice I would give to any client or organisation embarking on a digital transformation is really to stay laser-focused on the end-user experience," says Kemmis Betty. "That's how the big tech firms have created really successful applications – that ruthless focus on the user experience that's difficult to do in a large organisation where you've got many different stakeholders with different opinions. The way to do it is by adopting a truly agile approach."
Disruptive insurance
Many people would never believe they would hear the next sentence: it's an exciting time to be working in insurance right now. That is obvious speaking with both Kemmis Betty and Fraser-Hawkins.
Previously there was a much clearer distinction between traditional tech suppliers who would provide platforms or services for the large incumbents and insurtechs who were digital attackers competing with those incumbents. Now that's evolving, particularly as many of the insurtechs have pivoted their business models to be more about partnership and collaboration with the incumbents – which opens up exciting areas of opportunity for large organisations like Marsh.
"The thing I'm hoping for most of all is increased diversification of talent within the insurance sector," says Kemmis Betty. "I think if we're going to be successful as a business and as an industry overall in innovating and disrupting the traditional way of doing things and using new technology, that means that we've got to attract and retain new talent that we haven't traditionally been able to do. I think if we achieve that it will go a long way to modernising the sector."
"There's no doubt that the insurance sector as a whole is a laggard when it comes to digital and we're playing catch up. When we started, we could see that some of our competitors were moving faster than us but now, with the investments that we've made, particularly in new talent, we firmly believe that puts us ahead of the competition and really gets us on the right path of leading the insurance sector towards a more digital future."
The final word has to go to Fraser-Hawkins as he looks to a brighter future in the aftermath of COVID-19. The last 18 months have been turbulent for everybody and not just from a professional perspective, but also from a personal one. 
"The next 18 months will be exciting," says Fraser-Hawkins. "I think we're already seeing industries booming. I think there will be some challenges.
"The insurance industry has a responsibility, in my opinion, to support the business community to enable them to rebuild their business and thrive.
"I think that's our real test – that we are an industry that is seen to be absolutely supporting growth in the economy and supporting customers, some of whom have completely changed their business models to make sure they've got the necessary insurance protection. This enables them to focus on what they do best, which is running their own business and let us worry about their risk and insurance needs."