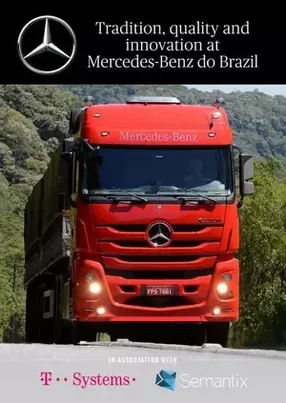 Mercedes-Benz Brazil: reinventing the automotive industry
Mauricio Mazza, CIO at Mercedes-Benz Brazil, offers the keys to Daimler's digital transformation through innovation, sustainability and employees...
Daimler AG belongs to that select group of companies that has had the privilege of forging history.. The history of the automobile began in 1886 with Daimler's first motor carriage and Carl Benz's three-wheeled vehicle.
Since then, Daimler has been synonymous with tradition, quality and innovation. This stamp is printed in its five divisions: Mercedes-Benz Cars, Daimler Trucks, Mercedes-Benz Vans, Daimler Buses and  Daimler Financial Services
Mauricio Mazza, CIO at Mercedes-Benz Brazil, one of the companies of Daimler AG, explains the great responsibility of the company in Brazil as the leader in innovation in the automotive industry.
The basis for the future, in the culture shift
Daimler founded its Brazilian production plant in 1956, in the coastal city of São Bernardo do Campo (São Paulo). It was one of the first automotive manufacturing companies that decided to start operations in the country, thanks to the opportunities in the truck manufacturing market.
Mazza begins: "The community had a strong participation in making this possible, as we covered the heavy need for transportation through trucks and buses to move people and goods around. I think the company has very strong ties with Brazil and what makes us unique, besides this strong link, is that we have a very broad portfolio of products that has, in many ways, adapted to the Brazilian reality."
"We also have dense penetration in the different logistics areas in the country: transportation for retail, for agribusiness, for oil and gas, for chemicals and for several different types of industries is essential. That has positioned us uniquely in terms of knowledge of the market, relationships with key players as well as the culture, that allows us to continue growing while being relevant for the economy of Brazil," Mazza analyses about the beginnings in Brazil.
From this strong market position, Daimler is going through a deep cultural change in its strategy and internal culture. That change, of course, is based on innovation. "We always had a very strong culture of innovation; I think this is something that in the DNA of Daimler, ever since the founding of the company. We always had strong engineering departments here in Brazil particularly; it was something very important in the company, and we live up to those standard."
"It's not innovation per se and alone, but innovation applied to the business that moves into efficiency. We have the recognition mechanics, the support from specific departments and from the whole board on really developing innovative solutions that don't necessarily need to be big and expensive. It does not matter if it is a small detail on the shop floor or the big investments that we are deploying to redesign our plant. We believe that every innovation is important and that it belongs to everybody. All the employees in the company."
Innovation in manufacturing engineering
As Mazza states, innovation at all levels is the key to Daimler's transformation in Brazil: "We have been making a huge investment for the last two years in redesigning and rebuilding our own factory. We are trying to rebuild our production lines and our logistics infrastructure around the new digitalisation and automation capabilities that are there in the market, or that we are pioneering or inventing."
"In general, we are driving around 15% to 20% efficiency with the new layouts of the logistics and production. Previously, we had two assembly lines, but we amalgamated them into one single line that is 60% more efficient than the other two combined with more flexibility" – explains Mazza – "We are applying the same concepts of flexibility and digitalisation to the assembly lines for chassis, engines, trucks, gearboxes and cabins."
Besides that, for even further enhancements in its digitalization strategy, Daimler Brazil is partnering with technology giants such as Microsoft, IBM and additional partners like start-ups, niche players and others.
Subsequently, the positive effect of this transformation is spreading across all stakeholders. "The effect is not only on the company and the employees, but also for the client, as we have a parallel improvement in terms of quality, figure prevention, vehicle testing and a series of activities to create better, more technologically advanced and safer products. Our customers are the first ones to benefit and we believe that by the time Brazil recovers as an economy, our production figures will probably go back to where they were before, because we are in a better position to fulfil our customers' requirements, more efficiently."
People, Planet and Profit
Sustainability, as a driving force for change, is also a priority for Daimler in Brazil and part of its culture shift. As Mazza explains: "People, Planet and Profit, the three Ps, is a framework that has been more and more used out in the market. You have to make a combination of these three dimensions to be successful in terms of sustainability."
"In São Bernardo we have our huge manufacturing plant, and also a hospital sponsored by the company and a firefighter station that not only serve the company but also the local community around the plant. We are, in both ways, from a people and a planet perspective, very concerned and active not only to withstand local environmental regulations, but also going further and trying to offer something really relevant for society and the local community around us."
This approach is ingrained in the sales strategy of the company, as Mazza explains: "It needs to make economic sense – we believe that we have to not only focus on being green, on being environmentally correct, and empowering our people. We need to do that in the direction of maintaining the company's profitability while ensuring that the initiatives are profitable for sale on this journey."
See also:
Partnership in a customer-centric era
As Daimler Company in Brazil we are laying a very clear vision for the future, challenges lay ahead. This includes the manufacturing of e-vehicles, and carrying on with building trust in the brand.
 "Electrical is definitely a very strong component of the strategy. Daimler launched the fully electric vehicle called EQC in Stockholm on September, 4th – our first 100% electrical vehicle."
"The electrification of the powertrain is not our only priority, but we also have to understand how we can make the usage of our products more efficient both economically for our customers and the environment. We want to make sure our vehicles are shared and that they have a better occupation of the capacity of the equipment and the assets. This is definitely a significant part of our strategy that is not only a long-term dream but a dream that is turning into reality as we speak."
For Mazza, liaising with Daimler's customers in Brazil is an integral part of facing the future: "I think the key message is to be open to listen, and be humble enough to understand that no one in the market will be able to offer solutions by himself to all kinds of problems that our customers could have. It involves collaboration, partnership and a combination of strengths and openly talking about your weaknesses and where you can improve.  All this technology and the wider trends need to be used to become really customer-centric to solve your customer's problems or requirements and fulfil their expectations, comprehensively."
"I think every company in the automotive industry is facing one very big challenge: reinventing themselves. That is, trying to understand how the future will look; what the future is holding for us in the next 20, 30 years. What will the role of mobility be in a new fully digital society, and how can digital change impact our business? I think one important challenge is to understand the digital mechanics of the industry."
"As a company, Daimler has confidence that our history and our culture are strong assets that we have to use. We are also very aware that the planned success is no guarantee of a future success, so we have to be very smart, to be very alert and to be very sensitive to the changes that are going on in the market," concludes Mazza.