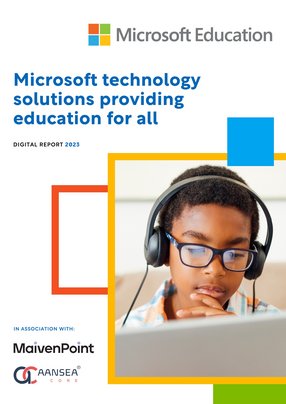 Microsoft technology solutions providing education for all
Microsoft Global CTO for Education Serena Sacks-Mandel on how the company's AI-powered solutions improve student outcomes and provide education for all
With a mission to empower all educators and learners to achieve more, Microsoft is at the forefront of the transformation of the education industry.
Providing a range of end-to-end education solutions which can be leveraged by educators and to improve student outcomes, the company is heavily involved in the AI revolution - sparked last year by the dramatic rise of ChatGPT.
As the chatbot seemingly burst on the scene, well-publicised concerns began to be raised from concerned educators warning that the technology could cause disruption for the industry - with its ability to create human-like text raising fears about its use as a tool to 'cheat' at writing essays.
But as initial panic about the technology subsided, AI tools like ChatGPT can now be seen as a useful tool for educators - for tasks from lesson planning to building AI skills.
Few people are as involved in this tipping point in the world of education as Serena Sacks-Mandel, Global CTO for Education at Microsoft. The company has made a number of sizable investments in generative AI - working closely with ChatGPT creator OpenAI to democratise access to AI.
As Sacks-Mandel describes, today the world is in the midst of an AI disruptive era. "We're less than a year into it, and every conversation ends up being about AI," she comments.
"You have a lot of people that are afraid of AI in the education space. They think it's about cheating, and so the struggle is to help them see how they can harness the advantages and benefits of AI, and mitigate against the risks."
To face these challenges, the education industry requires a pedagogical change, as well as alterations to teacher practices, Sacks-Mandel explains. "More than before, we need to change the way we teach. An educator cannot be lazy and ask for an essay, or for a research paper, because the student is going to leverage ChatGPT, as they should.
"Just like we teach long division and multiplication tables before we give students a calculator, it isn't just about the result, but it's the process. Students can use AI for lots of things to make their work easier, but they need to learn the process first."
About Microsoft in the education space
Microsoft provides a range of end-to-end solutions for the education sector which can be leveraged by educators and improve student outcomes.
"What I love about Microsoft and why I chose to come to Microsoft over other options in the industry is because we are the only technology company that has the end-to-end solutions," Sacks-Mandel describes.
First party tools like Reading Progress, embedded into the company's Teams platform, harness the power of AI to help students develop fluency.
Students record their reading on camera, and as their work is marked and returned, data is automatically collected and organised in Insights, helping educators spend more time with students and less time analysing data.
Another of Microsoft's education tools - which are known as Learning Accelerators - is Reflect: a wellbeing app to support connection, expression, and learning
"Reflect helps the teacher understand what each student is feeling on that day and at that time. They can select from a scale of faces, happy to sad.
"We are turning qualitative information from six-year-olds into data that the teacher can actually see, go to a particular student and ask why they aren't feeling well. The teacher can also assess the mood of the class and adjust the activities accordingly"
Microsoft's robust suite of tools and platforms and products make a real difference in the education for students. And as Sacks-Mandel asserts, its Windows operating system and Microsoft 365 are huge differentiators.
"Just as English is the language of business, Windows and Microsoft Office are the tools of business. And so the more we can equip students with full-functioning devices and platforms, the more that we can prepare them for the workforce."
Microsoft is also the number one provider for security solutions. "A lot of folks don't know, but education is the most attacked industry by many orders of magnitude."
One reason for this, Sacks-Mandel explains, is that education organisations tend to not have the right skills and resources to protect the organisation, and that many people in those organisations don't realise the true value of data.
"It isn't just about students and grades, it's about social security numbers, credit card information, health information and identity for both adults and learners.
"Hackers are patient so they can grab information that is relatively unprotected. They can use it, they can sit on it."
As Sacks-Mandel explains, Microsoft has a number of robust layers of support when it comes to security. "It's not like one solution and done. From identity management, to access control, and phishing prevention, we offer a whole suite of cybersecurity tools that, when implemented and used properly, prevent these attacks.
"A number of organisations have been ransomware attacked, and a lot of times it's just because they haven't patched, they haven't followed the basic sort of hygiene of managing their on-prem systems. The cloud is much less vulnerable to these attacks because that's all taken care of. There is no patching. And education has been one of the last industries to modernise and to move to the cloud, so these on-prem systems are highly vulnerable."
Microsoft's ambition and goal to help provide education all around the globe
With a firm belief that all students deserve equitable access to education - no matter where they live or how they learn - Microsoft is committed to developing safe and inclusive learning solutions designed to help everyone reach their highest potential at school and beyond.
As Sacks-Mandel explains, central to providing education to all is ensuring students have proper access to tools. An example of this is India. The country will have the highest population of young people in the world over the next decade, and through its National Education Policy 2020 policy aims to provide every single student with a device, with bandwidth, enabling them to learn English.
"Those are the three things that students need to overcome the digital divide," Sacks-Mandel says. "If they can execute on that desire, they will close that digital divide because those students - even in the most remote little villages - will be able to learn English, connect to the resources, the best resources in the globe to be educated, and they will join the global workforce.
"However, if you have a group of students in the mountains of West Virginia and we haven't done our work to activate the internet for them, they're going to get left behind.
"To at least provide access for every student is a moral imperative," she adds. "Where Microsoft provides accessibility solutions, everything is built by design for accessibility. So, we are providing that access, but it's up to the country, the state, the city to provide the devices and bandwidth."
The power of data and data analytics
In addition to being central in advances in AI, Microsoft is at the forefront of data and analytics. Its recently-launched Fabric solution - an end-to-end, unified analytics platform that brings together all the data and analytics tools that organisations need - is a game-changer when it comes to data analytics in the education world.
"At Microsoft we are at the forefront of data and analytics. We've had open education analytics, we have tools. Now, we've just announced Fabric, which is game changing: it takes in all these functionalities and puts it under one hood."
As Sacks-Mandel explains, data analytics can be used not only to provide a more personalised experience for students but also to identify students and educators who might be at risk.
"We can look at the data and see where the students are. Have they been engaged in their learning? I don't mean just asking, 'are they sitting in a seat?'. We want to understand our absentee rate, but are they engaged in their learning? Are they answering questions? Are they performing? Are they making progress? Are you seeing growth?
"Rather than having what we call summative assessment at the end of the year or semester, all of these data points along the way can give us insight as to what the student is doing on a daily basis," Sacks-Mandel explains. "You have to understand each student's interest and give them reading material that's going to pique their interest. We can personalise that experience, but we can also see whether they're engaged in making progress through the data, and that goes for higher ed."
Powerful tools like these can be harnessed to help combat a high attrition rate in higher education - particularly in the aftermath of the COVID-19 pandemic. "The attrition rate in higher ed is astounding, especially the students that have just come out of the pandemic and don't necessarily have the educational foundation to perform well in a higher ed setting," Sacks-Mandel asserts. "So, we need to help those higher ed organisations understand which students are at risk because if they're failing classes, if they're not learning along the way, then they're going to drop out."
Partnerships helping Microsoft deliver its goals
When it comes to providing platforms to educational organisations, Microsoft works with a number of partners to help deliver its goals.
"We can't do what we do without our partners," Sacks-Mandel describes. "We have the platforms, we have the tools, but our partners take those ingredients and turn them into complete solutions that our customers can leverage. We're an engineering technology software company, an AI company, and there's no way that we could provide that level of specificity and localisation that our partners can provide."
One such partner is the global IT services consulting firm AANSEACORE. "They're multifaceted. They can do the project management side, they can do the data analytics, and they can do the systems integration," Sacks-Mandel describes. "They are working globally, India, Australia, UK, and the US and Canada, and they have a lot of experience not only in education but in a lot of other industries as well."
Another partner, Territorium is a comprehensive learner record that leverages AI to create a student profile and help that student see different career pathways, what skills they have that align with that pathway, and what they need to learn, and how they might go about achieving those skills and competencies to go through that pathway.
Territorium's solutions include a comprehensive learner record (CLR) with built-in badging that connects education to employability, assessment services - with personalised assessments that measure skills employers seek in applicants and an AI-powered jobs engine that connects learners with jobs based on their skills.
"Territorium's partnership with Microsoft started with the company's founding in Latin America and has continued with our expansion into the United States and beyond," said Guillermo Elizondo, CEO and co-founder of Territorium. "Our technology is Azure-based, in 15 countries, and serves more than 12 million learners. Microsoft's support has been instrumental in our adoption of AI-based technologies for our remote proctoring platform - EdTest.ai - as well as for our LifeJourney app that connects the verified skills and experiences of learners to best-fit jobs."
Another partner, PowerSchool, is a K-12 back-office solution with a student information system and a number of other functions to help the back office for schools. "We work with them to help provide enhanced analytics, data and analytics," Sacks-Mandel comments. "And we partner very closely with them to help Departments of Education, Ministries of Education, and individual districts modernise their back office, and also leverage AI.
"And then, MaivenPoint is an educational solution under the company called AvePoint, and they are similar to the PowerSchool but at a higher education level. So, they help automate the back office, the student information, student management systems at the higher ed level. And it's a full life cycle for higher ed all from admissions through alumni and everything in between."
The future: The possibilities are endless
At such a transformational time, technologies like AI will drive endless possibilities. "Brilliant people keep coming up with new opportunities to leverage AI in the educational space," Sacks-Mandel concludes. "And I just think that we are at the cusp of amazing things."
For Microsoft itself, the journey ahead will involve an acceleration of helping customers on their digital and AI journeys. "A lot of our customers are less mature than other commercial industries, and so we need to first help them migrate to the cloud, establish their data infrastructure, their data lake in the cloud, harness that data for good use as well as at the same time harnessing AI for good.
"I want to help the people that really understand this that have that vision move forward. And I think that other than that, there's going to be a consolidation in the industry for those that are not seeing that and moving fast enough."
As Sacks-Mandel describes, Microsoft is obsessed with customers' requirements and what customers need. "We are delivering solutions that meet all of those requirements and those needs, including in the education space.
"We have transformed into a platform company, a security company, an AI company, and I see those trends intensifying and accelerating in a way that meets with our customers," she says. "Ultimately, we're trying to work with our customers to light up their vision and help them transform."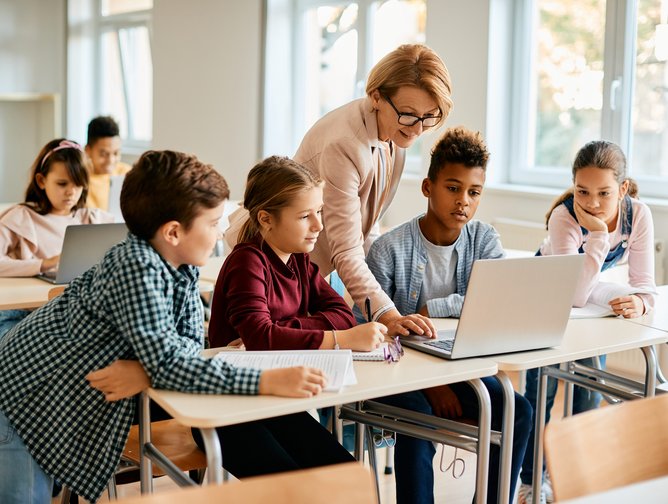 Microsoft technology solutions providing education for all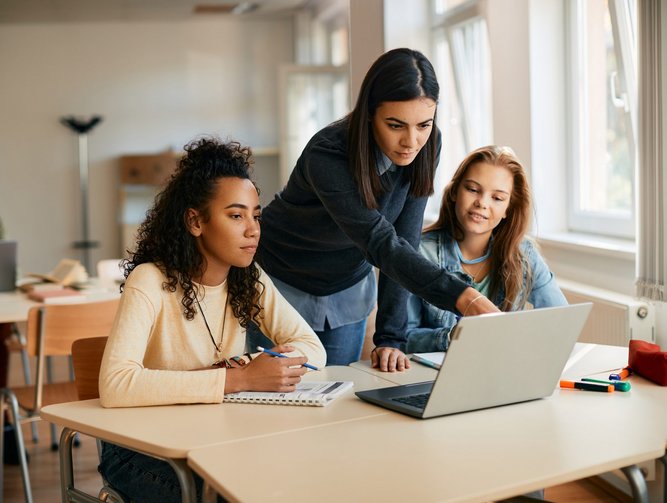 Microsoft technology solutions providing education for all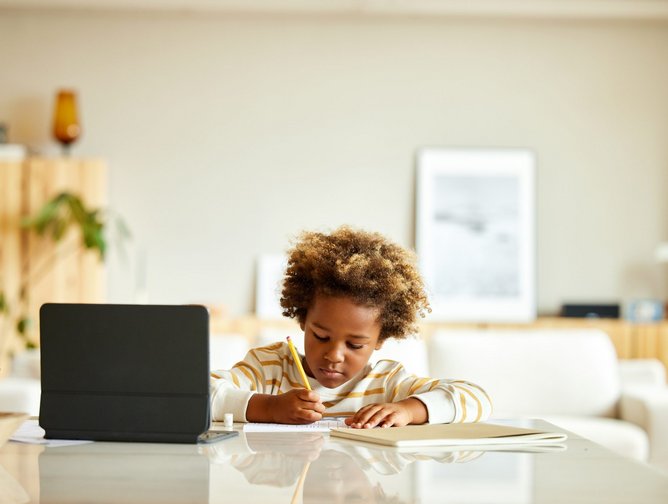 Microsoft technology solutions providing education for all
Microsoft technology solutions providing education for all