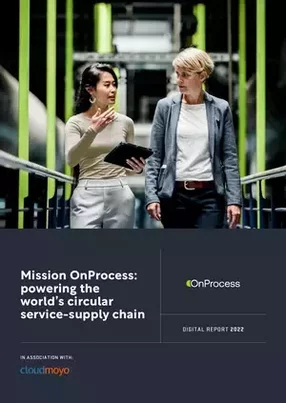 Mission OnProcess: powering the world's circular service-sup
OnProcess Technology is on a mission to digitise the after-sales supply chain, to help businesses save time and money, and reach net zero into the bargain
We live in crazy times, in which volatility and uncertainty seem to be the new normal for businesses. Pandemic-fueled demand has outstripped supply to such an extent that supply chains now seem inflexible and unresponsive. Then there's labour shortages and soaring inflation, and of course all of this is taking place against the backdrop of net zero - as countries push to be carbon neutral by 2050. 
From this maelstrom two business buzzwords have emerged: transparency and agility. These are the qualities needed if companies are to first survive the chaos, then go on to thrive. One thing is for certain: transparency and agility are not to be found in spreadsheets nor filing cabinets. The future of trade is smart digital technologies. 
Enter OnProcess Technology, a company that helps its customers simplify complexity and harvest meaning from vast fields of data, with a view to finding ways of doing business better.
More specifically, OnProcess helps its customers optimize their after-sales service supply chains. This is the part of the supply chain that provides services around a product once sold, such as parts and materials, repair and maintenance. 
OnProcess provides this help normally as a managed business process on behalf of its customers using its proprietary platform, OnProcess Agora, which is an integrated stack of tools that offers insight and untangles problems. "Agora provides full control and visibility across the service supply chain," explains Oliver Lemanski, CEO of OnProcess. "It allows our people to automate processes and dramatically improve efficiencies across the service supply chain."
A typical service supply chain is a web of disconnected, manual processes managed by siloed departments, says Lemanski. "It's in desperate need of digitisation and automation," he adds. This is why OnProcess built Agora: it unites the requisite tools for control and visibility across the service supply chain. "It gives us the ability to reimagine and automate processes on the fly," he says. "And this is the secret to dramatically reducing costs, transforming the customer experience and helping our clients hit their sustainability targets."
Lemanski says many service supply chains lack agility because businesses have been slow to join the digital-transformation party.
His view is borne out by a recent McKinsey study, which reveals the average supply chain is just 43 per cent digitised. The same McKinsey research suggests that if firms are going to digitise only one part of the supply chain then it should be the post-sale service portion because doing so can deliver an uptick in efficiency of around 65-70 per cent.
This is because in many non- or partly-digitised service supply chains there's a lack of internal coordination and cooperation, Lemanski explains. "This leads to a silo mentality, where decisions are made in isolation. Plus cost savings are also hard to achieve where there's no clear central purchasing strategy."
OnProcess addresses such problems by leveraging Industry 4.0 technologies, such as internet-of-things (IoT), robotics, virtual reality, artificial intelligence and big data.
Through Agora, it combines synch-tech to automate and augment post-sales service operations. "We also gain insight into new ways of working that can benefit the customer," Lemanski says.
This ability to deliver significant gains through digital transformation feeds the company's evangelical zeal on digitisation, which is summed up by its 'Go Digital' vision.
"Our aim is to energise employees, delight customers, to innovate, while consistently deliver solid financial returns both for our customers and ourselves," Lemanski says. The company also has a loftier mission: to power the world's circular service supply chains. 
Since the beginning of time, supply chains have been linear - 'take, make, use and throw away'. This might have kept the wheels of industry and commerce turning for millennia, but it has also ended up poisoning our planet. "When I started in this industry 20 years ago bits of kit were manufactured in factories, went through a forward supply chain, were sold through some sort of retail network, then ended up in the bin or landfill after they had been used," says Lemanski. 
The circular supply chain is an antidote to this because manufacturers and distributors recover products and parts from the field when no-longer needed and re-purpose them back into the value chain either as raw materials for new products or as refurbished or remade new products. And because the service portion of supply is the point at which products and parts are identified as no longer needed, companies such as OnProcess are vital if the circular supply model is to gain traction sooner, rather than later.
With the 2050 net-zero target looming large in the rear-view mirror, the clock is ticking on sustainability. Lemanski says: "Sustainability is in our mission. On one front, of course, we have a personal responsibility as employees to do all we can to help OnProcess be net zero. But on a much wider front, we operate a global network of supply chain activities for our customers. We've thought very carefully about the tools we've built into our platform, and how they can empower our customers - and also their end users - to achieve more sustainable outcomes."
"We can help companies reduce carbon emissions by facilitating the use of local tracking, recycling or disposal offerings. And we can help reduce the use of earth's resources by improving product and part returns and driving greater circularity into their service supply chains."
Often, waste can run into tens of millions of pounds, dollars or euros. One example of this is an OnProcess customer who is a leading provider of TV entertainment services, through set-top boxes. With subscribers to such services often moving to another provider, or deciding they can no longer afford the fees, many boxes become obsolete, which was the case with this company. But because its focus was on helping its customers use the boxes, rather than on returning them, its box-retrieval record was patchy. For voluntary disconnects its retrieval rate was 81 per cent, but for non-pay disconnects it was a paltry 37 percent. That's a lot of waste - both in terms of money and carbon. The provider realized that they needed to outsource asset recovery, and that's when they sought out OnProcess.
Today, the company's returns process is much simpler for consumers, who no longer have to find a shipping container, package up their set-top boxes and take them to the provider's store or UPS facility. Instead, every disconnecting customer is sent a recovery kit that includes a fitted shipping box and prepaid UPS label. Now, its recovery for voluntary disconnects is 95 per cent and 55 per cent for non-voluntary. "Not only did we help deliver $60 million in cost savings but the company is also delivering a good returns experience for its customers," says Lemanski.
So this is what agility and transparency in the service supply chain looks like on the ground, and at the heart of this case study is data. Or more specifically, data that offers a big-picture view of processes and issues, rather than a fragmented view - like jumbled pieces of a jigsaw - that's all too common in businesses that have not embraced digital transformation.
"Many service supply chain functions work in data silos, '' says Lemanski of such companies. "Applications don't talk to one another, data is not properly shared, and cross-functional visibility is poor. The result is that when a crisis hits – such as the Suez being blocked for more than two weeks – then this lack of visibility does not allow companies to re-adjust processes and mitigate risk."
Lemanski continues: "Our approach is to build a standardized data-layer that pulls together all these silos of data. It cleans it, then structures it around the customer and the post-sales experience they should have." 
By joining these siloes together in a circular fashion, OnProcess gives customers full visibility of recovered assets. This can bring endless benefits, in terms of time-, money- and carbon-savings. 
"Visibility helps cut purchasing levels, and can also give a company before-it-happens visibility of soon-to-fail parts, allowing it to be more proactive when it comes to dispatching spares, '' Lemanski explains. "And that's just two examples among many."
This aspect of OnProcess's work - bolstering customer satisfaction - is a crucial part of what it offers clients, because the service supply chain has a huge say in whether customers remain with a company, or leave. 
According to research from the Kellogg School of Management at Northwestern University, as few as 15 per cent of a business's most loyal customers can account for up to 70 per cent of its total sales. One reason OnProcess is adept at helping its customers take the digital plunge is because it has been on the same journey itself. Years ago, before digitisation, Lemanski admits the company had itself "disappeared into our silos."
"As a business process outsourcing company, we had got into a bit of a rut, so we looked at our mission and strategy, and decided the key for us had to be how we could go digital, and also how fast. 
"We realised we needed to drive a completely new culture, and that our culture needed to be about collaboration - not only among ourselves, but also with our customers. And the thing about collaboration is that it's inclusive, and it welcomes diversity. You innovate together, and you think about what you can achieve together."
But with OnProcess, 'collaboration' was never going to be the final word, however important. "Ultimately, it all comes down to data," says Lemanski "There's data from our customers' systems, from their end customers and their supply vendors, and from the machines themselves, through the Internet of Things."
He adds: "Everyone is giving off data the whole time, and this creates opportunity. Technology vendors like us are able to provide solutions that can help businesses understand what their ecosystem looks like in its entirety."
Which takes us back to visibility. Only with visibility can a company make sound decisions, and it is this that builds resilience in times of difficulty.