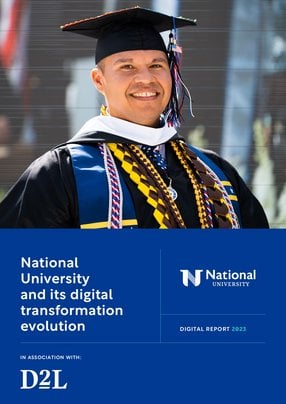 National University and its digital transformation evolution
National University's CIO and Deputy Chief of Staff & VP for Strategic Institutional Research & Planning discuss the institution's digital transformation
"When everything's said and done, this will be just about a 100% overhaul of everything." This is the view of National University's CIO Patrick Pendleton as the institution reflects on its ongoing digital transformation. Although it's come a long way over the past seven years, there's no sign of slowing down.
National University's transformation started with bringing in a new learning management system (LMS) and building systems internally at a time where there weren't many EdTech solutions readily available. Difficult in terms of support and ongoing cost, the institution moved towards a package systems approach, where an independent software vendor (ISV) programme was purchased which would then be integrated. Starting with a learning management system, Pendleton explains how an enterprise resource plan (ERP) was brought in before their current process of building a new student information system was implemented.
"It's really the programmes, the initiatives and all the efforts that go on across the institution that clearly drive the need for technology," he explains. "And you know, for technologists it doesn't get any better than this. There's so much going on, there's so much opportunity and being able to see the impacts of your efforts is very rewarding.
Digital transformation driving student success
"We are bringing the human side to our implementation of technology," adds Angela Baldasare, Deputy Chief of Staff and VP for Strategic Institutional Research & Planning. "One of the things that I'm proud of is implementing our framework for student success, which is called the loss-momentum framework."
The framework, she explains, focuses on the student's view of their journey through higher education, so teams like Baldasare's can identify opportunities to prevent student loss and subsequently build student momentum throughout that journey.
"We've gathered thousands of inputs from our students, faculty and staff on these opportunities. What we're doing now is mapping those across the student journey. We're looking for the themes we're validating with additional data, and all of that goes into how we inform, what we bring to life, and what we focus on in the digital experience, as well as how we build out our student success strategy."
National University's ability to extract rich data from its learning management system is impressive – with the majority of its student populations' mainly learning online, the amount of data that originates from their learning allows technologists at the university to unlock endless opportunities to support them.
Pendleton highlights: "If you think about the journey of a student, they spend a significant amount of time working on their assignments and studying within the LMS. There is so much data that originates from their activities."
One solution Pendleton worked on was with LMS Brightspace, provided by D2L. By tracking attendance points – activities that qualify as attendance for the student – the university is able to track their progress and match this with outcomes to better support the student.
"We've created a number of early warning devices within the LMS – like a button that a faculty member can press to say they're concerned about a student and suddenly we can focus some attention towards them. So when we talk about digital transformation, that's really the core of some of the things that we're doing that directly relate to the student."
Transformation at the core of NU
National University's move to Brightspace also changed the way students study, allowing a conversion from hardbound books to digital resources within three months. A monumental feat, the shift allowed students to be set up and ready to learn successfully ahead of the commencement of class.
"I think it's platforms like Brightspace that enable us to be able to do that," Pendleton applauds. "They allow better outcomes, better persistence, and better graduation rates, all the things that we look at in this industry as measures of success."
And although a top priority for the university, student success can be measured by more than retention and graduation rates.
"The richness of the data from Brightspace combined with our other data and all the work that we're currently engaged in to build out an additional sets of data, I think are really important," Baldasare says, adding their scalable natural language processing work with unstructured data – including student phone calls, texts, emails – give a live view of what's happening with the students.
"We have opportunities to build momentum and identify that in real time and at scale. There are some things like our larger predictive models of student success that will really help us I think in even a more comprehensive way moving forward to enhance all of the good work that we've already been doing with Brightspace and in our student information system."
Brightspace's place in NU's growth
"When we first started talking to D2L, I remember sitting in their headquarters with CEO John Baker, and we talked about our mission and what we do to serve students. And we listened to Baker talk about how he felt about students and what their mission was. There was such an alignment there," Pendleton shares.
Noting it as one of the best professional partnerships he's witnessed in his career, National University is benefitting from the brand's broad experience in research and development.
"Brightspace has grown appreciably from when I first looked at it compared to what we have today," he adds. "They focus on the data and exposing the data that is within the LMS. We get all the telemetry from a student out of Brightspace. Now we're getting really rich insights coming directly from the LMS. We commingle that with other data sources that the student generates within our systems, and we get a holistic view of the student. We understand them, and believe we better support them by understanding them through data."
And although Brightspace plays a large part in National University's digital transformation, the institution has worked with other partners to aid the student experience for both the students themselves and the masses of faculty members that support them through their educational journey.
Baldasare states that, as part of their transformation and merger, teams at National University have had the complex job of re-architecting all student and institutional data behind the scenes. "We are working on a full scale data modernisation project with the help of Deloitte, and we are also working on some holistic predictive models of student success with CML Insights. And Qualtrics is our partner on the unstructured data project sentiment analysis."
"The work with Qualtrics is beyond fascinating," Pendleton adds, also alluding to a new not-ready-to-announce new student information system.
"The partners are really what makes it happen. We are in the middle of a data explosion where we have figured out that there's gold in those hills, so to speak. Everybody has data, but it's extracting the value out of that data. Some of the work that Angela and her team are doing is very exciting in that. That is the big changemaker for us in the near future.
The future of National University and its digital transformation
"From my lens the next 12 to 18 months is us really digging in and executing on the strategic plan," Baldasare follows. "We have three pillars of our strategic plan, the primary ways through which we will achieve our mission – next generation education, whole human education and value rich education – where both technology and data will fit in the execution."
"I think about next generation education, which speaks to our responsibilities as educators to continually improve - to evolve the art and science of teaching, learning and student success. And so a huge anchor in that pillar is student success science."
She highlights how effective use of data brings people, process and technology together to understand what works for individual students and their unique circumstances.
"That's how we get to wrapping our students in whole human education, that we're caring for them and treating them as the whole humans that they are with complex and busy lives. And that's how we create an educational experience that's stacked with value from start to finish.
"Technology allows us to help students build, especially in an online environment, the experiences that creates that rich foundation for them. So that's what I'm looking forward to, is working with the people, the process and the technology to bring that all together."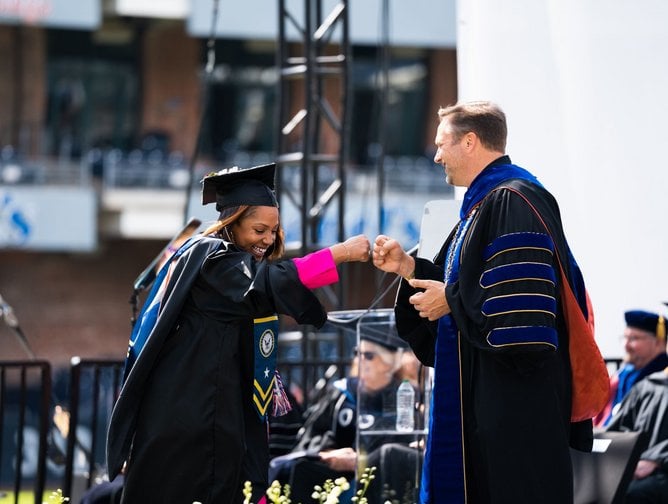 Graduation at National University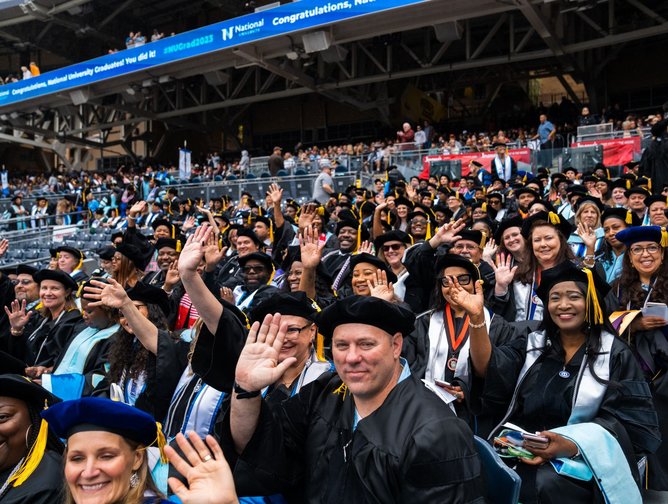 Graduation at National University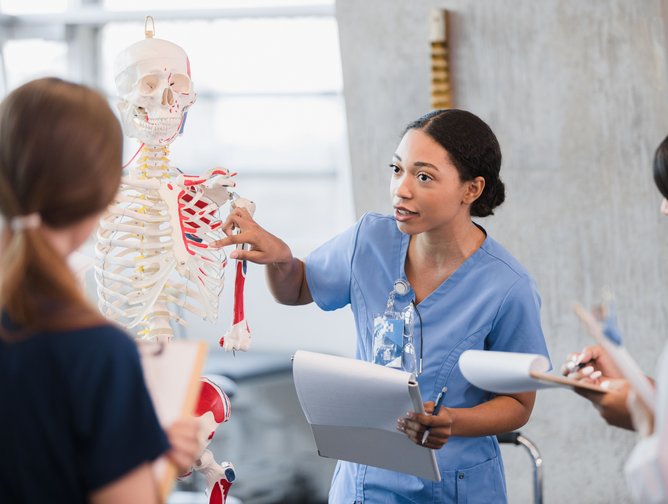 Classes at National University
Family photo at graduation