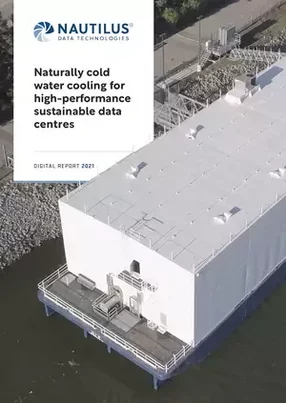 Naturally cold water cooling for sustainable data centres
Using naturally cold water for cooling global data centres is environmentally friendly and enables high-performance compute for a greater future
Nautilus Data Technologies prides itself on its technology being a simple concept, that it cools data centres with naturally cold water, instead of using water which has been mechanically chilled. Owing to the abundance of naturally cold water in locations across the world, that means data centres can also be placed in a wide variety of locations globally.
Company CEO, James Connaughton explains: "Our preferred sites for data centres are brownfields because they're perfect for large industrial water-cooling systems. They also help create new jobs, as well as digital infrastructure for those communities which are left behind in terms of digital transformation. And at the same time that means we can be closely located to the environments the sector needs to serve."
The issue is currently the infrastructure needs to support hotter, faster servers and using naturally cold water to cool data centres is a more sustainable way of doing so.
Connaughton added that in order to roll this out, Nautilus works with regional and global partners on the capability to deliver these systems and to empower them to work with the company to deliver these systems.
"Our goal is not to keep the technology just close to us, but help build facilities that are successful and find a way to get the entire sector to transform into a much more sustainable method of operations and engagement with the local community," he stresses.
Focus on sustainability and renewables
Connaughton adds that by combining their water-cooling technology with renewable energy sources, that means zero emissions in the sector with an extra 70-80% of cooling efficiency - further driving the value of renewables.
He explains: "Unlike most conventionally chilled data centres, we consume no water, whereas mechanically-chilled systems consume a lot. Conventional systems use drinking water, which then uses energy to deliver the drinking water to the data centre. Then the data centre retreats the water. In mechanical chilling, water also evaporates, and a big chunk also ends up in the wastewater system. But if you chill data centres with naturally cold water, you don't have to do any of that."
Connaughton adds the Nautilus approach also means the removal of refrigerants from the cooling process, which are ozone-depleting substances and states such chemicals are not needed any more. Another advantage to the Nautilus system, he says, is the removal of noise owing to not having big chilling systems running. "All of this is a huge leap forward in terms of environmental benefit," he states.
Most notable aspects of Nautilus technology
One of the reasons the company is unique in its outlook is the fact that it delivered its first data centre project on a barge. And this was because, it says, the company wanted to demonstrate that it not only could cool with water, but that it could also prefabricate an entire data centre and deliver it to anywhere in the world - and they can be either on the water beside the shore, or on land near a water source.
"The computers don't exactly care, do they?" jokes Connaughton. "So we can find these optimal solutions for rapid deployment into both developed countries, but also to bring digital infrastructure into emerging markets where access to digital transformation is lacking and that is very important to us," he adds.
Scaling up the benefits
Its data centres are prefabricated, as mentioned, and tested and the components commissioned, then delivered either on floating platforms or on land. When it comes to land-based centres, Connaughton says all they need is the concrete pad. He added that meant greater density, being able to handle two to 20 times the computational power for the same footprint.
"We are able to plug in quite sizable computing capacity into very small geographies, which in turn enables us to fit into the edge, as edge computing continues to grow. And the edge is core to what we do. It means we can continue to grow these big regional and global hubs that are more remote and repurpose infrastructure in locations where there are massive exchanges and everything in between," explained Connaughton. He added that the technology's scalability comes with the ability to have a global supply chain, which is what Nautilus has. "We have been able to identify capable and competitive supporters that can help us deliver the technology in any place on earth. For example, we can pick up the phone to a developer in Indonesia who wants to do a project and be ready to deliver the entire package in partnership with them," he says.
The challenges and differences in land versus water-based projects
Connaughton explains that currently, most mission-critical infrastructure sits at the water's edge. He offers examples of water treatment facilities, power plants, chemical facilities and major manufacturing facilities. However, he says, this was a new thing when it comes to data centres.
"We are the simplest plugin to those locations and can tie into, for example, any existing desalination infrastructures, drinking water treatment or wastewater treatment and repurpose their water. Our data centres are still 100% the same as other data centres, the same electrical systems, same rack, same networking capabilities, same security, so people can be comfortable that they are getting the full data centre, but with a much better cooling system," explain Connaughton.
The promise and deliverance of sustainability
In order to deliver on sustainability goals, Nautilus suggests more of the sector looks at moving to using water cooling technologies.
This is because there have been issues with water supply all over the world, whereby drinking water is being taken by data centres which is needed for people. But now that is not necessary.  Connaughton thinks this transition is starting, but believes it will take two to five years to get everyone on board. "Covid cost us a year in time to do this but we already have big global hubs and we're seeing increasingly distributed power, smart cities, smart grids and smart transportation already. So this kind of digital transformation and adoption of new technologies such as water cooling will happen very quickly once it's taken up by everyone. I think that could be within the next ten years," he said.
Connaughton said the tipping point for the technology's adoption will come from the customer and compared the uptake to that in the surge of electric vehicle usage, as well as the rapid leap from standard call and text mobile phones to the full-on smartphones we all use today.
"Going from the regular phone to the cell phone was a case in point. Cell phones started to creep in in the 1980s and into the 1990s and then after a few years, boom, smartphones were everywhere almost overnight and everyone had got rid of their perfectly functioning, what were, cell phones, " he recalls.
Partners and collaborations
Nautilus lists its main partners as Schneider, Bechtel, USystems, and Vertiv and says it is establishing more global vendor relationships, plus partners for new data centres, skilling them up and training them in how to operate the systems.
Connaughton says: "We like to work with creative and innovative partners who understand what we're doing and the leap forward benefits of what we do. We like at the moment to start with local developers and then the bigger players as they implement their own development. We'll see what happens in the enterprise and hyperscale world and how much our partners want to build their own offerings versus them leasing from others, but we are looking forward to them integrating what we are doing with what they are doing themselves. Currently we are having good, constructive conversations with many partners and collaborators about that."
And Connaughton is keen to emphasise that in terms of Nautilus' management structure and team members, they are all made up of previous major data centre suppliers who collectively have built hundreds of data centres across the world.
"They all made the jump over to us and our data centre systems and are some of the most accomplished people in the data centre sector. Hopefully that will tell you something about what we do here and our vision for the future of this technology," he stated.
The immediate future and planning goals
Connaughton describes his business as a "very thoughtful start-up" but added that he didn't want it to "get ahead of itself." He thinks the main aim right now for the business is to raise and maintain visibility, which has been the case with rolling out their first project and has prompted interest in what Nautilus does.
"So right now we are working on fitting out the first facility in Stockton, California and then working on two new locations, one in Maine in the northeast of the US and one in western Ireland, which we think are both good as global hubs for the technology as they are on both sides of the Atlantic. Then next year we are looking at city centre locations which will have the ability to deliver large-scale infrastructure."
He added that half of the new locations are in fully developed markets and half in leading emerging markets. "We're being quite thoughtful of what our customer class is and at the same time geographic diversity so we can create some acceleration in the adoption of the technology. Then it's a case of firming up the engineering packages we can offer, along with the licensing program," he goes on:  "The idea is then partners can come to us and we already have the engineering , manufacturing and vendor processes and we can provide the licensing and procurement schedules. We want to make the whole process really easy for the data centre developers, offering a complete package.
"Having the prefabricated modular design enables business to move quickly and provides the highest level of computing, the lowest environmental footprint and the greatest social gain at the same time," Connaughton concludes.