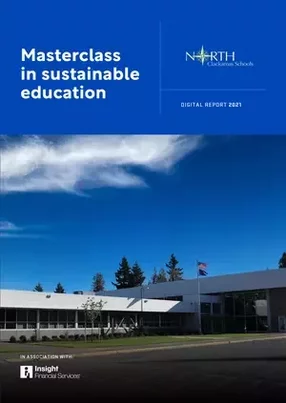 NCSD: Masterclass in sustainable education
North Clackamas Schools District focus on technology and innovation with virtual learning both now and for future generations
The speed at which the global pandemic hit sent shockwaves through the world and critically impacted the educational system. North Clackamas Schools District (NCSD) in the US-state of Oregon was not only quick to respond but is now working towards a sustainable future for its 17,000 students. This is to ensure all students have access to a digital curriculum and online instructional resources through district-owned devices and one hotspot for students/families in need that are enrolled in the Virtual Online Program. 
During the 2020-21 school year, one of the ways the technology department supported students and families in Comprehensive Distance Learning (CDL) was by providing one hotspot per household to any student/family that needed internet access.
In his new role as Executive Officer of Technology at NCSD Derrick Brown is more aware than most that COVID-19 created the largest disruption of the educational system in human history, affecting nearly 1.6 billion learners in more than 200 countries-impacting 94% of the world's student population.  Brown, arrived mid-pandemic to lead the technology department at NCSD in the suburb outside of Portland on the west coast. His team has partnered with Insight Financial Services to invest US$4m in Chromebooks over the next four years. This will create a predictable IT equipment budget, maintain a scalable environment, develop equity for all students, and improve help desk and technical support for students K-12 who attend the 31 elementary, middle, high, and charter schools which make up NCSD.
"By the end of the 2021-2022 school year, the district will have replaced all outdated existing student devices with touchscreen Chromebooks. This includes a sustainability plan for all K-12 Chromebooks and I'm very excited to be part of this," said Brown who believes all community members should have access to the internet in their home and it should be considered part of Maslow's Hierarchy of human needs along with food and shelter.
Father-of-three Brown moved from the technology arena to K-12 education in 2006 and uses a strategy and concise way of communicating the organisation's strategic mission and aligns the vision of technology for teachers, students and parent-guardians at NCSD. 
NCSD is Oregon's seventh-largest school district and spans more than 40 square miles just south-east of Portland. The school district serves Milwaukie and Happy Valley, along with other parts of Clackamas County and works to ensure they offer more than a dozen languages to serve all communities. 
From Spring Mountain Elementary to Cascade Heights Public Charter School, students and parents are encouraged to interact with NCSD's website, Facebook, and Twitter accounts to learn more and keep updated on changes triggered by the pandemic. Each NCSD school has a website and most have a social media presence. NCSD focuses on the 'whole child', offering robust, culturally-competent classroom options, and is home to Oregon's largest Career and Technical program.

 
Foresight of investing in Chromebooks
Speaking from the Portland metro area, Brown spoke about the successful roll-out of approximately 12,000 Chromebooks to students that needed one during the pandemic so students could learn from home, engage with their teachers in Google Meet sessions, access Google Classroom, digital curriculum and other online learning resources.  In addition to distributing Chromebooks, NCSD provided meals and internet to families in need. According to Brown, in the US nine to 10 million families currently do not have internet access at home and nearly 13 million households did not have enough food in 2020.
Brown said NCSD previously invested in Chromebooks for access to online learning resources and digital curriculum. "Therefore, when the pandemic hit in March 2020 the district was able to respond quickly to get these resources into the hands of students who needed it." 
NCSD distributed approximately 12,000 Chromebooks while the remaining approximately 5,000 students used a personal device while learning from home. The district is now awaiting approval from the Federal Communications Commission's (FCC) Emergency Connectivity Fund for approval of 9,200 additional Chromebooks to replace the last of the ageing student devices.  
"The pandemic accelerated the need to seamlessly access digital curriculum and instructional resources when it came to implementing technology within education," he said. "The tools of technology should be ubiquitously accessible by all students including having access to the internet at home which includes WiFi so they can continue their learning.
"If we had talked two years ago about teachers teaching from home and students learning from home, it would have sounded absurd for K-12. I dreamt of this happening because it's successful in higher education, but did not see it happening in my lifetime in K-12.  But here we are navigating our way through the pandemic with parents teaching at home as well as working remotely in many cases.  We did it - we can do challenging things. What we have to look at moving forward is to identify lessons learned, not regress, continue to grow, and continue providing compassion and grace for our students, teachers and parents.
"I joined during the pandemic which was interesting especially since I am a people person," said Brown who did not physically meet many of his colleagues in-person for most of the school year. "During that time my department's primary goal was to provide technical support to remote students, teachers and families.  We did this by meeting people where they are over the phone, scheduled video meetings and whatever it took to build a rapport.
"I think the number one challenge for me was not being able to walk into a school or classroom for direct feedback. Our teachers were in Google Meet sessions with students and used Google Classroom, which is our platform for learning management.  Also, teachers were able to strengthen engagement and communication with families.  We created a Family Tech Support Hotline for our families to call or email when they had technical questions or needed support.  The family tech support allowed us to quickly respond to needs and create video tutorials and share information quickly via the district's instructional technology website for how-to access or use items within our digital instructional ecosystem."
Partnership with Insight Financial Services
Brown singled out the initial partnership with Insight Financial Services that began with NCSD investing US$4m in 5,700 new devices to replace aged, failing, and out of compliant student Chromebooks.  The district is building a sustainability refresh plan which operationalises the budget by creating a replacement lifecycle plan. He cited this sustainability program creates flexibility and options at the end of the life cycle.
"Insight Financial Services is a trusted partner financially because they help their customers create a sustainability plan."  I was fortunate to have worked with Insight in another school district, but most importantly, they had already laid some groundwork at NCSD pre-pandemic with the Chief Financial Officer and former Executive Director of Technology.
"We were not in a place to look at operationalising Chromebooks pre-pandemic as the devices that we used were in mobile carts within the classrooms and the daily demand was not as high.  But the minute the pandemic hit, we began to see these devices were needed daily and unfortunately weren't robust enough in terms of running video meetings and the multiple windows opened simultaneously for students to work remotely. We needed a sustainable and affordable way to buy or lease devices for all students. 
"When you spread US$4m over four years it becomes more palatable. We already had a sustainable replacement plan for our teacher's devices, to ensure they had reliable in-warranty equipment, so we are adding on and improving existing practice to make sure that all students have the same experience. Our school board was elated when they heard about this opportunity.
"Emergency funds from the FCC will provide us with a one-time payment for us to move this forward. But in terms of working with Insight Financial Services, they will help us work on sustainability. So in year three, we'll begin to evaluate a replacement plan and the district's needs. This will include looking at what new devices are available, evaluate the needs of Teaching & Learning and seek input from students and teachers, see the new technology available and look at our return rate for the existing equipment. 
"There's a fair market value for these devices, we may want to keep some at the end of the lifecycle or offer students a purchase option at graduation - there's a lot of flexibility for us," said Brown.
Hotspots for virtual learning
NCSD utilised its existing partnership with T-Mobile, and Project 10 Million, as well as Verizon to provide hotspots to students and families that needed access to the internet. 
"We use a single sign-on tool called ClassLink in order for all students and teachers to securely and seamlessly access digital curriculum and online instructional resources. It's one of our biggest partners that helps us to provide digital resources in a single sign-on tool. And so with the click of a button, if you're a student on a Chromebook, it immediately takes you to a single pane and the student can see all of the resources that are available to them by their grade level," commented Brown.
"Our district made it clear that if any family needed access to the internet, we would provide it. "Although we provided hotspots at the height of the pandemic thanks to T-Mobile and Verizon, they didn't work for everyone because of the cellular service in their area.  Some families found that their internet service was not fast enough so they had to stagger their time online.
This period of disruption also coincided with the retirement of NCSD Superintendent Matt Utterback after three decades and the arrival of newly selected Superintendent Dr Shay James. "Previously, Dr James was the Assistant Superintendent of Education so we have a smooth transition of leadership," said Brown.
"Matt Utterback spent his entire career here which is rare in education. He had planned to retire in 2019 but was asked by the board of education to stay on board to walk us through the pandemic and finally retired in 2021. Our internal candidate Dr Shay James became the new superintendent here at NCDS on July 1. I'm excited about our new leadership in sync with revising NCSD's strategic goals this year facilitated by Studer Education," said Brown.
STEM (Science, Technology, Engineering, and Mathematics)
Commenting on the digital plans for the future, Brown predicts K-12 may focus on STEM (Science, Technology, Engineering, and Mathematics).
"Personally, I hope the future will be in coding, programming, and innovation. We have an amazing trade program here. We know that not all graduates will go on to a four-year university. We promote our trades and give opportunities to students who might not have thought of being in automotive or welding. I want to build an ambassador tech program within middle and high schools to provide additional student tech support.  So why not have some of our students who are interested in technology be part of our team?
"We have technology support specialists in our middle and high schools, so they are able to work collaboratively with our teachers to create a program to recruit students.
"We might do the first round of interviews to bring in a class of students to train them on things like how to replace a screen, how to replace a motherboard, how to create a ticket, be able to access the help desk ticketing system, respond to their peers or provide tech support for teachers. Then they could be part of the next group to interview incoming students. I see there are lots of opportunities in the future.
"Our partner Acer, who provides the majority of our Chromebooks, has a programme where they certify students to repair devices. We want to bring that programme in to work with our technology and education programme to get it off the ground, for our students to receive that certification. It might even be a pathway for a job attracting a livable wage when they graduate.
"At the beginning of the pandemic, we could never have imagined where we would be today. We have learned so much. We have developed resilience. We can do hard things. We have learned to come together. We realised that we have to reach out and ask for help when we need it. I have always been an advocate of reaching out to my peers and vendor partners. The pandemic forced us to have deeper connections. It forced us to schedule virtual meetings, and be intentional. We need to continue to do that and utilise this technology.
"What does that future look like? That's what we need to talk about. What worked well, what is going well and how do we continuously improve? What resources do we need to continue to provide? There are up to 10 million families today in the US still without internet access. That's a tragedy. And some of these families are right here in NCSD.
"We have to look at how we get resources to these families? How do we make sure that we don't leave anyone behind during these times? I think that's critical," said Brown who pointed out that although there were funds available it cannot be a one-time cash injection. We need long-term sustainability from the state and federal government to continue the good work and school districts have the funds to keep it going.
How AI and ML will enhance a student's learning
Derrick Brown, Executive Director of Technology at NCSD said he is fascinated with Machine Learning (ML) and Artificial Intelligence (AI) and how this can be utilised to track a student's progress in the future.
"By using AI and ML in the future we will be able to help our students. For example, if a student did exceptionally well during the pandemic we can look at how they achieved that success and what resources and tools they chose to use on our Chromebook to leapfrog their learning.
"On the other side, we can look at the students that might've fallen through the cracks and use this technology to look at what happened.
"We always ask ourselves, what can we do to make sure that we're providing all the resources that we need to enhance a student's learning and both AI and ML. At  the end of the day, we want all of our students to graduate and will do everything that we can to support their learning."
Oregon is a state in the Pacific Northwest region of the western US. The Columbia River provides a natural boundary to the north with Washington, while the Snake River acts as an eastern boundary with Idaho to the south is California and Nevada. While Salem is the state capital, Portland is the largest with a population of 647,000.
Oregon is one of the most geographically diverse states in the US marked by volcanoes, dense evergreen, and mixed forests, as well as high deserts and semi-arid shrublands. Standing 3,429m is Mount Hood, a stratovolcano, which is the state's highest point. Oregon's only national park, Crater Lake National Park, comprises the caldera surrounding Crater Lake, the deepest lake in the US.