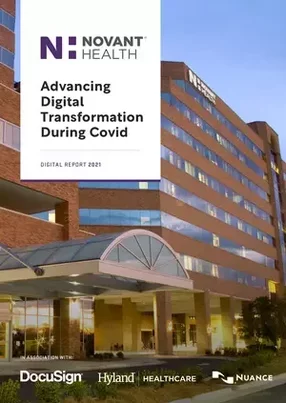 Novant Health: advancing digital transformation during Covid
Onyeka Nchege, CIO at Novant Health, tells us about the importance of the digital ecosystem to be able to innovate and reach more people with their care
Onyeka Nchege joined Novant Health, a not-for-profit integrated system operating in North Carolina, South Carolina, and Georgia, as Chief Information Officer in the middle of the COVID-19 pandemic. Aside from the typical challenges many health systems were experiencing, Nchege explains that it changed the ability of going to markets and engaging with stakeholders. "I always want to be able to shake hands or do elbow bumps because that's how you build trust. Now I'm having to do that through Zoom, so I have to be very intentional and attentive to show that not only have I done this before but to make sure people understand that I understand what they're talking about." 
The pandemic also caused Novant Health to accelerate its digital strategy. "Like most organisations, we saw a tremendous shift in our adoption of telehealth by consumers and providers, so they learned new tools in real time to empower care delivery. In just a matter of weeks, digital health adoption advanced years into the future," he says. 
Nchege adds that to sustain the pace of new advances in technology, healthcare organisations must continue to innovate. "Let's not wait until there's another catalyst that forces us to do something and start to think innovatively. At Novant Health, we were already deploying telehealth in our environment, so we moved it up the timeline to get it done." 
Novant Health was formed July 1, 1997 by the merger of Carolina Medicorp of Winston-Salem, North Carolina and Presbyterian Health Services of Charlotte, North Carolina. The organisation's mission is "to improve the health of communities, one person at a time." This is also the main driver of the digital strategy. "We are laser-focused on developing and enhancing the capabilities that are needed to thrive in this changing healthcare ecosystem," Nchege says. "We have to constantly be thinking about what we can do to ensure that we are making a difference." 
Nchege explains they focus on four outcomes: "Increasing access to care, ensuring there is access everywhere and anywhere, continuing to push the continuum of care and enhancing its quality, ensuring we have world class recruitment and retention, and constantly pushing the envelope."
The latter point refers to Novant Health's ecosystem of partners. These include startups, corporate partners, researchers, technology vendors, and incubators. "With each one of these there are students. We need to make sure that we continue to push the up-and-coming students today who will become healthcare professionals in the future," he says. "You have to educate people on what we mean by digital transformation," Nchege adds. "To ensure it's successful, and is adopted, you must establish a new perspective that drives meaningful change, and it begins with education."
"Next you start to establish success criteria and make sure you have the right people in the right seats because not everyone is necessarily geared towards future technologies. Then you need to ensure you have the right technology partners to carry out a digital transformation successfully. The last part is execution." 
Throughout the pandemic, Novant Health has been developing digital healthcare solutions to reach more people in underserved areas. These include video visits for patients to connect with their providers, interactive devices that patients themselves can use to report information back to their healthcare professionals, and non-sequential e-visits. 
Through tele ICU, the critical care staff can also monitor the sickest of patients at one of Novant Health's large multi-specialty facilities using critical monitoring devices. 
Another innovation has been deploying drones to deliver personal protective equipment (PPE) to team members at Novant Health facilities. "When the pandemic first started, we realised very quickly that people may not be able to get to us for the care they needed. We've been able to effectively manage PPE delivery, even with short supply by utilising drone technology to deliver critical supplies to staff." 
Novant Health also deploys Nuance, a deep-learning-based voice recognition tool used in 77% of U.S. hospitals. The company was acquired by Microsoft in April 2021 and has several products aimed at clinicians. "At its heart, Nuance is a voice recognition company," Nchege says. "We used them initially as a voice to text transcription service to assist with documentation. That relationship grew to include mobile documentation services with Dragon Medical and radiology documentation. They are an organisation that has been a tremendous partner to us in helping us move forward and provide the capabilities that we need within our environment." 
As an organization, Novant Health needed a fast, reliable application that provided users a secure way to sign documents and agreements. DocuSign was suggested by team members who had witnessed the transformation DocuSign made for other organizations. The relationship with DocuSign has proven to be advantageous in that their partnership helped Novant Health identify overlooked areas where efficiencies could be implemented.
DocuSign is an easy-to-use digital transaction platform which allows users to send, sign, and manage legally binding documents securely in the cloud. There are many benefits to this partnership. The DocuSign team quickly responds to team member questions, and they have helped us become more innovative with processes that will address the current needs of Novant Health. The utilization of DocuSign has also been beneficial for our growing number of team members working from home. To add, this application offers a great alternative for patients to sign documents without going into an office, which potentially lessens the exposure of COVID and other viruses. Novant Health is continuing to evaluate the application's use in various areas across the organisation. The partnership between Novant Health and DocuSign has been remarkable.
Another very important tool is Hyland, a content management system that stores and manages scanned documents loaded in the electronic medical health records system. "Hyland is the industry leader in document and content management, so it was a no-brainer that we would absolutely go with them. This is crucial to us because it allows us to pull up the relevant documents with ease to deliver timely patient care at all times," Nchege says. 
"By having a strong partner ecosystem, we're able to deliver a consistent experience for all our users," Nchege adds. "By creating a stable platform and partnering with top performing partners, we're able to take risks with less proven partners and truly innovate. Having experts like Nuance and Hyland allows us to be able to give a chance to startups that others may not necessarily give a chance to. 
"I also believe that by building a strong partner ecosystem, we can establish ourselves as a differentiator in our field. We have access to cutting edge technology that comes out of the substantial investment our partners pour into R&D that we wouldn't otherwise be able to do with some of our other startup partners. I see that as a win-win."
For the next few years, Novant Health wants to continue investing in its ecosystem. "We are all about patients and providing remarkable service," Nchege says. "Increased access to care when and where needed, making sure that we as an organisation continue to push the needle when it comes to enhanced quality of care across the continuum, and making sure that everyone who needs it gets not just access to care but remarkable care. That's the Novant Health way."