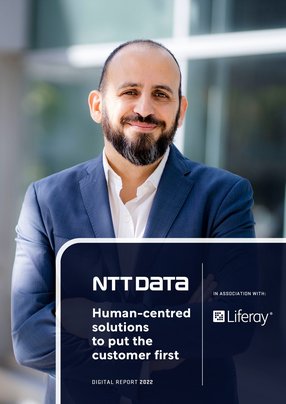 NTT DATA: Human-centred solutions to put the customer first
Manel Martorana, Partner, Head of Digital Experience at NTT DATA Europe & LATAM, explains the company's world-leading approach to customer experience
NTT DATA is the sixth largest IT company in the world in terms of market share, and one of the fastest-growing brands, appearing among the 10 biggest IT and business service providers at the global level. Headquartered in Tokyo, the company helps clients transform through consulting, industry solutions, business process services, digital & IT modernisation, and managed services
Manel Martorana is Partner, Head of Digital Experience for NTT DATA Europe and Latin America. A core part of his focus at NTT DATA is human-centred solutions. Using his technology expertise and knack for business orientation, he aims to achieve memorable digital experiences and boost customer engagement for every client.
Agile software development is a key pillar for Martorana in delivering a deep digital transformation. Recent projects include artificial intelligence (AI) based virtual agents to improve contact centre efficiency and training courses using virtual reality and augmented reality to optimise costs.
"We're true innovators, with access to $3.6 bn of investment research and development from NTT Data. We have delivered 31 years of growth in a row and we have as objective to be in the top five global players in the market by 2025. Currently, we're the sixth," said Martorana.
"Agile methodology is a core pillar of our digital transformation. We have experienced this with several clients, where we have created huge teams working on the digitalisation of their process, helping them to boost the velocity of the transformation. We have improved the time to market, especially of the digital projects, and also the quality of customer experience."
Agile provides a clear differential in the NTT Data approach with clients, with hundreds of people working on different products for the same clients. The magic formula is blending human-centred design, technology expertise and business orientation to achieve a memorable digital experience and to boost customer engagement.
"We mix those three disciplines, putting the user in the centre of the design process, having the right knowledge on the technology that we're using to make those outstanding designs become real; and a deep understanding of the business challenges that our clients are facing."
In regards to product-oriented development, Martorana says that, according to a study, 65% of developers were concerned with the customer experience when working with Agile. Asking the same question to developers working in a more project-oriented approach, more classical, only 30% are worried about the customer experience.
"We create agile teams with different skills and different specialties, from design to more technical parts, but also for measuring the experience and the results and for testing. We're really focused on not just delivering the product, but also the features of the product with a bigger flexibility than you'd get working to classic deadlines", said Martorana.
One of NTT Data's key partners is Liferay, who build portals, intranets, websites and connected experiences on a highly extensible digital experience platform. NTT DATA recently won Liferay's partner of the year. The business started working with them in Spain at the beginning in 2009, expanding over the years into other countries in Europe and America, such as the UK or Brazil.
Martorana adds that "one of the aspects they value from us is our capacity to collaborate in different countries. As a company, we have a cross-country vision of the business. We're really comfortable with Liferay because they're one of the best solutions for digital platforms for our clients, who are typically large organisations with complex demands."
How large companies are embracing VR and AR
The big companies are still struggling to adopt those technologies, because the general consumer markets are also struggling to adopt them, according to Martorana.
"But we see especially in training, in industries where it is expensive or dangerous and involves long travels to different facilities, we're creating virtual reality environments where they can simulate the actual situation. Employees taking this kind of training give us really good feedback on how effective the learning is. These experiences are two to three times less expensive than training people in a physical or traditional scenario."
"We're also working with them more in the customer experience scenario, led by Facebook with the creation of Meta. Our AR/VR platform Naka (a Japanese word meaning to be in the middle of something), is especially designed to have this kind of meta experience at scale.
We created an experience, for example, for an airline company, to train the ground staff to cope with different airports layouts and with aeroplanes composed of different components. The client can create more than 60 courses, just combining the different models", said Martorana.
Not replacing staff, but assisting them
By providing conversational AI, businesses can handle a lot more traffic, a lot more conversations, with the same team they already have. This allows the human team to focus on the conversations that really require human talents, such as high empathy.
Bots can provide a really good experience for the final user, so they feel like they are speaking or chatting with a human, but Martorana says his team doesn't try to fool people.
"We don't try to pretend there is a human being where there is not. If the client (or the complexity of the problem) demands it, we'll redirect the conversation to a human. It's about focusing on where we and the machines can bring more value. We can reduce the cost of running the contact centres dramatically, especially when the demands are higher in times such as holiday seasons or around new product launches. We have seen NPS scores rise by 30 points. So it's not just about reducing cost. It's also about improving the customer experience."
Aside from the contact centres, NTT Data is investing into its digital analytics capabilities. "We truly believe that you cannot improve what you are not measuring. We have specialised teams focused on analysing the experience of the users. We are increasingly more sophisticated in how we measure the experience. And we're focusing a lot on what we call the 'emerging devices'. On the evolution of mobility, the business has seen usage of many different kinds of devices, which users interact with in different ways. Managing the omnichannel approach effectively is a big focus moving forward," said Martorana.
Proudest achievements
Martorana has spent the majority of his career based in his native Barcelona, a city he calls home, and working across Europe. When he reflects on his greatest professional achievement, he doesn't hesitate in saying the creation and development of his team.
"We're really a big family. We're 800 people in the European Digital Experience team, built one by one over the last 15 years. We work really closely with each other to help the clients, and to help us individually to become better people and better professionals. Our company is not a competitive environment, it's a partnership model where we work all for one objective and to create more value for our clients. I think this really makes a difference between us and other enterprise environments. I also enjoy the opportunity to participate in really meaningful projects for clients, those that really have an impact on society and use the technology for good," he added.
"What really motivates me though is the people that I work with, this is the most important thing. We work on technology because we are passionate about technology. And we work on customer experience because we really love improving the customer experience of our clients but, during my career, I've been really lucky to have really good bosses, really good mentors and colleagues, that helped me develop my skills that helped me understand the technology and the purpose behind it. This helps me find the right talent for the team and to give them the space and support to develop themselves in the same way I did. My mentors are one of the reasons I'm still here after 16 years!", said Martorana.
On hyperpersonalisation
In terms of providing customers with the right information, at the right time and in the right place; Martorana believes that as an industry, this is not being achieved "because the reality is that we're retargeting a lot."
"At NTT Data, we're working on applying data and analytics to what is happening across the different channels to personalise the content. This is one of the promises that we as industry are not fulfilling' both to our clients and to society. It's been promised for the last five or six years that we will be delivering this hyperpersonalised experience", said Martorana.
"I think that one of the main challenges is learning how to give the pressure or intensity that is needed when users are searching for topics. If you do this wrong, what you achieve is the opposite effect you want to produce.
"This is problematic particularly in larger companies, where everything is less personalised. And you feel that each channel works as a silo and you're starting your relationship with this company or with this organisation every time you have attachment with them.
"It's about recognising who you are and knowing when your last interaction with the brand was, so it can start talking from this point and not from scratch every time", he added.