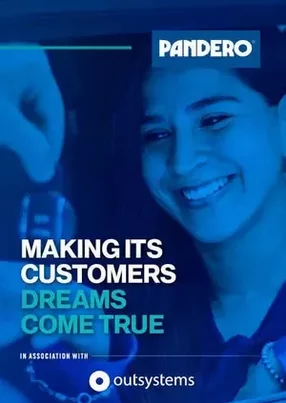 Pandero: delivering a digitised, customer-focused service
Pandero is transforming the customer experience through digitisation, according to Frank Jarrin, Manager of Technology and Innovation...
A leading company in the collective funds system, Pandero SA has delivered more than 90,000 new vehicles and has more than 33,000 active clients under its umbrella. Whilst it has retained its competitive advantage within the local Peruvian market, the company is now seeking to diversify its portfolio and adapt towards a mobile-enabled sharing economy. 
With brands such Audi, Citoren, Hyundai, Kia and more at its disposal, Pandero has undergone a two-year digital transformation to take forward its strategic plan, attract future business and become increasingly agile, all whilst adapting its culture and transforming the customer experience.
The launch of its Pandero Fast initiative, for example, has enabled customers to obtain a new vehicle after providing 24 financial instalments. Similarly, its Pandero Inmuebles scheme has enabled clients to own their own home at a low cost of financing, aligning with the company's sole purpose – to be 'an accelerator of collective dreams'.
By undergoing a deep analysis of the needs of its customers, Pandero's transformation has led to the implementation of a number of new digital tools.
"Our call base is also focused on reducing the waiting time for customers, so we are transforming our touchpoints to open up more possibilities through the use of digital assets," notes Frank Jarrin, Manager of Technology and Innovation.
"We are moving further towards the online experience, so after these two applications, we will make sure we successfully optimise these touch points to cater towards the customer experience. We are delivering new builds and alternatives to clients, not just cars. Since 2017, we are also delivering credit plans, sold apartments and are acquiring some US-based things here in business."
Digital transformation
Whilst processes at Pandero routinely change, its purchasing process was one particular area of focus for Jarrin as the business sought to undergo its extensive transformation programme.
The launch of its sales app in 2017 has been an essential part of the business' customer drive, where it has sought to overhaul all touch points. Understanding that the business needs to go further in providing clients with interactive mobile services, exceptional delivery of goods, as well as competitive financial services, consumers are wanting increased control over their products and services.
Its point of sales app now effectively captures all aspects of the process, impacting directly on vehicle efficiency and the consumer experience. 
"We have trained approximately 700 people to notice any essential changes, as this was not just a technological change, but the way in which clients share information," says Jarrin.
"Now, users can pay online and complete sales in four to six minutes."
The company has also sought to define critical data for complex areas where it faces growing competition and acquired essential technologies to accelerate its transformation.
"This has allowed us to create a unified data framework. We fear our real exclusion continues to be building over that data mark, but now we have the mobile edition of our data, so we can combine them. We are also integrating credit penalties for our clients," he adds.
Housing several clients which are close to its market, Pandero will aim to further consolidate its position to deliver exceptional services. Through digitisation, the business will aim to expand into Ecuador, Colombia, and Bolivia, in order to diversify its portfolio and drive business growth across a number of markets.
"Pandero is ready to significantly increase and diversify its on-demand mobility services. With its digital sales, it is guaranteed to acquire new services and new business models for 2020 and take full advantage of a sharing model economy," concludes Jarrin.
Becoming a strong alternative to traditional banking providers, Pandero's move towards a mobile-enabled sharing economy will see its financial services and consumer preferences further change shape. As business continues to reinvent itself, it will define its core responsibilities, systems, and cultural fit to further overhaul its services for the future.
See also: