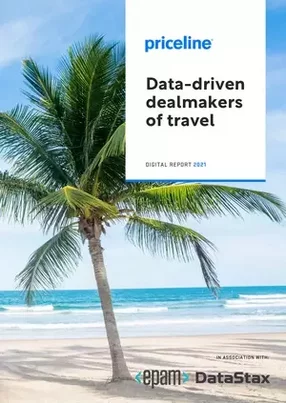 Priceline: Data-driven dealmakers of travel
Priceline the pioneers of the ultimate travel deal, with their customer-centric platform
We all love a deal. US-based Priceline is renowned for being the ultimate travel dealmaker and having a customer-centric platform.
"Priceline is the best travel dealmaker in the world," said Martin Brodbeck, Chief Technology Officer who points out the online travel company has invested time during the pandemic transforming its digital platform.
"Priceline is a data-driven company and we use this data to listen to what our customers want, and rapidly adapt to any changing dynamic in the marketplace as has happened during the pandemic." Speaking from New York, Brodbeck says the travel landscape has changed in the US since Covid-19 with more citizens focusing on domestic travel rather than outbound vacations to other parts of the world.
But there is one thing that hasn't changed, everyone wants a deal. Priceline founder Jay Walker recognised this back in 1997 at a time when US airlines regularly flew two-thirds full, with millions of seats empty and a million hotel rooms unused every night.
Walker was also one of the first in the travel industry to recognise the business potential of the internet. His idea was to harness the internet to drive demand to fill planes and hotels by asking Priceline customers to make an offer – name their own price - rather than pay the full fare.
Another of his inspired ideas was to invite Captain Kirk (aka William Shatner) from Star Trek to become the ambassador for Priceline. He became known as 'The Negotiator' and was so impressed by the e-commerce start-up he agreed to be partially compensated with stock. The company launch was so successful that their two servers crashed immediately as so many people wanted to name their price. Priceline was born. 
More than 20 years later, Shatner may have been replaced by actress Kaley Cuoco, known for her role in The Flight Attendant, but Priceline, part of Booking Holdings, continues to focus on the customer to offer the very best deals available on hotel rooms, flights, rental cars, vacation packages and cruises.
"Americans love to travel, but since the pandemic we are seeing more focus on domestic travel, whether it's a road trip and staying in a hotel, or going to a beach within the US," said Brodbeck. 
"Through our technology platform and our analytics we quickly saw a shift from people booking flights to road trips. Once we saw that data we started providing travel products and discounts that bundled rental cars and hotels together. We also developed specific features where users could find the nearest rental car based on their location and bundle it with a hotel to get greater discounts."
Brodbeck, who previously worked for Pfizer, joined Priceline just before the pandemic and is shaping its digital roadmap. He pointed out how Priceline is using technology to turn the tide to bring affordable travel back to consumers with the use of product development and a multiservice digital payment platform.
"Navigating the challenges of the pandemic has been a great learning experience for me because it accelerated a lot of the things that we wanted to do as a company and created an opportunity for us to collaborate on a global level," he said. 
Brodbeck is responsible for product engineering, data analytics, machine learning (ML),  infrastructure and operations at Priceline and since joining has been working "to innovate and invest" in the future with his agile development plan. "We provide a technology platform that offers the best deals across many different travel products, including flights, hotels, rental cars, cruises and packages.
"Although Priceline is a travel company, we are essentially a technology company at heart, where more than half of the company is made up of great product and engineering talent. 
"We have six different offices worldwide from an engineering perspective and the pandemic enabled us to accelerate how we do agile development at scale across those locations in Winnipeg, Toronto, Mumbai, Berlin, New York, and Norwalk in Connecticut."
Travel trends in the US 2021:
35% will embark on a road trip this year 
32% plan to visit family or friends - as the pandemic has highlighted the importance of these relationships
57% plan to add to their bucket lists 
66% plan to take advantage of working remotely by travelling more in 2021, with parents more likely to say this (71%) than non-parents (62%).
78% are excited to travel and 92% are planning to do so if they haven't already. 
56% of Americans plan on rescheduling 2020 trips that were cancelled due to Covid-19
(Source - Priceline 2021 Work-Life
Balance Survey)
Doubling down on Priceline's digital journey
Brodbeck commented that during the height of the pandemic, when lockdowns were in place around the world, Priceline took the opportunity to focus on three main areas:
1. The changing needs of the customer
2. Launch of VIP programme
3. Accelerated digital transformation
"We used the period during the pandemic to double down our efforts in relation to our digital journey which centres around cloud migration to Google and how we are using data-driven analytics to improve the customer experience," he said.
Priceline started to focus on their digital transformation two years ago and according to Brodbeck were two thirds of the way through when Covid-19 struck. As a result the company has increased their technology budget as they feel it is a key enabler to drive future growth.
Recent improvements have included personal product searches on their website, app, VIP rewards programme, and a focus on their cyber security with round-the-clock monitoring of their Network Operating Centre.
Brodbeck points out how Priceline is actively using technology to turn the tide to bring affordable travel back to consumers in the US with the use of product development and a multiservice digital payment platform. "We actively seek to understand what our customers want and what our customers need from a travel perspective and then innovate accordingly," he said.
"We launched a VIP Loyalty programme which rewards people who use our travel platform for buying products. The more you buy on Priceline's platform, the greater status you can achieve and the more you can save. We offer different tiering of discounting for our customers and benefits based on their spend and how many products they've booked. 
"The second area we focused on was personalisation and product recommendations to our customers based on what they are searching for on our platform. The third area is that we've accelerated our digital transformation. We have an extensive cloud migration programme going on where we're moving our entire product platform to Google Cloud running on Kubernetes. 
"We are transforming our data infrastructure and architecture from a transaction-oriented model to one that focuses on providing a complete view and leveraging that data to power Machine Learning (ML) moving forward. By the end of this year we'll have our entire product platform running on Google cloud and Kubernetes, and we'll have close to 50% of our data infrastructure running and Google clouds on BigQuery architecture. 
"That has enabled us to build products that are much more geared towards customer architecture and that can provide real-time analytics on how our products are performing. We're able to automatically scale our website based on traffic patterns and these have been key enablers for us to be able to scale the company in the last year."
Customer-centric approach
Priceline has always put the customer at the heart of their operations, and two decades after Captain Kirk beamed the company into the stratosphere with their online presence, Brodbeck is using intuitive technology to keep life simple for their clients when it comes to payments.
"To ensure the simplicity of our website, we do extensive user experience testing to ensure our customers are getting the best possible experience. Priceline prides itself on being a company that continuously likes to innovate from a user experience perspective. We capitalise on that innovation through AB experimentation, where we'll build a product feature, and test it out on our website to make sure that customers are using the new feature effectively," he said. 
"We are increasingly aware that consumers like to pay for our products in many different ways. Our job is to provide the best payment capabilities for our customers through our technology to keep customers coming back onto the platform. Through the checkout process we offer our customers many different alternative payment methods from Google pay, Apple pay to PayPal and traditional credit cards and alternative payments which allows people to buy now and pay later. 
"We also have a very sophisticated marketing architecture, which allows us to provide customers with the latest deals on products." 
Competitive advantage
As Priceline moves into the next decade, Brodbeck reflects on what has given the company its edge in such a competitive market. "Three things give Priceline the competitive edge. The first is that we hire the brightest people all over the world who contribute to the building of our great products and help us innovate our infrastructure.
"The second is our process for software development. We have a highly experimental culture where we build features and functions and experiment to make sure they actually drive revenue or operational efficiency. Our agile based software development that allows for experimentation is part of our secret sauce. 
"The third is site reliability and performance. We have a fast, high performance website that provides the best possible user experience all over the world. This comes down to our technology platform and the people that run it."
Focus on cybersecurity
As cyber attacks grow exponentially, Priceline is not taking its eye off their cyber security with round-the-clock monitoring of their Network Operating Centre.
"We have very sophisticated security architecture that we've made investments in over the years. From a fraud perspective we are using a technology platform from Forter that helps us identify any fraudulent activity. They have been a great partner and a phenomenal platform for us to install.
"We've made a significant investment over the last few years to combat any kind of denial of service or bot attack. We have also made heavy investments on encrypting all of our PII information at rest and in motion in our cloud environment, in our data centre environment, and even traffic within our own network is all encrypted, both in rest and in motion. We've also made significant investments in securing our code where we're using technologies from Bitbucket to make sure that there's no corruption across our GitHub repository that we use for code development."
Brodbeck predicts the future of travel will be bright from a technology perspective.
"We are going to continue investing in ML to automate our core product and infrastructure capabilities. The best product and technology capabilities will power the next trip for all our customers."
A deal that is sure to be given the seal of approval of Captain Kirk himself.