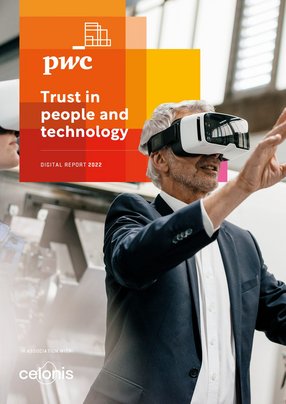 PwC: €12b investment to drive tech-solutions for clients
The New Equation from PwC is building trust in the ingenuity of people and innovation of technology to meet today's challenges in business
PwC has invested €12b to accelerate the technology footprint for their global clients. This investment in technology has come as a result of a new strategy called The New Equation which is paving the way for the global consultants to become a more technology-enabled company.
Philippe Trouchaud, Partner PwC France, Chief Technology and Products Officer and Matthieu Lemasson, Partner PwC France, Advisory Market LoS Leader spoke to Technology magazine from their offices in Paris about how the company is combining human ingenuity, experience and technology innovation to deliver sustained outcomes and build trust among their clients during the next four years.
Trouchaud and Lemasson also highlight the talent war currently going on within industry and highlight how PwC is working with key universites to help address upskilling and encouragement for more women to follow a career in technology.
"Technology is the heart of the next big thing," pointed out Lemasson who has been advising PwC clients for the past seven years.
With offices in 156 countries and more than 295,000 people generating a turnover of US$45b in 2021, PwC is among the leading professional services networks in the world. They help organisations and individuals create the value they are looking for, by delivering quality in assurance, tax and advisory services.
PwC is regarded as a community of solvers combining human ingenuity, experience and technology innovation to deliver sustained outcomes and build trust for their clients both today and tomorrow.
"The New Equation means we will become a technology-led company," said Trouchaud.
"For PwC as consultants, lawyers or tax advisors, technology is the only way to create a sustainable outcome with our clients.
"We will invest in technology in order to transform the way we deliver value to the client and improve the customer experiences. It will also enable us to become more agile. We are focusing on technology and need to do it as quickly as possible. That is what we mean by becoming a giant."
Lemasson echoed his views saying: "The sum of €12b is a huge investment and it will be used to accelerate the footprint of technology in PwC and act as an enabler for our clients. We want to use this technological asset as an accelerator for our global clients to achieve their goals. We want to use technology in all aspects of our business from finance to cloud and cyber security to achieve both our goals and our clients goals."
"Technology is a lever, technology is an accelerator and in my view, technology is king," he said.
What is The New Equation?
According to PwC, The New Equation is a global strategy that is human-led and tech-powered and where people and technology work hand-in-hand. The company outlines how 'human ingenuity combined with technology innovation and experience' will be used to deliver faster, more intelligent and better outcomes while building trust with stakeholders across the value chain.
The New Equation will focus on creative ways to 'build trust, deliver sustained outcomes and help clients solve their most important problems'.
"We're combining everything we offer in new, creative ways to build trust, deliver sustained outcomes and help clients solve their most important problems," said Trouchaud.
PwC is already investing €1b a year in skills and new capabilities and technology to empower their people, to bring together people from different backgrounds, with diverse experiences and viewpoints, and are committed to investing alongside their clients to deliver results that make the difference.
How technology with benefit PwC clients
PwC is helping clients from Finance, E&U, R&C, health and the A&D industry. As aerospace, defence and security are entering a new era, PwC sees the intense market shifts and accelerating cost and margin pressures. The complexity of this environment demands innovation with agility and organisations must modernise operations, prepare their teams and invest in digital technologies.
"In terms of defence it is about looking at technology, from cloud to data or Artificial Intelligence (AI), as a key enabler especially in relation to faster productivity within budgets.
"We are currently helping a client who faces major challenges to identify optimisations and product competitiveness (design-to-cost exercise) for current and future projects in order to :
Reduce costs, in particular, non-recurring costs

Achieve right first time

Be focus on priorities and value

Secure business case & ROI and project execution

Leverage lessons learned and scale
Lemasson provided some examples of how PwC has worked with clients when it comes to digital technologies such as data, cloud and analytics.
"We help our clients to identify what would be the key architecture that could help them to benefit from the pool of data. Clients generate lots of data specifically in manufacturing.
What we know today is that data is the new oil - the new gold. If we look at manufacturing, we capture the data, we identify the data to bring in new ways of productivity, efficiency, and fine tune the process for better productivity."
War on talent
PwC, has transformed itself through a global digital upskilling initiative that took seven million hours of routine work and redirected it towards higher-value activities that clients needed and the employees enjoyed doing. People and tech working together for a better outcome.
But this is not always the case in the companies they advise as there is a major talent challenge reverberating around industry. "We have two main challenges concerning talent. One is the war on talent that was started a few years ago and the second is to try and encourage more women within technology," said Lemasson.
"When it comes to talent, we're all fishing in the same pond. We also need to be more inclusive and we also need to diversify the way we welcome people into our companies, industrial companies, but also consulting firms.
"Second challenge is welcoming more women to work in technology. This is really key because what we know it's when we have women working with us that brings a new spirit and a new way of thinking and it's helped a lot to identify new levers and new operating models into an organisation."
Lemasson pointed out that PwC works with universities to encourage more intake among women and diverse groups. "My message to anyone thinking about a career in technology is this: Technology is the heart of the next big thing. It will be at the heart of what we do in the future.
"Technology can bring new opportunities and in the future it will not only be about your personal life but your professional life. It will be used in the way you interact with your peers, with your colleagues, the impact it will have on products or systems or methodology. If you want to be part of that and contribute to change - and have fun at the same time - then choose a career in technology"
Trust is top of the agenda for every company, pointed out Trouchaud. "Trust is key and the only factor that brings business to life. But I think there is also a challenge with cyber recruitment. There are many companies that find it difficult to spend money on cyber and it is always difficult to acquire and retain the key talent when it comes to cyber security."
Four steps towards closing skills gap
A new report by Generation Unlimited, PwC and UNICEF highlights the talent shortage and looks at four steps to close the gap. It states young people across the world aren't able to identify or acquire the skills needed for today's job market, contributing to a global skills gap and exacerbating youth unemployment.
Young people are standing on the edge of a precipice: the compounding threats of deepening inequalities, lack of opportunities, and COVID-19 disruptions will have lifelong consequences for youth globally.
It calls on business executives to come together and join forces with young people to address the systemic challenges that hold younger people back from reaching their full potential. The need is urgent, the time is now, and 1.8 billion young people are waiting."
The report provides four steps that businesses and government leaders could take to address the skills gap and youth unemployment.
Create a skill mapping system to define skills, categories and ways to measure competence.

Use corporate training to support a national skills-building engine.

Build a national digital skills verification trust.

Develop regional and national skills forums to improve information sharing among key stakeholders including employers, educators, governments, associations and youth
PwC partnership with Celonis
PwC works with Celonis which is a data processing company which sells Software-as-a-Service (SaaS) to improve business processes. The Celonis Execution Management System provides companies a modern way to run their business processes entirely on data and intelligence. They pioneered the process mining category 10 years ago when they first developed the ability to automatically X-ray processes and find inefficiencies.
"Working with Celonis helps us to explain to our clients where they should invest and why," commented Lemasson. "It's a fact-based approach that gives the right level of trust about the system, but also gives the client the best way to manage the changes they need to apply at a company level. So working with Celonis helps our client to make the right decision.
"We design what a process should be according to the best practice, for whatever the function is from the HR function, treasury. engineering or transportation. Then we rework this with the clients on the gap between the current process and what should be the process with the clients so we can improve a department's efficiency by up to 30% - depending on their budgets."
As PwC moves forward as a technology-led company is focusing on breaking down the silos within industry. "Data is a key enabler that can help our clients to identify the potential of new productivity or a new manner of working both internally or with their own suppliers and their partners to become more profitable," said Lemasson.
As Lemasson stressed "data is the new oil" which now looks set to fuel the ambitions for many of the clients at PwC.