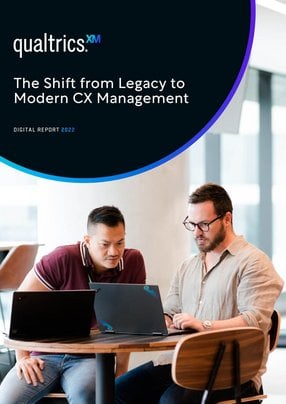 Qualtrics: The shift from legacy to modern CX management
Global Head of High Tech & Telco at Qualtrics discusses why now is the time to modernise customer experience management
Focusing on the vertical solutions that Qualtrics provides for the technology, media, and telecommunications industry, Erik Vogel, Global Head of High Tech & Telco, has been a part of the company since May 2021.
Qualtrics is an experience management company, "in fact, we created the category for experience management. We are the leader in helping clients to design and improve the experiences they provide to employees and customers," says Vogel.
"At the heart of what Qualtrics does, is provide the platform,technology, and methodology to help drive improved human experiences and interactions for our client's customers," operating across multiple industries, including technology, telecommunications, healthcare, education, public sector, and financial services to name a few.
Despite only being with Qualtrics for a short period, Vogel has seen some significant shifts in the industry. "There's this old school thinking when it comes to experience management: 'We'll just send an email survey'. You can't even buy a cup of coffee without getting an email survey.
"Qualtrics has realised that the future will not consist of surveys alone, but data aggregated from multiple sources. Not just understanding the moment of: 'How did we do on a scale of one to 10? But really understanding the emotion and the intensity of the emotion of the customer. 'Were they happy? Were they sad? Were they impressed? Were they angry? Were they frustrated?' This approach is becoming more important as we think about experience management. It's about really understanding customers at a personal level - how they're feeling about you as a company and making sure you use that data to tailor experiences, especially if a customer has a negative or bad experience," reflects Vogel.
As a technology platform, Qualtrics' solution aggregates structured and unstructured data from virtually any source. . Qualtrics' platform can bring together data from Adobe analytics, session replay analytics, and other operational platforms, and combine it with survey data, chatbot chats, call center transcripts and more, in order to gauge customer emotions and feelings at scale- allowing clients to immediately address experience issues.
Why is it important to modernise customer experience, ensuring that you do not get left behind?
While many have been talking about rapid digital transformation for the last five to 10 years, the implementation has been slow-moving. "I think because of the pandemic, it has driven everybody to digitally transform very quickly. If you think about industries that have been very reluctant, a restaurant for example, where for years, they printed paper menus, and now all of a sudden there's a code you scan at every table to get a digital menu and contactless payment, and all within the last 18 months, that is rapid change says Vogel.
"One of the effects of this digital transformation is, with everything now digital, there are virtually no switching costs for customers to switch brands. So for example, if you are selling sports merchanise on an online platform but don't make it easy to find the products in the right sizes, , it's very easy for people to go find a new place to shop online. . Products and services are becoming easy commoditise and easy to replicate. What is hard to replicate is the experience. Anyone can build an amusement park but very few can provide an experience that Disney provides. There are coffee shops up and down the street where I live, but nobody is providing an experience where I can order my favorite latte on the app with a single click for pick-up like I can at Starbucks. So in tech and telecommunications, the experience becomes absolutely critical in order for companies to succeed and stay ahead of the competition. They have to continuously innovate and really build out the customer experience end-to-end because that is the new strategic differentiator.
"So as we look into the future, the success of a company is going to depend on the experience they provide."
The best approach to modernise customer experience and the role that digitalisation plays
"Digitalisation has made customer experience more challenging," says Vogel. "We have to think about emotions and how customers feel about a service, however, digital is inherently cold, it's inherently emotionless compared to interacting with a real human. So digitisation has definitely made it more challenging as we think about providing great customer experiences.
"With this in mind, our clients really need to start thinking about a customer's journey. They have to think about every interaction a customer has, whether that's digital or non-digital. They have to start thinking about all the touchpoints and the context of the customer journey through a variety of channels. And for Qualtrics, this means really helping a customer think about the future: How are you going to have these digital interactions? How are you listening? How are you getting signals from these interactions? How are you interpreting and understanding emotions? And most importantly, how are you creating a culture of action to meet or exceed customer expectations? ." adds Vogel.
How can Qualtrics' platform improve its clients' customer experiences?
"Customer experience is the competitive differentiator going forward in the post-digitally transformed world," explains Vogel. "As more and more interactions become digital, the way to compete is through experience management. The broader view of experience management is it's not just about sending out an email survey anymore. In fact, we all get too many surveys, which results in low response rates.. Nobody wants to see another survey. xperience management is really about engaging with the customer in a conversational manner that fits in the context of the experience. Not only will you have increased response rates, you will also understand your customers deeply and their behavioral signals across every touchpoint a customer may have with you."
The Qualtrics' platform that allows companies to listen for these signals and capture them in real-time where they come from. "Being able to gather that data, interpreting it and understanding it using AI enables us to understand how we make customers feel. With the adoption of analytics, we can get a real understanding of the customer's sentiment and the intensity of their emotions. Allowing these insights to be used in order to create personalised experiences in moment at scale," says Vogel.
"Our platform allows a customer to ingest all of this data and even bring it in from other sources to generate these insights and then take automated actions to improve the experience in real-time. And that could be experience for groups of customers or segments of customers, but it could also be personalisation for individual customers. Our Qualtrics platform helps customers personalise at scale in the digital world."
The Qualtrics framework
When it comes to experience management, there is a lot more to the process than simply buying a platform or piece of technology, therefore, Qualtrics is really focused on helping its customers transform, adopt, and make sure that their people are on board and engage. "It is as much a cultural shift, as it is a technology shift," says Vogel.
"So what we have done is, we've built out an adoption framework that really helps customers move through this process, especially for those that are fairly new to this. We use what we call our ADEAMS framework, that is broken down into six stages.
Align: Making sure that whatever a customer does is aligned to the business objectives, is relevant to various levels of stakeholders within the organization, and that the longer term vision has been agreed upon. This is absolutely critical.
Define: Building out the roadmap across the technology, as well as looking at the processes and the people, establishing the metrics that matter, and what has to be done to address that, to engage and enable an experience management programme.
Execute: Implementing the tools, implementing the platform, doing the integrations and setting up the programme for long term success.
Adopt: Driving enablement, knowledge sharing, and articulating value through pointed communications. This is really about change management and the organisation itself. We could put the best technology in place tomorrow, but it doesn't necessarily mean the customer is going to get the value out of it.
Measure: Understanding the results that are being obtained through tracking KPIs. Knowing what metrics matter to different stakeholders and leadership, all to build a strong ROI case while informing improvements to make sure they hit the KPIs and beat the baselines that they're looking for.
Scale: Expanding usage and innovation for additional use cases. This is really important. Once a company gets up and running, they start driving that adoption and a lot of times they will find internally a lot of teams clamouring to use more and more, and so they'll want to scale. So it's really about scaling the platform and scaling the use of the platform to drive incremental value.