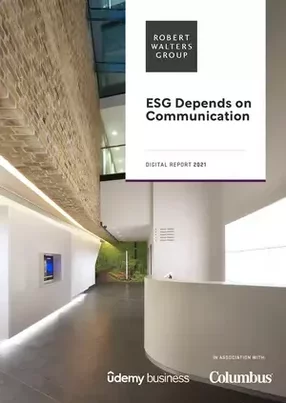 Robert Walters Group - ESG depends on communication
Robert Walters Group CTO says ESG and communication are key
When the recruitment company Roberts Walters Group first opened in London in 1985, it could scarcely have imagined the role that technology would come to play in employment. Let alone that their Chief Technology and Transformation Officer would spend over a year functioning from his garden shed. 
"I have been very lucky, but having that lack of social connection has been hard", says Kevin Bulmer when asked about how the pandemic has been for him. "I have spent a lot more time with my children - we played cricket every lunchtime last summer! But I am looking forward to getting back into the norm."
Robert Walters Group operates across 31 countries, from Australia to Vietnam, Chile to Portugal. With over 3,000 members of staff, the company assists in recruitment consultancy and outsourcing, for permanent, contract and interim staff, across roles from accounting to technology. 
Kevin Bulmer joined the company three years ago, as Chief Technology and Transformation Officer. Before this, Bulmer graduated from the University of Oxford in 1998 and went on to work across Accenture, as a Senior Manager and at Pearson, where he was responsible for running internal technology and delivering new products across Europe, Africa and Asia Pacific.
Outside of work, Bulmer is a keen golfer. The sport became dearer to him over the pandemic; as an outdoor sport, it allowed him to hold informal and in-person meetings with Robert Walters Group colleagues. 
The benefits of hybrid working
Bulmer is aware that he's one of the fortunate employees not working from the kitchen table: his shed is smart - with air conditioning, art on the walls and electricity. It was set up as an extra room prior to the pandemic, and when the world went into lockdown, Bulmer was able to get on with his work, with the added benefits of lunchtime runs and cycles. He believes that hybrid working will become a firm pillar of the new normal.
"There have been a lot of positive parts to working in the pandemic", says Bulmer. "When we first went into lockdown, I saw an uptick in efficiency from the tech team!"
Over Microsoft Teams calls and garden fences during the numerous national claps, many have stated that without the commute, office politics and desk-lunches, work has become easier for those who simply need a laptop and the internet to do their job. For some, productivity has shot up. 
For the tech team at Robert Walters Group, cloud implementation was already underway, making the sudden transition brought on by the pandemic much smoother. 
"We are a long way through our cloud migration", says Bulmer. "Once you're in the cloud, it's so much easier as you have access to data, security, sustainability and agility within your business."
Bulmer has endured through the isolation of lockdown and feels face to face interaction is an important aspect in keeping a business running efficiently, but it's also easier to identify and support struggling employees.
The role of a Chief Technology and Transformation Officer involves focusing on bringing change and increasing revenue, but it is communication that Bulmer has made a priority over the pandemic period. 
"During this process, the biggest stress for people was not knowing what was happening or what the impact would be. I made sure that people were aware of the mental health perspective and made sure that people had other people to talk to if they needed to. I made sure that we were communicating clearly with our suppliers too."
ESG is more than a trend
Even in a technology role, ESG is a buzzword. But what does it mean to Bulmer? Is it all a PR exercise?
"If you look at sustainability, we are moving to the cloud; we are making hardware decisions with sustainability in mind and reducing our carbon footprint", says Bulmer. "FromOn a social perspective one of our long-term partnerships is with the responsibility level weGlobal Angels Foundation, a charity which helps disadvantaged communities around the world to grow sustainably."
Since 2017, Robert Walters Group has worked with the Global Angels Foundation, an international development organisation working worldwide to find sustainable solutions for safe drinking water, healthcare, education, sustainable energy and small business development. Robert Walters Group supports Global Angels' projects in Tsavo, Kenya, where employees usually visit to see the impact of their work. But regardless of the travel restrictions this year, the company has continued its financial support of the sustainable development project in Tsavo.
The company donated £152,300 to charities across the world in 2020. But in the office, too, ESG reigns. There are 65 nationalities represented across the Robert Walters Group, with 78 languages spoken across the company. 
Operations are already 100% Carbon Balanced worldwide as certified by the World Land Trust, and Robert Walters Group has spent 12 years as a FTSE4Good constituent member - meaning it has been recognised as a socially responsible business, which follows strict environmental, social, and corporate governance criteria. 
Furthermore, within the company, there have been 230+ leadership and coaching sessions delivered to staff, with the aim of setting an example from the top.
In addition, Robert Walters Group has firmly aligned its business with the United Nations' 17 Sustainable Development Goals. The targets were founded in 2015 as a map to achieve a better and more sustainable world. The company is doing its bit in aligning its environmental and humanitarian efforts, as well as investments, with the relevant SDGs.
"A lot of our decisions are based around ESG", says Bulmer proudly. 
This has not gone unnoticed. The MSCI ESG Ratings model, which identifies ESG risks that are most prominent to a sector and measures a company's resilience to long-term ESG risks, gave the Robert Walters Group an industry leading rating of AA this year. 
Furthermore, the company has taken on the sometimes unpopular route of offering support to those who have recently left prison. 
In 2019, Robert Walters Group launched the RE:START initiative in partnership with UK charity StandOut. Staff volunteers visit prisons to offer advice and CV assistance for those who are about to take the daunting step of re-entering the workforce.
Over the pandemic period, Chief Executive Robert Walters himself spoke up with enthusiasm for the response from his employees. 
"For me, the highlight of 2020 was seeing the loyalty of our employees and the way they came together to get the business through this challenging period. I knew we had a strong culture, but it takes an unprecedented crisis like this to test it. It's been absolutely heart-warming to see, and I want to thank all of the Group's employees for their teamwork, resilience and commitment."
In addition, Robert Walters Group is dedicated to supporting the continual learning of its employees. This has led to a partnership with Udemy. 
"We partnered with Udemy after several requests from our engineers to purchase individual courses on the Udemy platform", explains Bulmer. "This led us to investigate further and we came across the Udemy for a business product. This fitted in perfectly with the long term vision we have to instil a continual learning and development culture in our technology teams. This has enabled us to upskill our team on the latest technology toolset to deliver our transformational goals across the business. Working with Udemy has allowed us to show how much we care about our people and their personal and professional goals, this naturally leads to a happier team and better delivery outcomes so works for the individual as well as the company as a whole."
Technology takes over
At Roberts Walters Group, Bulmer has taken part in updating legacy systems. Bulmer admits that the company has a Microsoft first strategy given the partnership in place but sometimes but each decision has to be focused on the overall business outcome. 
"I think it's a part of any digital transformation", says Bulmer. "What you're looking at: Is it fit for purpose? We saw that some of our systems could not be upgraded into a cloud environment. We looked at our CRM (Customer/Candidate Relationship Management), and that was something we clearly needed to improve on. Given our focus on simplicity and a fantastic user experience, it made sense to build our own capabilities using OpenSource technologies in partnership with our recruitment consultants rather than giving them an off-the shelf generic tool. This allows our consultants to truly focus on what they do brilliantly – building outstanding relationships with clients and candidates"
In addition, Bulmer has played a big part in breaking down silos (where teams work in isolation from each other), allowing collaborative practices to flourish. 
"When I came into Robert Walters, we recognised that we needed to embark on this digital transformation. While we had highly skilled tech team.  the relationship had broken with other business units.We needed to create a sense of purpose for our team that allowed us to bring tech and services that improved the day to day work of our consultants."
At the Group, ERP implementation was one of the building blocks to overall transformation in the business. 
"It was a finance and HR replacement", says Bulmer. "We tried to stick as close to the vanilla aspect as we could - which is when we try not to customise too much. I have never ever seen an ERP implementation like this in terms of the speed and success- it was a huge piece of work. When we partnered with Columbus, we collectively said, 'We are going to make this happen'. We were very pragmatic."
One drawback of working from home has certainly been self-motivation. But Bulmer is a fan of dance music and there is one quote that pulls his mind into focus.
"'You don't need eyes to see, you need vision', that's by Maxi Jazz from Faithless - that's a great quote! If you understand what you're trying to achieve, the day-to-day stuff falls into place."
From a colourful shed in a lively, family garden, Bulmer is getting everything into order, with a vision for deeper, more meaningful communication between employees, clients and suppliers.