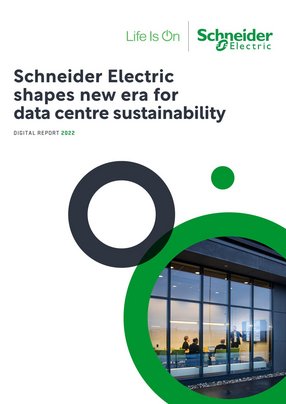 Schneider shapes new era for data centre sustainability
Schneider Electric leads new era of data centre sustainability with industry-first framework for long-term, strategic commitments to fight climate change
Schneider Electric has just ranked number one on Sustainability Magazine's Top 100 Companies list, hot on the heels of being named 'The World's Most Sustainable Company' by Canadian media research firm Corporate Knights in January 2021.
In 2021, it also made the Financial Times ranking as a Top 50 Diversity leader for the second year running, the Bloomberg Gender-Equality Index for a fourth year, FORTUNE's 'World's Most Admired Companies' and Forbes' list of America's 'Best Employers for Diversity'.
I asked Rob McKernan, Senior Vice President of its Secure Power Division for Europe, how Schneider had achieved this. His answer: "Sustainability has been at the core of our strategic decision-making for some time."
The secret is not complicated - early, decisive planning - but it is the grand strategy's execution and results that are wildly impressive. McKernan, holding the same portfolio for North and South America before moving to Paris five years ago, has been leading the companies' data centre sustainability efforts in Europe.
A lesson in modern sustainable business strategy
McKernan says the sustainability awards are "testament to what our ethos is. We want to help customers make the most of their energy, the most of their resources, so we've been talking to them about efficiency, reliability, and sustainability through digitisation and electrification. It's not something new to us in 2022, it's been part of our culture for many, many years."
Schneider Electric has positioned itself as a world leader in sustainability and has solidified its position as a leader in sustainable technologies. It earns 76% of its revenue from sustainable, Green Premium solutions and 73% of its investments go right back into R&D. It is the leading name in global power management and its achievements to date are setting the stage for those to come.
"We've been talking about metrics like PUE (Power Usage Effectiveness) for many years, and we've been an early advocate of measuring how well your data centre performs from an efficiency standpoint," says McKernan.
Amalgamation and green management operations
Schneider Electric has acquired greentech startups and is amalgamating them into a world-leading tech management offering. With its track record and the state of play in sustainability worldwide, it is building a primary application of greentech management solutions.
Its January acquisition of climate tech platform Zeigo followed similarly headline-grabbing news of the launch of its IoT management software EcoStruxure Resource Advisor and the energy 'buying' portal NEO Network. All of it is building a comprehensive ecosystem for Schneider Electric to remain "the leader of the digital transformation of energy management and automation."
Its leading edge is a history of sustainable data centre management that solidified through the move from corporate data centres to cloud-based solutions.
Much of this started in 2007 with the acquisition of American Power Conversion (APC™), a transaction that brought McKernan himself into Schneider Electric. In 2017, as part of a 10-year update on the deal, the company explained that "the idea was to take the leader in the IT room or white space of data centres – APC – and combine it with the company's leadership position in the grey space or electrical rooms – Schneider Electric – to create a single data centre powerhouse."
Schneider Electric had, at the time, been building up its presence as an end-to-end powertrain solutions provider. This meant it had little customer competition with APC and the US$6 billion acquisition allowed data centres to quickly become a pillar in its global business.
That acquisition allowed the French multinational to leverage its capabilities, sustainable practises, and market position to become a data centre powerhouse and then to move rapidly into the future by building the greenest possible solutions for the sector. A prescient move as the business world transitioned steadily into the cloud and climate change rose steadily up corporate agendas.
"We see this, the data centre of the future, continuing to evolve with needs to be sustainable, efficient, resilient and adaptive," says McKernan. "It's really interesting when we bring our partners into the fold, whether it's inside a data centre or a building or [as] part of our ecosystem, there's a lot of additional value that we can provide."
"Looking at the data centre industry from a sustainability perspective has been quite a natural evolution," says McKernan. "I think we were starting to do that even before we were using the word sustainability in many ways! In Europe we're having conversations around carbon neutrality, around the removal of gas (SF6), and the issue of water usage. By focusing on what the industry's looking to do here, which is to reach net zero emissions by 2030, we can help operators plan and reach their aggressive CO2 reduction targets."
"When I came to Europe five years ago, I had the experience of running the North American and South American business - those of a very mature market in the US, in Canada, and very much of a developing market throughout central and south America," says McKernan. "So when you look at the diversity here in Europe, the 57 countries that I'm responsible for and the Frankfurt, London, Amsterdam, and Paris (FLAP regions), those have been the historical centres for the industry."
Schneider Electric has worked with numerous businesses across Europe, from end-users to owners and operators including cloud, colocation and hyperscale service providers. It has also supported the efforts of world leading businesses to expand their services across the region. Here customers include Interxion (a Digital Realty Company), Iron Mountain, SuperNAP and EcoDataCenter, the world's first climate positive data centre.
"The interesting part is that connectivity demands are growing across the entire region, and in southern and central Europe, new hubs are beginning to establish themselves to service this requirement. We're seeing the build out of new data centres in Warsaw, Tel Aviv, Athens and Milan, nowhere near the FLAP countries. We're more than prepared here, seeing this evolution once in North America and now experiencing it through a slightly different lens, there's a lot of similarities between the two. Interestingly, the word sustainability was not used quite as frequently, five, six, seven years ago. Now it's very much in the forefront of our discussions, if not the first thing we talk about with decision-makers."
The importance of standardised measurements
Talking about what sustainability needs is one thing – providing a means to achieve it is another.
One of the biggest issues in sustainability is figuring out and agreeing, cross-sector and cross-organisation, how to measure it. That is where Schneider Electric's Data Centre Sustainability Metrics and Framework, launched in December 2021, comes in.
"Last year I was on a panel with a couple of key industry leaders, and we were talking about each of our companies' focus on sustainability. You quickly realise that everyone is going about this a little bit differently, everyone is trying to measure what it means," says McKernan. "We felt that one of the key challenges is that we've never really had a standard set of environmental metrics that we can report on both here in Europe and throughout the globe."
Schneider Electric's first-of-a-kind Sustainability Framework allows for the tracking and reporting of standardised sustainability metrics, helping drive internal collaboration to make it more effective in achieving company-wide targets, while increasing transparency for external stakeholders like customers and regulators. It was created by a team of ESG experts, sustainability consultants, data centre scientists and data centre solution architects to help operators who are at the Beginning, Advanced or Leading stages of their sustainability journey, reduce their environmental impact.
The comprehensive framework includes 23 key metrics for standardised reporting and identifies the 17 most relevant sustainability frameworks to guide operators in both setting measurable targets and reporting them. Further, Schneider Electric is recommending that data centre operators utilise holistic environmental strategies, which means being inclusive of five key areas of environmental impact such as Energy use, GHG emissions, Water, Waste, Land and biodiversity.
Using the framework removes the hassle of selecting impactful metrics for tracking, improves internal communication and empowers effective action on sustainability objectives. Moreover, it enables businesses to act on the data to improve operations, which, in turn, enables regular and consistent reporting for external stakeholders, and standardises benchmarking.
"We realise a lot of companies are either not measuring their environmental footprint or really don't know how to," says McKernan. "So by empowering the industry, we can really help it to standardise the way it reports and reduce its environmental impact."
How culture breeds sustainable success
An inclusive company culture has helped the firm to reach its highest sustainable ambitions. Its people join the business with the same vision and values, ensuring that sustainability remains central to its purpose.
McKernan says these developments are a product of Schneider Electric's sustainability-led company culture: "It's driven from the top-down, it comes from our CEO, through his leadership team and then the top 100 leaders. We are really focused on this, not as the fifth KPI on a sheet, but really talking about how we drive sustainability within our organisation."
"We also have a real focus on measurement. In fact, we've been measuring our company's sustainability for several years, measuring our improvement in each of our facilities, each of our manufacturing plants and very aggressively looking at our suppliers. It's not just one or two things we can do ourselves. We realise we have to do it throughout our ecosystem. We take that mentality when we go talk to our customers, whether they're building a new manufacturing facility or, in my case, a data centre."
Now that Schneider Electric's ascent to a pinnacle of sustainability is getting recognised in the business mainstream, McKernan says it is the drive to continuously improve that both led it there and will keep it there into the future: "I would say that you never want to be complete, because there's more to the equation of helping the customers, whether it's through the design process, through the build process or through the operational process."
"We want to be our customers' partner for efficiency and sustainability – helping them drive energy efficiency throughout all parts of that life cycle. So, I would say that the journey continues, but I can tell you it's a very effective conversation for clients that are looking for companies to help them drive sustainability in these spaces."