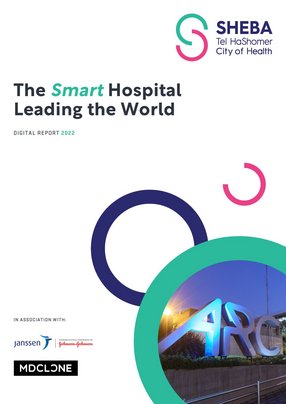 Sheba Medical Center: the smart hospital leading the world
Eyal Zimlichman gives us an insight into one of the world's most digitally advanced hospitals, and its plans for the future
Sheba Medical Centre in Tel Aviv is the largest hospital in Israel. It's also widely regarded as one of the best smart hospitals in the world, and Newsweek magazine has ranked it among the top 10 hospitals in the world three years in a row.
Israel's healthcare system operates via four health maintenance organisations (HMOs), all of which are non-profit and are funded through the government. Most hospital care is provided by hospitals that are either public, non-for-profit hospitals, or government hospitals, of which Sheba Medical Centre is one.
Professor Eyal Zimlichman is the Chief Medical Officer as well as the Chief Innovation Officer at Sheba. He explains that Sheba's campus has four hospitals under the same management: for acute care, rehabilitation, children, and a woman's hospital, along with a cancer centre. "We see about 1.6 million patients every year, which is a large part of the Israeli population. We work with all four HMOs across the entire country, as well as people coming from foreign countries."
Crucially, Sheba Medical Center is very much a digital hospital. Having been completely paperless for almost 20 years, its next ambition is to become a fully AI-based hospital by 2030. "We're working very hard towards that goal and have been for many years," Zimlichman says.
Sheba's electronic medical record (EMR) is well established, but the next step is to run AI-based decision support systems on top. "We've been using AI for many years at Sheba, while at most locations it's still considered a thing of the future. For us, it's been part of our care for at least five years now. "
Zimlichman and his team are currently mapping all the processes in the hospital to make decisions about which ones can be automated. "The idea is to remove some of the excess work that teams have to do manually, which is a big contributor to staff burnout."
"For example, many of the processes that need to be done through AI can be automated. Some don't need AI, but it could definitely come into play, such as on the clinical side, providing us with better insights into the patient's condition. A few years ago we implemented a decision support system that helps us avoid medication errors. This is something that is already being done in many hospitals, but our system is AI-based, so it learns with time and improves its decision capabilities. It's much more accurate than the traditional systems that are rule-based" Zimlichman explains.
"We have a plan laid out all the way to 2030 to make sure that every process that can be automated, whether rule-based or through AI rules, will be" he adds.
As a smart hospital, Sheba produces a huge amount of data. "I would probably say we're one of the most data rich hospitals in the world," Zimlichman says. "We've understood in the past couple of years that it's not just about having a lot of data, it's also about how the data is structured and how it is accessed, and how easy it is to create value from the data. Just sitting on top of piles of data doesn't create value by itself."
To make the best use of this data, Sheba partnered with MDClone, an Israeli data analytics company. "The system allows almost anybody in the hospital, after about four hours of training, to be able to independently work with the data and gain insights, whether it's for research purposes, for better management, database management, quality improvement, patient safety, or efficiency improvement.
"This system also creates what we call synthetic data, which is fake data basically, built on top of the original data and retaining all its properties. When you're working with synthetic data, it takes away all of the issues around data privacy and regulations, and you're able to work in real time, gaining insights and sharing the data with your partners."
This has enabled Sheba to share data with other hospitals around the world that have also implemented MDClone, and build a global network for benchmarking and sharing data which Zimlichman calls "a game changer."
Sheba also has an innovation hub called ARC (Accelerate, Redesign, Collaborate) to enable startups to develop new technologies, many of which are based on Sheba's own intellectual property. Currently, there are almost 80 startups within Sheba's ecosystem, and Sheba itself spins out about five to seven companies every year. "They are anywhere between early stage to mature companies, and some of them are sold on the market which brings back capital to Sheba and allows us to further grow our innovation platform," Zimlichman says.
Startups from outside Sheba are also brought in to work within ARC's ecosystem. "By doing this we allow them access to some of the other hospitals we work with around the world, and some of our strategic industry partners as well, providing them access to our data for example, which is critical for some companies, especially in the AI field. This allows them to work with us to implement the technology and do proof of concepts or pilots within Sheba and within some of our partner organisations around the world.
"It's a 360 degree approach, we have everything that is needed to not just accelerate development and outreach into the market, but also provide them a direction towards the market needs, because we understand better than anyone what is needed, what the pain points are, and where the startups can come in and help us."
A key industry partner is the pharmaceutical company Janssen. "We look for partners that share the same mindset as us, that are looking to transform healthcare as a strategy. The first industry partner that we signed was Janssen, and we learned very quickly that they matched us in terms of the audacity of where we want to be, that we're in it for the long run and these are not minor changes we want to create."
Sheba's clinicians have been working with Janssen in various fields such as oncology and pulmonary hypertension, that Zimlichman says has the aim of transforming healthcare. "We want to move beyond the pill so it won't be just about the medication we're taking, but about building a whole digital solution around the condition. If the patient has diabetes, what would the digital environment be for that patient on top of the medication that he has to take? That is our strategy at ARC, pharma together with digital health will create a much more comprehensive solution."
Sheba's forward-thinking approach meant it played a leadership role in COVID-19 efforts, not just in Israel but around the world. Towards the start of the pandemic, in March 2020, ARC re-focused all its solutions on the virus. "We put everything else on hold," Zimlichman says. "We declared ARC COVID-19 battle mode, to signify that we were in a state of emergency. We worked very hard for about four months, very long hours and weekends, to come up with a huge amount of innovation.
"In the early days of COVID-19, we developed ventilators, and created a rapid diagnostic device that has just got approval from the European Union. It uses spectral imaging and takes a couple of seconds to make a diagnosis, at the cost of $1 per test, which is a game changer," he says.
As well as pushing forward with AI, there are plans to build a control tower at the hospital, which will enable them to better manage the thousands of patients that come through their doors every day. They are also embarking on a hospital-at-home project, and are working in the field of precision medicine. In order to do this, building the right partnerships will be crucial, Zimlichman says. "as we look into the future this will be critical in reshaping healthcare."