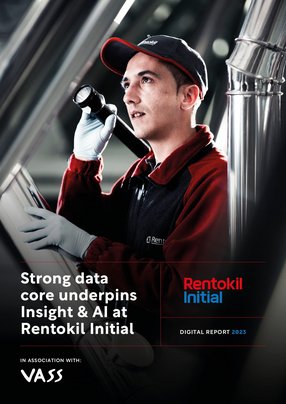 Strong data core underpins Insight & AI at Rentokil Initial
Andy Graham, Head of Data and CDO for Europe, explains his three-step strategy to drive greater value and efficiency from the organisation's data assets
With its acquisition of American industry heavyweight Terminix last year, Rentokil Initial officially became the largest pest control company on the planet. What many people may not know, however, is that Rentokil's core functions stretch to so much more than that.
The 'Initial' side of this FTSE 100 firm provides hygiene services for office washrooms and washrooms in public places, an important yet taken-for-granted task. Elsewhere, subsidiary company Ambius – as its name suggests – takes care of office ambience, specialising in plants, while Rentokil Initial also has a dental waste disposal business.
Put together, these individual businesses generate an abundance of data to be analysed and deliver crucial insights that, in turn, influence Rentokil Initial's decision-making, ultimately leading to more efficient processes.
The man responsible for this part of the operation is Andy Graham, Head of Data and CDO for Europe, who took up his position last year.
One of the big initiatives launched by Graham since his arrival last year is to drive standardisation and improvements in data health via a new framework that governs the management and control of data. This is at the root of the company's ability to enable a step change in the value it achieves from its data assets.
"As with all large organisations, the quality of data is part of what we're dealing with," says Graham. "It's one of those problems that you need to keep on top of because, if you don't, it will keep coming back to bite you. You need to find a way to make it a business-as-usual problem that you gradually eradicate from the organisation."
Borrowing ideas from banking
Graham's data strategy involves borrowing ideas from his days in the banking sector with HSBC, which he says was like "working for a country" given its size.
"In banking, you have this concept of critical data elements (CDEs), which is used very much from a regulatory point-of-view," he adds. "I used to be heavily involved in dealing with this kind of problem, so I took that idea and switched it around so it was more focused on data quality."
Rentokil constantly monitors the quality of its data based on a number of key business KPIs, allowing the business to spot anomalies as soon as they arise and take action.
"It's like a continuous improvement process, and playing a part in that is business process, technology and education," says the CDO. "We are able to monitor the health of our data using a wide variety of KPIs and have even got countries competing with each other using league tables.
"We have a 'whole hearts and minds' campaign going on where we are instilling the virtues of why data quality is important to every person. It's about getting people to understand it, believe in it, and not think of it as a technologist's problem."
A three-pronged strategy
Rentokil's European data strategy has three core pillars:
Data health
Data controls and understanding
Insights
All three pillars are interlinked as good data health comes from well-controlled data, and getting value from analytics and insight requires high-quality data.
"Insight is a real route into growing revenue, shrinking costs and improving customer experience if used in the right way," Graham explains. "We can use data insights to manage the productivity of our technicians, which means we provide a better service to our customers while improving our bottom line. Moreover, we can use it to understand how the adoption of a new business process or technology is going.
"When I talk about 'control and understanding', it's a case of understanding how our world works and improving the decisions we make from a data point-of-view."
Though the strategy remains in its infancy, Graham is clearly enthused by its trajectory: "We're probably in the foothills because we're only a year into this, but we can see Mount Everest in the backdrop and we're moving towards it. I can see things have definitely progressed dramatically from where I started. There's a lot of excitement and a lot of activity."
Becoming a more efficient operation
Concerted efforts are ongoing within Rentokil Initial to create a more coordinated organisation for reporting, analytics and insight.
The first step, according to Graham, is obtaining better visibility of the demand that exists from a data and insight perspective, as well as striving for commonality in the processes being carried out across Europe and beyond.
"The better understanding we have," Graham continues, "the more coordinated and efficient we can be. We have resources at a group level, regional level, and country level, and it's a question of 'what's the best way of dealing with our business challenges?'."
Despite perhaps appearing slightly contradictory, there also exists a desire to provide people with the ability to self-serve, which Graham relates to the early days of his career in IT. He admits to being staggered that many of the problems that existed 30 years ago when he joined Business Objects – then a small, French start-up – are still present today.
"We were all about empowering the end user with the ability to ask questions of the data without having to engage with the IT function," says Graham. "This removal of barriers opens up a huge jump in productivity and avoids IT becoming an insight bottleneck."
"Technology has obviously moved on and evolved, but those core problems are still there. Trying to provide that self-sufficiency while also stopping duplication is a challenge that we're doing our best to work through."
A new approach to data governance
Graham's experience in IT architecture means he was well-accustomed to dealing with data governance matters by the time he joined Rentokil Initial.
There were, of course, plenty of controls in place prior to his arrival, but he has since worked to shift checkpoints and instill a more proactive mindset across the organisation.
"In my old work we'd have these governance meetings where there'd be a thin red line you couldn't cross unless all the boxes had been ticked and everything had been approved by architecture," Graham adds. "I think you learn fairly quickly – that's all great in theory but, when push comes to shove and there's a lot of business pressure on getting something done, that's the wrong approach."
Instead, Graham believes governance controls should be applied at every stage of a project's progression to help things move in the right direction: "You need to guide and advise them, be that trusted advisor on these projects rather than going all judge-and-jury on them. I'm trying to take that kind of approach and change the conversation so this subject is thought about and talked about in everything we do."
Potential for partnerships
Clearly, Rentokil Initial works alongside a huge variety of partners across the entire organisation.
Graham's own experience of collaborating with other businesses is fairly limited given the relative recency of his appointment, but he revealed some exciting plans were in the pipeline.
"Recently, we've been actively working with an organisation called VASS, which has been helping us to gain more capabilities than we had before when it comes to insights," he says. "It's a case of their people providing us with the resources, skills, and experience that we just don't necessarily have in the European region. VASS is really helping to drive us forward in the insight space and, without them, we would be slowed down dramatically.
"If we have the same conversation in a year's time, there will be a lot more going on; there are plenty of opportunities out there and we're doing a lot behind the scenes."
A positive outlook
Looking ahead to the next couple of years, Graham's outlook for Rentokil Initial, and, in particular, the data space, is exciting with huge opportunities.
He has high hopes that his aforementioned three-pronged strategy will be well and truly embedded in the daily routine of Rentokil's European cohort – "part of the DNA", as the CDO puts it.
Given the growing discussion on the subject, it would almost be remiss of Graham not to mention artificial intelligence and machine learning: AI is increasingly being integrated into the working practices of countless businesses across the globe, and Rentokil is no different.
"We are doing all kinds of exciting things in the data space, including with AI and machine learning, but this all starts with getting the basics right," Graham concludes. "If you have strong data foundations in place, you can build upon it. For example, if you take the supermarket industry and especially the big multinationals, if you have common codification and names for the different parts of the building, you can understand the types of pests, time of year and location, and start to really identify patterns. You can then spot factors that allow us to make more informed recommendations, which lead to greater success and efficiency in the customer experience and our ability to manage pests.
"Then, if you take that up another level, we are starting to introduce AI. Recently, we purchased an Israeli company with some really innovative AI technology that allows the identification of pests via cameras. If you mix this in with the hundreds of thousands of connected devices we have installed on customer sites, we will have millions and millions of data points being streamed into us on a daily basis. We end up being able to say with certainty that it was the Black Rat, in the Kitchen by the waste bin.
"Ultimately we are becoming an innovation-led, data-driven company. This leads you right back to the data and the criticality of getting the data right."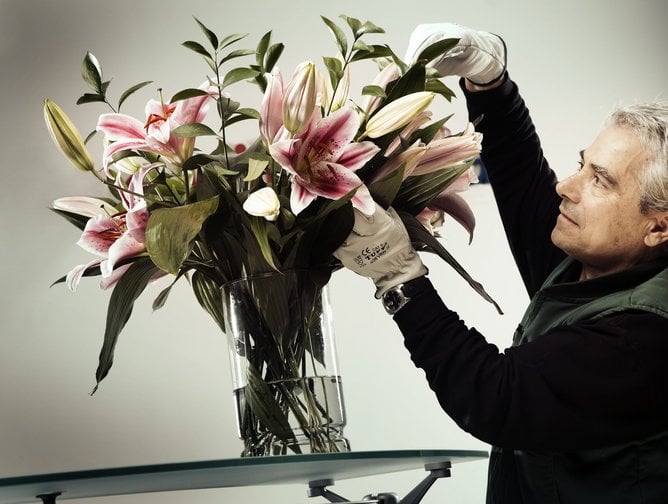 Rentokil Initial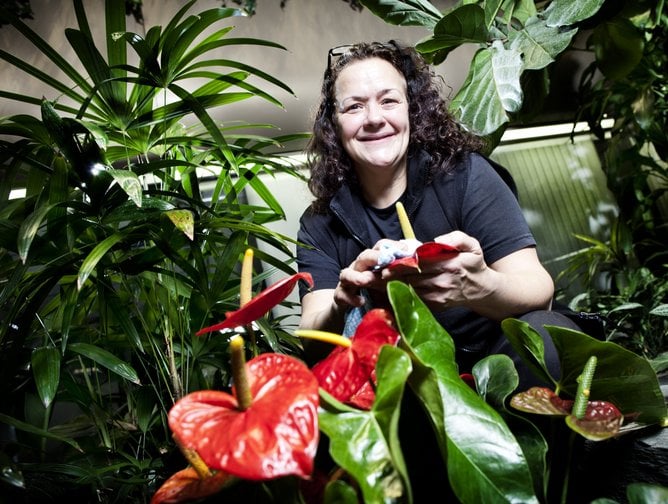 Rentokil Initial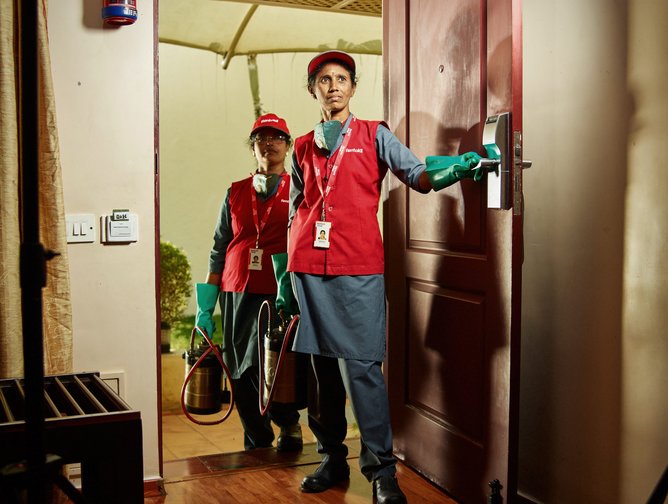 Rentokil Initial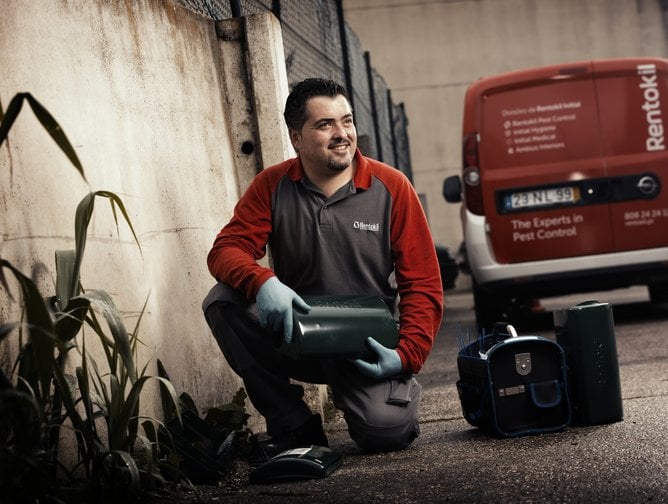 Rentokil Initial