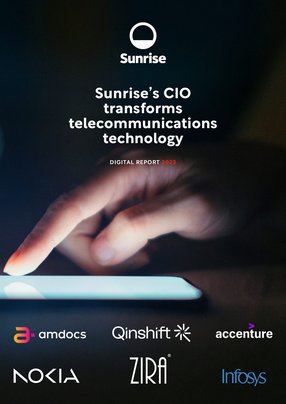 Sunrise & Nokia transform telecommunications technology
Anna Maria Blengino, Sunrise CIO, discusses Nokia's telecommunications technology, digital transformation, building a diverse team & being a mother in STEM
When Anna Maria Blengino was appointed at Sunrise, she requested some posters for the office and invited the entire CIO team to bring in their own paintings and photographic art for the walls.
"You cannot imagine how many came with their pictures," Blengino says.
So many wanted to offer their art that they ran out of wall-space. Now Blengino has a long waiting list and every second month the art is replaced - except for December, which is a month reserved for the art made by the children of CIO employees.
"It's a surprise to see that these technical people have a creative side!"
Now working in Switzerland, Blengino was born in Italy.
"As a child I followed my curiosity to take things apart and put them back together," she says. "I was inspired by my father and by my mathematics and physics teachers, I fell in love with technology."
She graduated with a geotechnical engineering degree at the Turin Polytechnic and began work in the construction industry. At the end of the 1990s telecommunication was on the rise and captured her interest.
"I started my new career from the bottom and continuously used my curiosity to explore the different options, moving up from hands-on Software Testing to Director positions, in IT Operation and IT Delivery."
"After the merger between Sunrise and UPC, where I acted as the IT stream lead, I became responsible for IT Strategy & Innovation. Just recently I have been appointed as Sunrise CIO. "
This was a new challenge for Blengino, who was honoured and excited to take on the role. She is well-supported by Sunrise's IT team and has been welcomed by the Executive Committee. The role of a CIO requires a strategic and holistic approach to technology, including all aspects of the organisation.
"I believe that this role needs a balance between technical expertise and strong leadership skills. It is important to understand the technology landscape and how it can drive business value. At the same time, it is crucial to communicate effectively with stakeholders across the organisation, building strong relationships with business and aligning technology initiatives with the overall goals of the company."
Blengino is also focused on creating a culture of innovation and collaboration within the IT unit, believing that by creating an environment which encourages creativity and experimentation, Sunrise can drive technological advancements that will benefit the organisation as a whole and continue to attract talented professionals.
"I am a proud mother of a girl and a boy, who despite having had a busy mother in STEM, probably did not perceive it as such a bad experience, because both have decided to study engineering too! My mantra is: keep moving and stay on top of changes."
Monetisation of Api's & 5G
Monetising APIs involves charging other businesses or developers for accessing APIs and using them in their applications. This can be done through a variety of business models. At Sunrise, the key is to provide value to customers and ensure that their APIs are easy to use, reliable and secure.
"When it comes to 5G, there are several monetisation opportunities," says Blengino. "On top of offering our businesses the ability to use our outstanding 5G network to provide faster and more reliable connectivity to their customers, we can also add to our portfolio value-added services such as analytics and security solutions to help businesses optimise their operations and improve their bottom line.
"In addition, we can explore new business models such as revenue-sharing partnerships with businesses that use our 5G network to deliver services to their customers. For example building Mobile Private Networks. MPNs are private, self-contained local mobile networks that operate independently of public networks and cover specific locations; a solution for all industries 4.0, such as eHealth or SmartCities, SmartFactories, where business-critical and mission-critical applications are used."
In April this year, Sunrise became the first mobile network operator in Switzerland to introduce a dedicated Mobile Private Network 5G solution for its business customers. Monetising APIs and 5G requires a deep understanding of customers' needs and a willingness to adapt to changing market conditions.
"My objective is to ensure that our organisation stays ahead of the curve in this rapidly evolving landscape. We at Sunrise understand the future of these services, especially in the B2B sector, and are preparing the technical enablers to support the commercial demand, in a secure, protected and compliant way."
Blengino believes that delivering a business roadmap and transformation that is 'Fit for Future' while ensuring operational stability, can be a challenging task. This requires a comprehensive approach that considers all aspects of the transformation, from technology and infrastructure to people and processes. There are several key steps that organisations can take to achieve this goal.
Develop a clear roadmap
Start by creating a clear and comprehensive roadmap that outlines goals, objectives and timelines for the transformation. This roadmap should be aligned with the overall business strategy and should be communicated clearly to all stakeholders.
Prioritise initiatives
Prioritise the initiatives that will have the most significant impact on the business and focus on delivering those first. This will help ensure that the most critical changes are made while minimising disruption to the business.
Manage risks
Identify and manage the risks associated with the transformation. This includes both technical and operational risks. Ensure that there are contingency plans in place in case of unexpected issues.
Engage stakeholders
Engage all stakeholders, including employees, customers and partners, throughout the transformation process. This will help to build support and buy-in for the changes and ensure that everyone is aligned around the vision for the future.
Invest in technology and infrastructure
Invest in the technology and infrastructure needed to support the transformation. This may include upgrading legacy systems, implementing new software solutions, or improving data analytics capabilities.
Develop a change management plan
Develop a comprehensive change management plan that includes communication, training and support for employees. This will help ensure that everyone is prepared for the changes and understands how to adapt to new processes and systems.
Monitor progress
Monitor progress and adjust the roadmap as needed. Regularly assess the impact of the transformation on the business and make adjustments as needed to ensure that it remains on track.
Powerful partnerships and a team that attracts diversity
Like most technology companies, Sunrise relies on external services when it comes to the implementation and operation of IT solutions that require skills, agility and scalability to support the business.
"Since the new organisation is in place, our strategy with suppliers of professional services has been to progressively move from a Vendor to a Partner relationship," says Blengino.
To bridge that gap Sunrise plans to:
Consolidate the ecosystem of traditional Partners operating from on-site, near-shore and off-shore
Build a solid foundation of trust with the preferred Partners, also based on joint investments on strategic and innovative areas
Extend the Partner relationship to new players like the Cloud Providers
Move from classic T&M agreements to value based, KPI-driven engagements also opened to value share propositions.
"We can count on extremely solid partnerships with software providers and system integrators," says Blengino. "We work very closely with Infosys, Seavus and Accenture to run our transformation projects on our key platforms. The backbone of our architecture is the Amdocs BSS (CRM, Billing, and Inventory). We decided to adopt it as our strategic target as it provides full FMC capabilities, and we serve both B2C and B2B markets with a single stack. CRM10 and Kenan Billing are fully integrated. Network Inventory has been consolidated for the two original companies into the target Cramer platform. Pega omnichannel serves as an orchestrator layer to the various front ends.
"Nokia played a pivotal role in driving the automation and optimization of Sunrise's B2B operations. By leveraging Nokia's Digital Operations software, Sunrise empowered itself to seamlessly integrate and thrive in the expanding digital ecosystem.
"The order and service management are dealt in an integrated COM/SOM provided by Zira and Nokia, which also hosts the real time charging. Our strategy around the e-commerce platform leverages SAP Hybris to deliver an engaging and omnichannel e-commerce experience for our customers.
"Furthermore, the availability of a proven accelerator for the Telco market (TUA), allowed for a fast onboarding of industry specific items like the commercial product catalogue. Ours is a data driven architecture, where one of main roles is played by Teradata and GCP platforms. All our employees collaborate by profiting from a modern digital workplace concept, based on Microsoft suite."
Sunrise also collaborates with Microsoft to exploit the new frontiers of OpenAI.
"Last but not least the simplification of the financial processes has been completed by converging our ERP to the most modern SAP solutions."
Over the next 12 months at Sunrise, Blengino's team will undoubtedly keep creating office art to make their workspace a little brighter. But there is a lot of work ahead.
"We will continue to deliver a roadmap (IT and BUZ) with stable operations and accelerate the technical enablers for the agile transformation," says Blengino. "We will optimise the engagement and partnerships with our vendors, spread the Sunrise values and leadership principles to the new team."
Fit for the future is not only limited to the upcoming technologies, but also to new skills and competences. Sunrise will need to identify the future needs and map with the as-is capabilities, identify the gaps (in terms of skills and age of retirement) and set up an upskilling programme, together with a recruitment approach that attracts young talent and embraces diversity.
"We'll be working with graduates and apprenticeship programmes, partnerships at universities and hackathons," says Blengino. "At Sunrise, we will keep dreaming big and doing big, supported by a fabulous team!"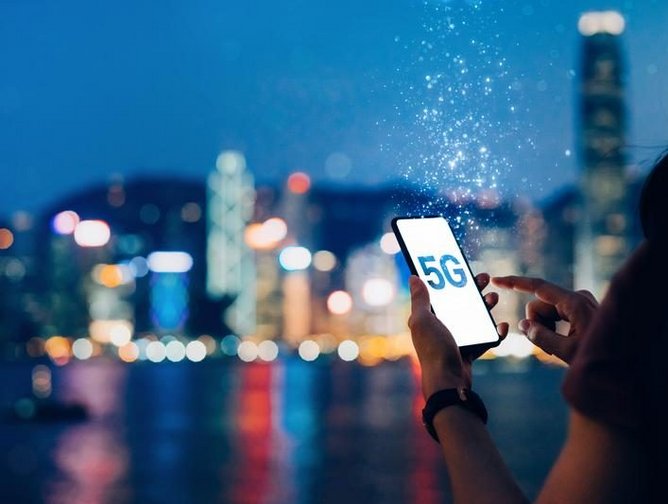 5G phone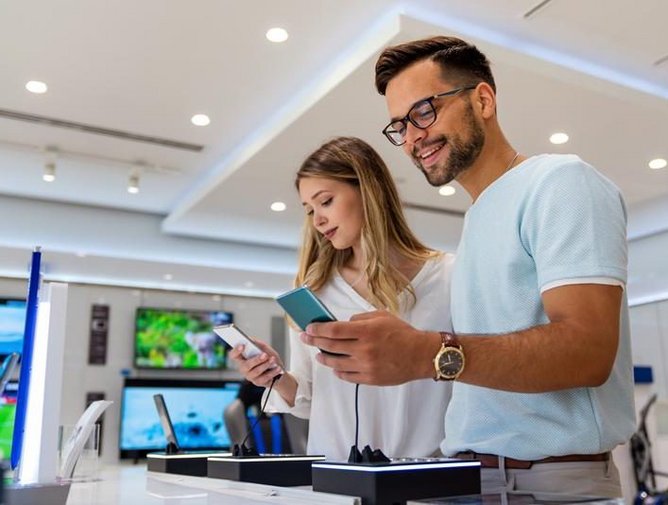 Mobile networks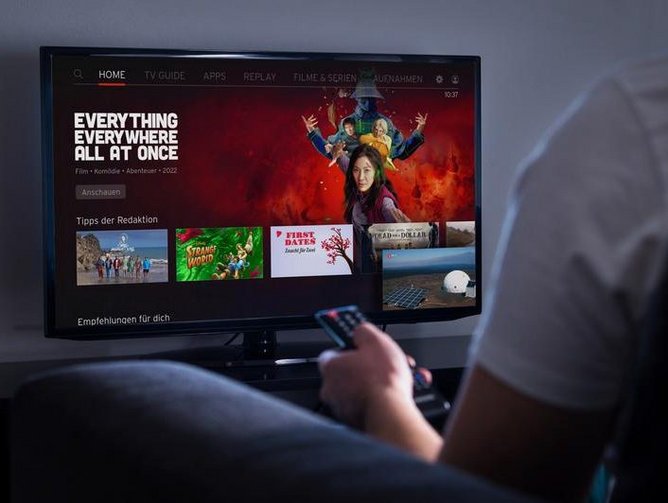 TV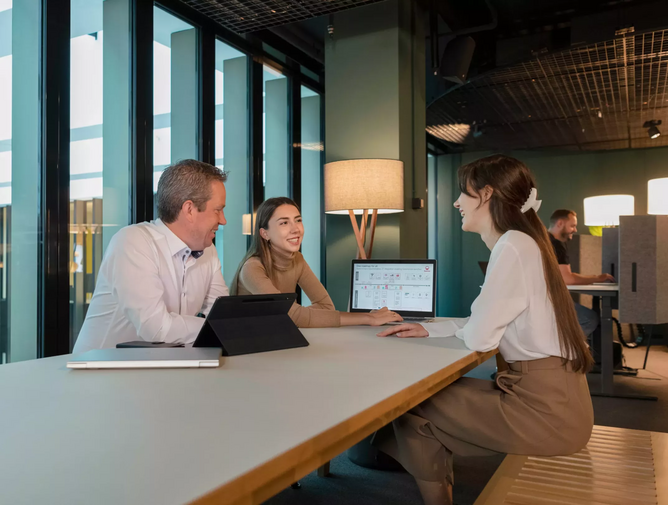 Office Meeting