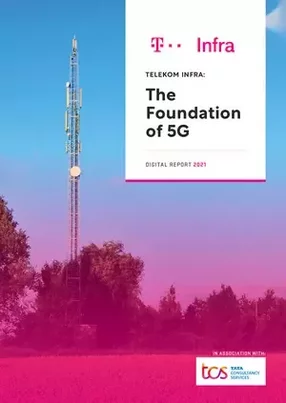 Telekom Infra: changing the face of 5G in the Netherlands
Shibu Varghese, Managing Director & CEO of Telekom Infra talks 5G, the company's T-Mobile carve out, and the future of the European tower-co.
The European telecommunications landscape is changing. As mobile network operators (MNOs) increasingly look to transform themselves into tech-focused platform operators - all the while contending with an ongoing industry-wide step change to 5G - independent infrastructure companies are increasingly coming to the fore. 
The Rise of the Tower-Co 
Over the past few years, there has been a schism between the networks that MNOs build, own, and maintain, and the infrastructure that supports those networks. Increasingly, independent companies (which are often subsidiaries or business units owned at least in some part by the MNOs themselves) are stepping in to act as dedicated telecom infrastructure operators, sometimes offering their services to multiple MNOs at once. 
The trend represents an interesting shift in perspective. During the 1990s and early 2000s, cell towers were not considered to be saleable assets, as they were too closely tied to the MNOs core business competencies. Then, around 2014, several companies (including Cellnex and American Tower) began the acquisition spree for the cell site assets of various telcos looking for greater liquidity in the face of the Recession. The industry today follows a very similar business model to the colocation data centre sector, with MNOs selling their infrastructure (in much the same way they have sold off their data centre assets) to dedicated operators, who in turn lease capacity back to them at favourable, infrastructure-as-a-service rates. 
"Across Europe, the whole telecom infrastructure industry is consolidating," says Shibu Varghese, Managing Director and CEO of Telekom Infra, the Netherlands' largest tower-co, following its carve-out from T-Mobile Netherlands in 2019, and which recently merged with the infrastructure business belonging to Cellnex. "You can see this trend with the Cellnex-Deutsche Telekom merger, as well as with Vantage Towers (which are part of Vodafone) doing a similar kind of thing," Varghese continues.   
Varghese joined Telekom Infra to oversee the company's carve out from T-Mobile Netherlands two years ago. "It's been a rollercoaster ride - building up a new network with a totally independent mindset," he reflects. From building a team and reinventing an IT stack, to building new relationships with a host of key partners, Varghese and the rest of Telekom Infra have accomplished a lot in the past 24 months. They now find themselves once again at the start of another exciting journey as the Cellnex merger creates new synergies and opportunities to expand, and the Netherlands braces for the next stage of the 5G boom. 
Finding their Feet 
Telekom Infra is the largest tower-co in the Netherlands with over 3,200 locations - a substantial portfolio in a country less than 42,000 km² in size. When it came time to plot a course forward for the newly carved out Telekom Infra, Varghese knew he needed to build a company that could leverage its new infrastructure assets from the ground up.
"First, we focused on building the team. We had no one when I arrived, so our first priority was to bring some very experienced people on board," he says. "I was very lucky to get the people who became my head of operations, my head of business development, technology, and finance - getting the right people on my team really was the first step in building this business the right way. Deutsche Funkturm (DFMG) the Deutsche Telekom Infra in Germany chipped in with some mentorship as well."
With the right people in place, the next step was to fill the gap left by the removal of T-Mobile's IT capabilities. "We were originally dependent on the T-Mobile Netherlands systems, so the priority was to build up our own IT systems," Varghese explains, adding that once the human and technical elements were in place, the final phase was to "leverage both the technology and the people into a company culture that was uniquely our own. We knew we wanted to have a startup mentality because, although we were under the Deutsche Telekom umbrella, we were small, we were different - we were not an MNO. So, we developed this new culture with the aim of becoming this sharp, agile startup company that can, at the same time, still leverage the Deutsche Telekom group's strength." 
The Anchor for 5G 
Immediately following the completion of the carve out, Telekom Infra became a key element of T-Mobile Netherlands' 5G rollout. "We enabled T-Mobile to be the number one Network Service Provider in the country for 5G. They were the first to launch a commercial 5G service in the Netherlands because of us. We really enable our anchor customer - which is T-Mobile - to be the market leader, particularly relating to 5G," says Varghese. "In order to help T-Mobile Netherlands achieve that goal, we had to make sure we were ready for the launch of 5G far ahead of schedule. T-Mobile switched on its 5G network in the Netherlands in July of 2020, and we had been working to be ready for that launch since the beginning of 2019. The launch has been a phenomenal success for us, and for T-Mobile Netherlands." 
Preparing for the 5G rollout in the Netherlands, Varghese adds, was not without its complications. One of the key challenges, he explains, for an operator looking to upgrade to 5G, is that "a lot of the latest technologies, like Advanced Antenna System (AAS) and Massive MIMO, use a completely different radio than other generations. These multiband new radios are huge; they give you up to six times the capacity, but they're also much heavier, and have a very different form factor to the equipment we had previously installed across our sites." 
While Telekom Infra operates a number of masts throughout the Netherlands (many of which still required strengthening in order to support the new 5G equipment) a significant number of its sites are based on rooftops, meaning the company exists in a constantly-shifting state of symbiosis with more than 2,500 individual landlords throughout the country. "We had to convince the landlords in many of the buildings where our sites are located that installing this new kind of antenna on their roofs was absolutely necessary," says Varghese. "Then, because of the size and weight of the new 5G equipment, we were having to strengthen our masts, and even strengthen the roofs of some buildings where it was determined they wouldn't be able to stand up to the strain of the new antennas. We had to negotiate with landlords, draw up new contracts, and then actually get the physical equipment ready. It was very intense work, but it was very successful." 
On the same day that T-Mobile received regulatory clearance to switch on its network, Telekom Infra's infrastructure was ready to support it. In 2020, T-Mobile's network was ranked best in the world by Umlaut. "We are very proud to be an anchor infrastructure partner to the world's best 5G network," says Varghese. 
Building for the next Boom 
Now, Telekom Infra is once again taking the steps to ensure it is ready for the next step change in the Netherlands' 5G rollout - the availability of 3.5GHz and above high-band 5G. "There is going to be a huge 5G infrastructure boom in the Netherlands when the government releases the 3.5GHz spectrum, which is a higher frequency, with large available spectrum and capacity, but low range," Varghese explains. "That frequency of 5G is going to need many more locations to support the MNOs being able to offer high-capacity, low-latency indoor and high-density area 5G coverage. We know there have been some delays in the government allocating that spectrum, but we're prepared for it and, when the 3.5GHz band is released to the MNOs, we'll be ready." 
The other trend currently reshaping the Netherlands' telecom infrastructure sector is, Varghese explains, more of a challenge than an opportunity. "The Netherlands has been going through a real estate boom, not only in the housing market but also in the commercial real estate sector," he says. As a result, the prospect of both expanding and maintaining Telekom Infra's symbiotic relationship with the landlords who host the company's rooftop infrastructure is increasingly running the risk of dangerously narrowing its margins. "While the locations where our equipment is on masts, we have a little bit more control, but the increase of rental OpEx is a big potential concern for us because we have a substantial number of rooftop locations and we want to avoid passing on these rent increases to our customers as our margins get narrower," reflects Varghese, adding that "We have to constantly look for new ways to keep those costs reasonable." 
Right now, the Netherlands' telecom sector feels like it's holding its breath, as MNOs continue to be "hesitant to build new sites" before the government releases the 3.5GHz band, and the country's real estate and regulatory landscape continues to shift beneath the industry's feet. 
From day one, Varghese knew that - in order to stay as agile as possible, and maintain the company's startup mentality - Telekom Infra would live or die by the strength of its partnerships. "We don't want to scale up and do everything ourselves," he says emphatically. "That was always a key part of our vision for the company from day one; we wanted to build our core competency inside the company, and meet all our other needs with our partnerships…" 
"TCS is one of our core partners. They were involved in the post-carve-out when we had to define all our processes and systems, like implementing and testing SAP S/4 HANA for our ERP. They also helped us set up our IT architecture to be fully future-proof, as well as on a fibre project that we did during the last two years."  
We also partner with Innso, who have a lot of experience working with MNOs and handling the landlords. We have 3,200 locations with more than 2,500 individual landlords that we rent from. They could be farmers, homeowners - anybody really - and it's not always easy to engage all of them with our small team. Innso has been very helpful in supporting those relationships which would otherwise be very labour intensive. 
We also work with Koning & Hartman. They're a large maintenance company that we use to look after our network. We obviously handle quality control and demand management from our side, but they're the ones who physically visit the site, climb the towers, and do the repairs. 
The Future of Tower-Cos
Despite this challenging moment in the history of the Netherlands' telecom sector, Varghese has his eye firmly fixed on a bright future brimming with opportunity. When the 3.5GHz spectrum is released, Telekom Infra will be ready for the sudden boost in competitiveness throughout the market. 
Now that the Cellnex merger is complete, the two companies are embarking on a six to 12 month integration which will leave them both stronger for it. "There's good synergy between our two companies and we're excited to start leveraging their complementary experience in active networks," Varghese enthuses. "So far, we have been primarily focused on passive networks and Cellnex has been already working with more diverse networks." Going forward, the two firms will be able to share expertise, as well as expand the new enterprise's footprint in the Netherlands to around 4,000 locations, which Varghese believes "will make MNOs more confident to use its services because of our increased scale, and we will have the CapEx and to build or acquire new site locations and data centres.
Lastly, Varghese sees the merger - as well as Telekom Infra's success as an individual entity - as a sign of things to come in Europe. "I think at some stage we will see the market coalesce into two or three big tower-cos that serve all of Europe," he predicts. "That would enable the MNOs to do some much more exciting things, rather than just focus on their infrastructure. They should be rolling out a great network experience for consumers; they handle the spectrum and the design process and leave the rest to an infrastructure company to manage."