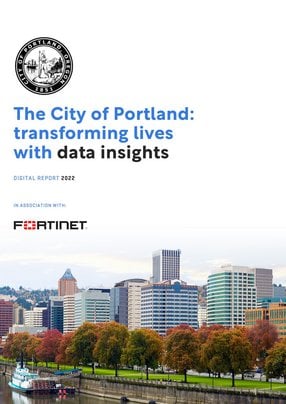 The City of Portland: transforming lives with data insights
As the world opens back up, the City of Portland adopts a data-driven approach and next-generation cyber security to improve the lives of its communities
Throughout the pandemic, towns and cities have had to transform the way they provide services for their communities. The City of Portland, Oregon is no exception to this and has been embarking on an innovative, data-driven approach to policy.
Located in the Northwest of the U.S., at the juncture of the Willamette and Columbia rivers, Portland serves the needs of its communities with over 25 departments focused on public services and liveability improvements across the city.
Driven by his passion to give back to the community, Christopher Paidhrin, Senior Information Security Officer for the city, has been dedicated to Portland's transformation of technology and web services, with a focus on protecting the city's data and information.
Noting how COVID has impacted the city, Paidhrin says: "During the COVID era, we've had to adapt considerably to provide about 70% of our services via telework. This was a challenge to address quickly. The state, county and city had lockdowns and yet 30% of our workforce still needed to go out in person to provide public safety services, maintain roads and pipes, perform inspections, and a wide array of services that a city provides. The COVID era forced us to adapt, but our services continued."

"Fortunately, with cross-team collaboration we were able to provide extensive telework services within days. As we come out of the COVID era we're looking forward to robust growth and recovery in the next couple of years."
Now, as we emerge from the pandemic and cities recover from the economic impact of lockdowns, Smart City solutions are becoming increasingly vital to aid adaptation to the technology-driven world we live in.
The City of Portland has been identified as an early pioneer in municipal open data policymaking, being one of the first cities or states, in 2009, to advance the strategy and the second city or state to adopt a formal policy and program in 2014.
As an early pioneer, the city has been well equipped to deal with the impact of COVID while utilising open data to create a healthy environment for its communities, as Paidhrin explains: "One of our initiatives, Smart Cities, leverages innovative technologies, data collection and data management tools to enhance community engagement, improve delivery of public services, and address City goals around equity, mobility, affordability, sustainability, community health and safety, workforce development, and resiliency. Our city is looking forward to expanding on these services and capabilities for our communities that are struggling to come out of the COVID era."
The pandemic has refocused how Portland has executed its service visioning, as Paidhrin explains: "How we go about providing our services has been significantly impacted by the COVID era and its continuing challenges—for our communities and our employees. We quickly stood up a COVID response team to address the need to maintain community services, and to support employees and their families impacted by the pandemic. The technological element was the simpler challenge. Meeting the people-centric needs required a larger, cross-team, effort. The City's core values, of equity, transparency, communication, collaboration, fiscal responsibility, and anti-racism have guided our priorities."
"Now, we are in the process of returning a large portion of our workforce back into our workspaces, there is a significant challenge in returning to a space that has been vacant for two years. We need to make sure that the technology resources are available and that they meet the needs of our workforce within a hybrid –on-premises and telework--workspace. We also need to ensure hygiene protocols are in place and that public and personal safety remain our top priorities. It was a challenge to have 70% of our workforce move to telework. And it's a challenge to move 70% back into the workspace and find effective ways to do that. We are also mindful of the 30% of our workforce that braved on-site and in the field work throughout the pandemic. We can't thank them enough for their commitment," he adds.
Creating innovative ways to make data more accessible
Just as businesses have had to adapt, invest in technologies to support telework, and respond to the restrictions introduced because of coronavirus, the public sector has had to grapple with these challenges as well.
Pairing this with Portland's data-driven approach, Paidhrin notes how the city looked to make information more accessible online: "The city has migrated our website from an on-premises solution to a cloud solution, transforming service accessibility and ease of access to the right information or service contact with the least effort. Information is findable by our community, and we are mindfully transparent in our use and retention of data. Portland's data transparency is reflected not just in our values, but also in how we provide information to our community."
"We have also gone from a traditional in-person Council meeting process to teleconferencing and now to a hybrid approach that accommodates both. We strive to lower barriers of access to our city leadership by enhancing channels of communication so our communities can voice their concerns and their interests, to connect with us, because not everyone is able to hear or see through a teleconference service, or has a digital device and internet service," the Senior Information Security Officer continues.
These channels consist of several adaptive technologies the city has created to ensure the entire community can access information easily. Examples include closed captioning and translation services. Paidhrin explains that the city wants to provide "access to information and resources, access to influence our decision making, access to our leaders in such a way that if our community can't be there in person, they can reach us through other means".
"Since 95% of the city's information is public information, they should have ready access to it in ways that can be useful to them, not just bits of data, but actionable information," he adds.
Engaging with communities for more insight
Portland's Smart City initiative aligns with one of the city's core technology missions to adopt 21st century technologies. Paying attention to the needs of its communities at every level, the City of Portland holds community forums, provides surveys, and embarks on community outreach to understand what the communities need and how technology can play a role in meeting those needs.
"Many of our departments have deeply engaged community initiatives. That's their sole purpose: to stay connected and encourage the engagement of our communities in city decisions and activities," says Paidhrin.
Rooted in this public service mission is data. Looking to execute best practices to leverage information for new community services, Portland takes all the data from these community initiatives to provide intelligence to the community via apps, services and outreach that improves the quality of their lives.
Smart City PDX has partnered with the Portland community to make the city a place where data and technology are used to improve people's lives, particularly in underserved communities.
Together, they will proactively prepare for future technologies to promote community-driven goals and values. The pair use data and technology responsibly to support a healthy, safe, more affordable, and prosperous Portland.
"It is a collaborative effort, and we are doing our part in learning from other cities who are also pioneers in Smart Cities initiatives. It is exciting to explore new and innovative ways to offer services. It's a great mission to participate in," comments Paidhrin.
Protecting the city and its data
With all these data driven initiatives comes a significant need for the city to bolster its cyber defences. As the city collects and analyses an increasing volume of data, Paidhrin and his team need to ensure that this data is protected from threat and damage.
If left vulnerable, the city could face unknown challenges that would hinder its Smart City roadmap.
"Through due diligence, constant threat monitoring and following best practices, we strive to prevent cyberattacks. Central to our cyber program is to follow a federal cyber framework—in use by cities, counties and states across the U.S. – called the Cyber Security Framework (CSF) from the National Institute of Standards and Technologies (NIST)," explains Paidhrin.
"The NIST CSF framework consists of five functions and 20 categories. It helps us to effectively segment the complexity of cybersecurity into manageable work categories. The framework provides an ordered grouping and a life cycle perspective on data security and the use and protection of information. And by having our programme follow this framework, we can identify where we need additional resources, people, technologies, and funding. We can then justify our cyber program needs appropriately, determine the maturity, strengths, weaknesses, and then establish a multi-year roadmap for how we can mature our programme," he adds.
This framework is essential as Portland looks for new ways to improve its cyber strategy. As many of the city's peers also use this framework, they can anonymously share with each other, their progress, and their challenges, through an annual survey facilitated by the Centre for Internet Security.
"The NCSR annual survey provides U.S. public entities an external metric of how our cyber programmes and business resiliency compare to our peers. This comparison helps us to motivate ourselves to do better and to collaborate better so that we share the lessons learned from years of shared process improvement," notes Paidhrin.
Central to the City of Portland's cyber security infrastructure is security company Fortinet. "We spent two-plus years evaluating next generation firewall and integrated cyber security solutions for our primary cyber security protection. And we conducted real-world evaluations of the leading firewall vendors," says Paidhrin.
He adds: "We chose Fortinet as we trust them to be on the front line. They are the boundary, the barrier between the city's treasured resources and the cyber world. There are a lot of good things out on the internet, but they're a lot of bad things that are happening. So, it was really important for us to find a next generation platform that could meet our cyber security and service needs for years to come."
The FortiGates' Artificial Intelligence and Machine Learning (AI/ML)-powered FortiGuard Services provide Portland with intrusion prevention system (IPS) inspections, content filtering, web filtering, and antivirus protection. These capabilities make it much easier for city staff to respond to Distributed Denial of Service (DDoS) attempts and other cyber threats.

The city's goal, according to Paidhrin, is to build a zero-trust network access (ZTNA), in which all network activities and resources are allowed or allocated based on the identity of the user requesting them. Most of the Portland infrastructure is in early stages of the journey to ZTNA, but the city's Revenue Division is pioneering a Fortinet-based approach where FortiGate offers the natively integrated ZTNA enforcement capability to city's many applications and services.

Opening up the city post-COVID
Now, as the city emerges from the pandemic and services shift to a 'new normal', Portland plans to continue its technology and services transformation, with COVID era lessons learned, to focus on ensuring community safety as the city embarks on its alignment of police and public safety services.
Looking ahead, Paidhrin shares more plans for the city: "Our outreach into our communities was sustained throughout the COVID era, but now, with the return to the city of more of our workforce, we continue to improve our services. The next six months are going to be intensive, we will embark on a restoration of full services, the opening up of businesses, and we will be encouraging our community to come back into the core of the city. So, on the city side, it's going to be intense, but we're very excited."
He concludes: "We really love our city and love being out in our city. This will be an opportunity for us to invite everyone back in."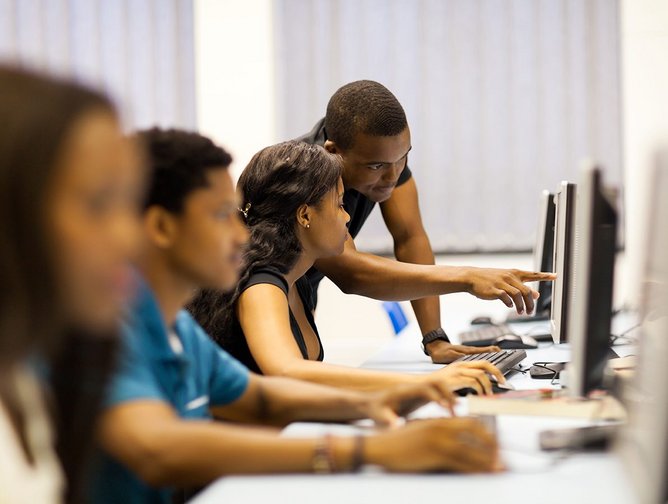 Teacher & students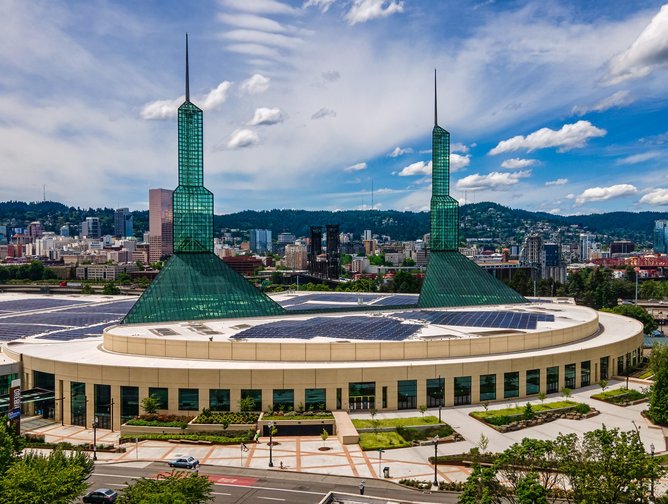 City of Portland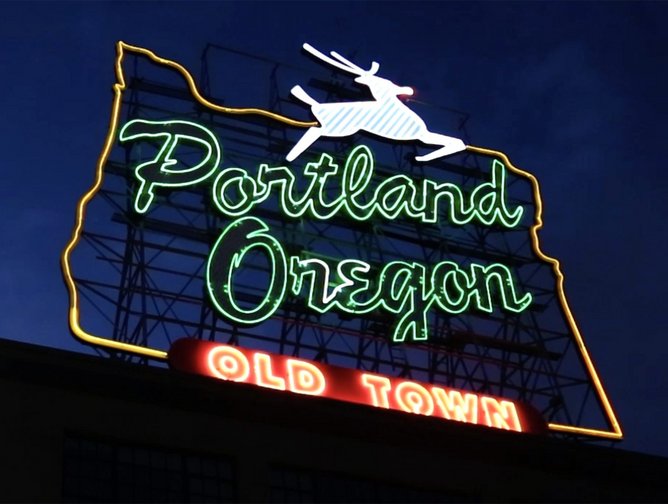 Portland sign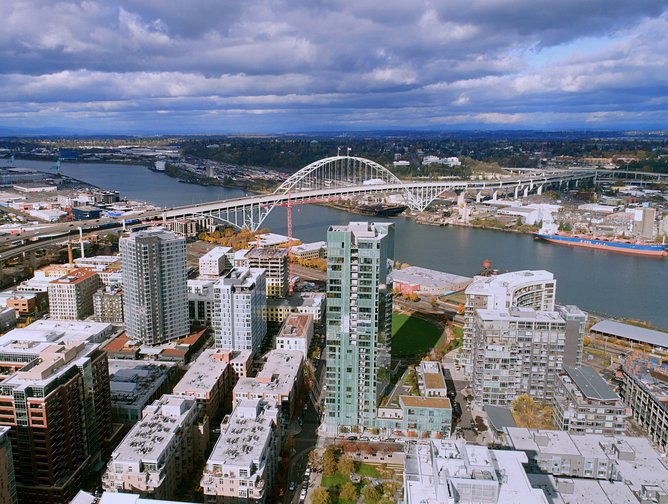 City of Portland