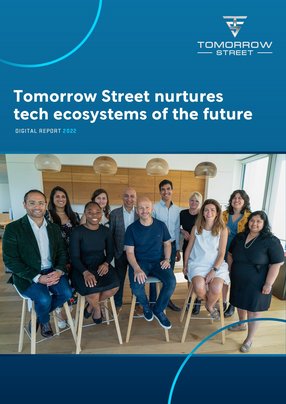 Tomorrow Street nurtures tech ecosystems of the future
Tomorrow Street – a joint venture between Vodafone and the Luxembourg government – is bridging the divide between scale-ups and corporates
The most successful economies are a joined-up network of ecosystems that are fuelled by synergies and shared goals – essentially, where the whole is greater than the sum of its parts.
This model can be seen at work in the smart offices of Tomorrow Street, situated in the ever-expanding business district of Luxembourg City.
Tomorrow Street partners with young companies who have innovative tech, helping them to scale across the globe. It is a venture that connects scaleups, corporate partners and Vodafone functions to establish and grow new business opportunities. It is a joint project between Vodafone's procurement business, based in Luxembourg, and the Luxembourg government's national tech incubator, Technoport.
"We have two primary objectives," says Kenneth Graham, the Scotland-born CEO of Tomorrow Street. "For Vodafone, we identify tech that can be used to help transform and evolve its network, IT, and digital estate – or to enable new customer propositions.
"The other goal is for us to help support the development of the tech ecosystem in Luxembourg through attracting scaleups to Luxembourg and hosting them in the Tomorrow Street offices."
Key corporate partners Accenture & Exclusive Networks
Tomorrow Street has two corporate partners in Accenture and Exclusive Networks, the latter of which is a global cybersecurity specialist.
"We work very closely together, sharing our scouting pipeline of startups and scale-ups, and looking for opportunities to take those technologies and scale them across the Vodafone ecosystem together," explains Graham.
Tomorrow Street defines a scale-up as a company that already has significant funding and a growing revenue stream, generated from a product relevant to Vodafone's strategic priorities.
"Typically, we're looking for companies that have got around 100-plus employees, because that gives a large global company like Vodafone the confidence that they've got what it takes to scale – the support infrastructure, including operational people you need to put a company out to a global playing field."
One such company is Quantexa, who were introduced by Accenture, which has 500 staff and is performing strongly in the financial crime sector, detecting fraud and money laundering.
"They have a powerful technology that can 'connect the dots' in different data sets," says Graham. "We've now brought them into Vodafone, and they're using that technology to help Vodafone better understand their customer base. They're a company that is very well funded with a strong range of products, and are now moving into different industry sectors."
Tomorrow Street scaleup partners are enabling digital transformation and new business products
Tomorrow Street has partners covering a range of technologies important to Vodafone and the Luxembourg ecosystem.
In addition to Quantexa, Tomorrow Street partners Vizibl, Sitetracker and BlockGemini are all providing Vodafone with solutions that have digitised its operations.
New customer propositions have also been launched with Security Scorecard and Digital Barriers. Security Scorecard provides organisations with a
an executive summary-style assessment of their cybersecurity risks. Its partnership with Tomorrow Street has helped it expand into Europe.
Digital Barriers has a leading-edge video surveillance solution already proven in the security and defence sectors, but that is now productised for commercial use with Vodafone customers.
Expeto is another example of an innovative tech company whose mobile private network solution is being deployed by Vodafone Partners.
Graham and his team say they feel lucky to meet so many exciting young scale-ups, but that sometimes the job can be tough, as not all of them come through the robust evaluation process to become partners.
"We have to focus our time and energy on those companies that best fit Vodafone's needs and the needs of Luxembourg's ecosystem! ."
Corporates & scale-up have different mindsets and priorities
According to Graham, the other main challenge is that both corporates and scale-ups have different mindsets, processes, constraints and priorities to contend with.
"So we have to chart a course for both parties to get to a successful outcome," Graham says of bridging that divide.
He adds that there are three key elements to Tomorrow Street's strategy:
Developing a vibrant global ecosystem that allows it to identify young companies able to support Vodafone's strategy and Luxembourg's tech nation goals.
Continuing to evolve its model, so the companies with which it partners can scale at pace.
Creating an inclusive, growth-focused culture, both within the Tomorrow Street team and the community in which it works.
"It's all about achieving our end goals," says Graham, "which are to bring innovation to Vodafone and both tech talent and young companies to Luxembourg."
One of the main ways Tomorrow Street helps bridge the divide between scale-ups and big corporates is to provide operational support.
"Together with Vodafone, we spend a lot of time navigating the scale-ups, with the end goal being bringing their innovation to Vodafone. We support their procurement processes, sales enablement and productisation processes, and also provide both project management support and technical support.
"We've got a dynamic team with a diverse set of backgrounds and experiences, and we apply that to whatever challenge or opportunity we face to help advance that company into the Vodafone ecosystem."
Growing Vodafone and Luxembourg's tech ecosystem is a key goal
Growing and strengthening Vodafone's tech scaleup ecosystem – and that of Luxembourg – is the main purpose of one of Tomorrow Street's most important undertakings: its annual Arch Summit event, first established in 2018.
It established Arch as a means to bring the two groups together and further close the gap between corporates and scale-ups, while adding leading technologists, entrepreneurs, and thought leaders to the mix. The purpose of the event is to create new opportunities through human contact, of which there was precious little during the pandemic.
Unsurprisingly, what with the past two years, the last event took place in 2019, when 5,000 people attended over the course of two days – around 40% of whom were entrepreneurs and senior leaders - mixing with people from industry and specialist organisations.
In all, there were around 100 corporate exhibitors, and roughly the same number of start-ups. And then came COVID-19, which saw Arch Summit shelved for two years.
Rhys Astoralli is director and senior partner at Tomorrow Street, and oversees the Arch Summit events.
Those delivering keynotes at the 2022 Arch summit include the Prime Minister of Luxembourg, Xavier Bettel, who has also attended past events.
Also speaking is Sophia Kianni, the noted Iranian-American environmentalist and climate activist, who is the youngest female appointed to the UN's youth climate change group.Then there is Rana el Kaliouby, an AI thought leader and author of the book, Girl, Decoded.
2022 Arch Summit is 'keenly anticipated'
"We are massively anticipating this year's Arch," he says. "The whole purpose of the event is to use networking as a way to close the gap between the world of corporates and the organisations in the start-up and scale up ecosystems, and everyone has missed that these past two years."
New Zealand-born Astoralli adds that the event is particularly effective at "identifying and exploring different areas of value generation".
He adds: "Large organisations will typically use scale-up technology to solve an internal business problem, or they'll look at how they can use it as part of their product portfolio or market positioning."
Astoralli says the event is also vitally important in another regard: giving start-ups and scale-ups access to large organisations.
"One of the difficulties for start-ups and scale-ups is access into large corporates, which is where the human connection aspect of Arch is important," says Astoralli. "What we've seen with past events is that, when you bring these two worlds together, you can actually become more efficient in terms of product development or the way in which you orientate yourself in building solutions."
He adds: "There are panel discussions, thought-provoking keynotes and masterclasses, all driven by thought leaders across many areas, and so conversations and dialogue are very rich.
"You don't get that when you're sat by yourself, studying technology or a problem. You look at it through a single lens. But when you bring other parties to that discussion, you're able to explore where the tech needs to evolve and how it might be consumed by corporations or consumers."
Curated walk-abouts a feature of Arch Summit
Tomorrow Street is mindful that the networking element of Arch Summit is as effective as possible, which is why it stages carefully curated event walk-arounds with corporates and industry thought leaders.
"We connect such people with those scale-ups and start-ups most likely to be of interest to them," explains Astoralli. "Without Arch, or an event like it, connecting with a large corporate or a thought leader can be very complicated and difficult for start-ups."
He adds: "If you are an organisation of 20 people and want to sell into an organisation of 50,000, where do you go? Who do you talk to? How do you go about it? At Arch, we make those people connections, and, by doing so, we can help unlock some of the synergies that naturally exist."
This year's Arch event will have a slightly different feel to previous ones, because of the huge importance that ESG has assumed in recent years.
"For us, it was really important to look at Arch Summit through that lens of inclusion and diversity," says Astoralli. "We want to also promote technology that is more inclusive and doesn't leave people behind; it's really important to shine a light on that.
"When we think about diversity and inclusion , where is the technology that helps people in their day-to-day lives? How do we make sure that we have more young girls going into stem subjects such as aerospace, biological sciences and chemical engineering?"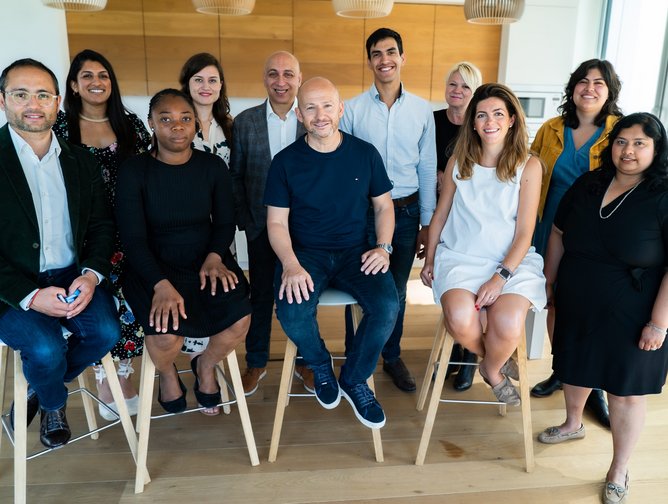 Tomorrow Street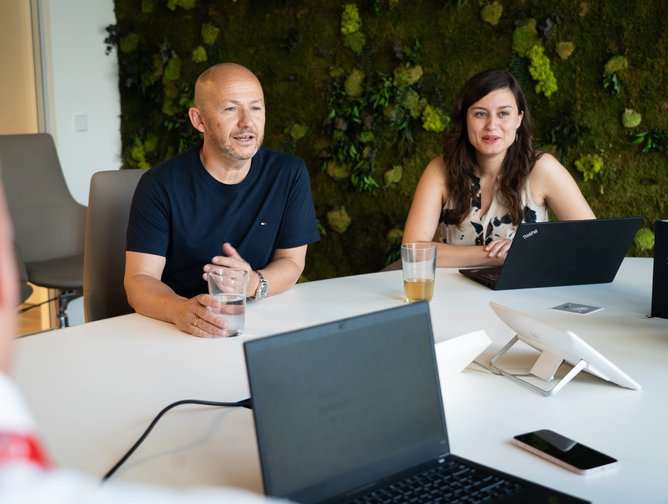 Kenneth Graham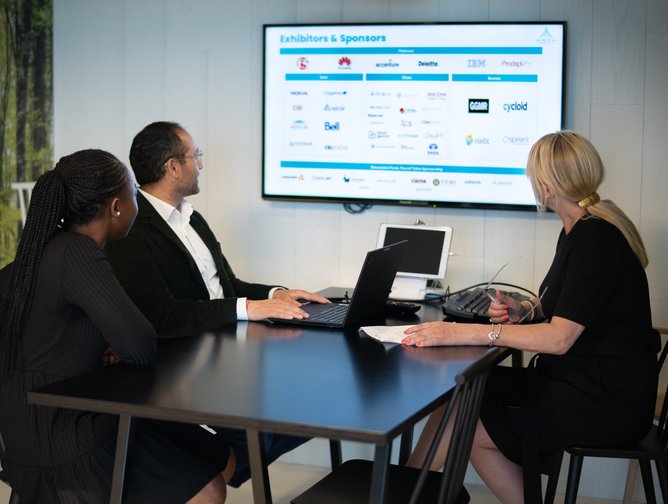 Tomorrow Street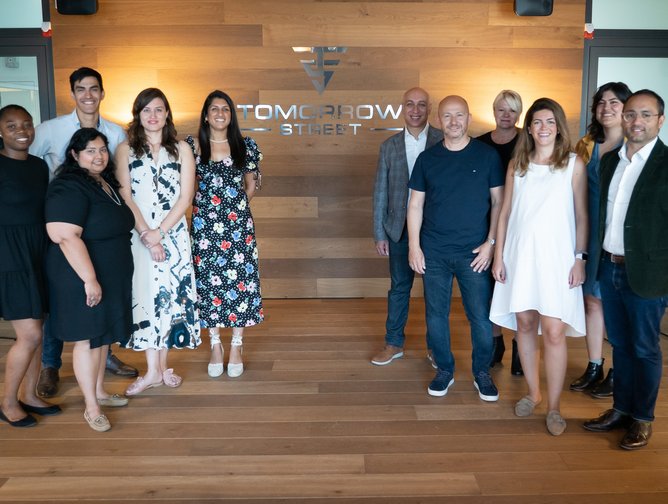 Tomorrow Street