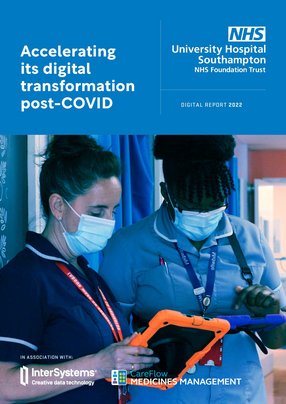 UHSFT: accelerating its digital transformation post-COVID
Adrian Byrne, CIO, and Ashwin Pinto, Chief Clinical Information Officer, discuss the Trust's digital strategy and how it supports patients
As one of the largest single-site NHS Trust's in the country, the University Hospital Southampton NHS Foundation Trust (UHSFT) has a number of different units at its sites dedicated to supporting different patients with specialist needs.
Included at the site is a children's hospital with one of the very few paediatric cardiac surgery programmes in the country, a cancer hospital, neuro hospital, adult cardiac services, a major trauma centre and a women's hospital.
"We are one of the biggest single-site hospitals in the country," said Ashwin Pinto, Joint Chief Clinical Information Officer and Consultant in Clinical Neurology at UHSFT.
He added: "We're unusual in that everything's been centralised on this site."
As well as serving its patients, UHSFT is also a University teaching hospital. This means it teaches future medical professionals as well as embarking on medical research.
Pinto outlined the research the Trust has done in recent years: "In the pandemic, we were either the second or third most active research hospital in the country in terms of recruiting people to COVID trials. We were one of the leaders in the COVID vaccine trials. We actually nationally led the COV-Boost study that allowed us to recommend booster vaccinations."
Responding to the COVID-19 pandemic
The healthcare industry has been impacted unlike any other during the COVID-19 pandemic. Not only has the NHS had to deal with an overwhelming amount of patients in its care, but it has also had to become more digitised to respond to restrictions and changes imposed by the pandemic.
Although COVID brought its challenges for UHSFT, in terms of digitalisation and IT, it had a lot of solutions in place previously that supported them, as Pinto explained: "The IT team were well prepared. We had the right things in place at the right time."
Continuing, he said: "We were lucky enough that we already had a plan in place. We could see how we could change things, make simple changes that had far-reaching consequences for clinicians and particularly for patients."
One solution which has helped the Trust, and has undoubtedly helped many organisations around the world transition to remote working where possible, was Microsoft Teams.
Having already recognised how this could streamline and facilitate more meetings, as well as helping connect up clinicians and other people to deliver services to the Trust, UHSFT "had already done a lot of the groundwork behind implementing this technology," said Pinto.
"Although we had to deploy Teams at scale, we deployed at scale very fast as we had a little bit of understanding of what we were deploying. We knew the advantages and what we could gain out of it because we'd actually done a lot of that appraisal before we deployed to the organisation," he added.
Looking at more patient-focused technological initiatives, Pinto outlined how technology supported the Trust during COVID. During this time, it was imperative medical staff had real-time notification of when a patient received a COVID diagnosis so they could be appropriately isolated and treated.
"We had a system in place that meant in real-time, clinicians had access to positive results, they knew immediately on their device that a patient was positive. This was great for infection control, as the patients could be moved to a safe area and they could start their treatment," he said.
"You couldn't really get a better example of being well-prepared, because we'd already started to think about this, and then we could just turn that into a project that had immediate benefit for patients," Pinto added.
Looking at UHSFT's digital journey so far
Adrian Byrne, Chief Information Officer at UHSFT reflected on the impact of COVID in the context of his 18 years of work as CIO of the Trust: "I know people like to talk about the change under the pandemic and I say it's kind of obvious because of the impact of it. We would never go from 100 people using a system to 5,000 people using a system in two months the way that we did.
"But if you look at the organisation transformation over 10 years, going from an organisation that used to prescribe on paper, that now electronically prescribes; from an organisation that didn't have a wireless network to one that has a complete wireless network. Those kinds of things are much more impactful in the longer run, I like to think," he added.
Despite the Trust's willingness to invest in digital over the past years, Byrne did commend his team's efforts to keep their spending on digital technologies as low as possible.
"If you look at our model hospital data, you will see that we're well into the lower quartile in terms of spending. In terms of the size and complexity of our organisation, we are low on the spending chart, but we've achieved quite a lot," Byrne explained.
UHSFT has adopted many different digital strategies and technologies to support its operations ultimately improving patient services.
"One of the things that we do as an organisation is run a personal health record service called My Medical Record. We've got more than 100,000 patients on that now and it's growing around 5,000 a month," said Byrne.
"It's a big thing for us. We're a leader in it, in terms of secondary care. You can see the impact of technology. Communications technology is going to really take us on to a level where we can monitor patients from secondary care in a much better way than we have, and in fact, do things that we could never even think of doing even five years ago. The pace of change is rapid," he added.
Pinto celebrated the work Byrne and his team have executed over the years: "What's really interesting is that Adrian's time at the Trust as the CIO has been coincident with this rapid, just extraordinary expansion in services over that time."
Adopting technology from partner companies
To accelerate its digital journey, the Trust needs to invest in technology that will support operations as it becomes more digitised.
Pinto explained that some technologies "will be able to do some really clever things with the data that we get from patients to risk-stratify patients and make sure they get the right follow-up." However, he added that he doesn't believe the technology is ready yet.
Another challenge with introducing new technologies into the NHS is the regulation around it.
"Any technology that is developed effectively has to be regulated in the same way that a new bit of monitoring equipment might have to be in the hospital or a new scanner and so on. That's mighty complex in its own right," said Pinto.
Despite these challenges, UHSFT has partnered with InterSystems, an industry-leading vendor for database management, rapid application development and integration.
With InterSystems, UHSFT utilises its HealthShare platform that sits at the centre of the Trust's systems. By integrating its solutions, InterSystems has been a key partner in UHSFT's digital transformation.
Continuing with UHSFT's digital strategy to improve operations
At the heart of all of the Trust's initiatives is its patients. Pinto believes in order for UHSFT's digital strategy to be successful, it needs to consider both inpatients and outpatients.
Discussing outpatients, Pinto said, "I'm a great believer that what we need to do is empower patients to have the information they need to help them manage their care, and if they're a long-term patient in the hospital, they can easily access that when they need it. That, without any question, is a real focus on personal health records and sharing data with patients; asking them where appropriate to rate their symptoms. It's called patient-reported outcome measures, which we then share with their clinical teams."
He also noted the significance of wearable technology in outpatients for monitoring and improving remote healthcare. The global wearables market is expected to record a value of US$116.88 billion in 2025, rising at a CAGR of 17.12%, for the time period of 2021-2025.
"There's amazing work that goes on in heart failure in our hospital, which I would never have dreamt we would have been able to do that sort of level of monitoring at home. We're already there in certain areas, said Pinto.
Looking to the future, he said: "What we need to do is make that available to virtually everybody who attends the hospital as an outpatient."
To continue to improve inpatient services, Pinto explained it is imperative the Trust's inpatient record continues to become more digitised, he explained: "We've been very successful in is digitising our inpatient record, but not to an extent that would allow us to gain some of the real advantages from it."
" How does that benefit the patient? will improve efficiency, so that right at the start of a patient's inpatient journey, we have a much better handle on their trajectory in the hospital and how long they're likely to be in for. Plus, we know what treatment they might need and we can plan our services in a much more proactive way, which is much better than how we used to collect data before," he concluded.