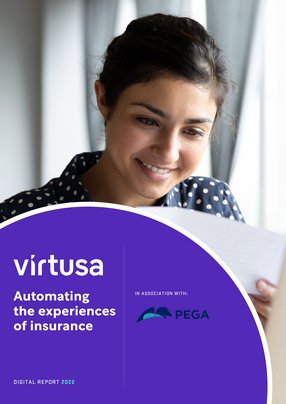 Virtusa and Pegasystems at the service of global insurance
Virtusa is a rock star of DPA and technology delivery
Insurance is an old industry. The earliest insurance contract found dates back more than 3,000 years. The concept of laying off risk was well established in medieval Europe, and it's well known that the structure of the modern insurance industry took shape following the Great Fire of London in 1666. It's nothing if not a mature industry, and it is all about managing risk. The mindset of insurers is cautious and does not readily embrace changes to long-established practices. So, it is no great surprise the sector has been slower than some, like manufacturing or distribution, to enter the cloud-enabled, data-driven era.
The industry has managed to adapt to the gradual shift in demographics from Baby Boomers to Gen X to Millennials and now to Gen Z, through its standard time-tested measures, says Ganesh Iyer, Head of Insurance at Virtusa. As with everything, however, the landscape changed dramatically once COVID-19 sent everyone home. "Never before has the insurance ecosystem ever had to deal with a situation that completely shut down physical and in-person interactions. Even their most technology-averse customer has had to adapt to dealing with insurance companies remotely through different media."
As the leader of the insurance vertical, Iyer has a clear view of this huge sector: Virtusa is already relied on by the largest insurers in the United States and globally, helping them navigate the uncharted seas ahead without compromising traditional prudence.
The DPA rock star
Once they choose a technology platform or ERP and trust it with their data, insurers are reluctant to change. There are so many companies operating in this huge and diverse sector, each with its own insurtech products reflecting its specialisations, as well as legacy systems it may have accumulated through M&A activity and its brokerage ecosystem. There is a danger in addressing problems in piecemeal, as they arise. The answer to this is digital process automation (DPA).
Virtusa isn't the only DPA service provider in the field, but it does stand out: in its Q3 2020 report. Forrester evaluated 13 of the most significant digital process automation providers across their current offerings, strategies, and market presence, and concluded that "Virtusa is a technology and delivery rock star."
Greg Price is Virtusa's Practice Leader, Digital Process Automation: that is his job title, but he also describes himself as chief solution architect for intelligent automation, and with 25 years as a software developer and architect behind him, much of it in the insurance industry, his job is hard to encapsulate in a few words. The practice he leads spans multiple verticals, but he confesses to a particular fascination for insurance clients.
Process automation and digitisation through DPA are essential for two main reasons, driving efficiencies to compete on price, and raising customer experience from acceptable to remarkable.
"Insurance may have been something of a laggard but it's waking up to the possibilities of hyper-automation, which is like DPA with an aggressive agenda to create automation that spans across multiple different processes to tell the living story right across the value chain and silos. Hyper-automation transcends these: "We're able to lay an orchestration layer across the stovepipes. Essentially, we deal in the digitalisation and automation of the process to remove friction from the customer experience and to optimise efficiency."
Architectural pace-layering
Virtusa's architectural approach places a low-code-no-code DPA platform on top of the insurer's legacy systems and permits a 360-degree view of the customers and their history in a channel-less environment – to be customer-centric, not policy-centric or risk-centric. "Insurance carriers don't want any interference with their brittle legacy systems of record. We must provide cohesive articulation of processes over the top to relieve their burden of technical debt. The architectural paradigm is called pace-layering wherein systems of record remain unaltered systems of differentiation is enabled through DPA platform, and systems of innovation on top enable new efficiencies and experiences. It allows us to change our systems of differentiation frequently without touching and adding risk to their systems of record."
That applies to all the insurer's systems, not just the records that may have been in place 30 years or more, he adds. If the insurer is implementing a core insurance system like Guidewire, then resist the temptation to meddle with it because that will just increase technical debt. "Every time you customise, you get further away from the product lifecycle that is carefully managed by Guidewire. Instead, if you really need to customise, do it in the differentiation layer."
To deliver on their automation agenda, Virtusa helps insurers to 'pick a right swim lane', aka process for specific automation technologies. Reach for the optimal amalgamation of tools, or accelerators, to adopt from the width of available technologies, eg business process management (BPM) suites, such as Pega, Appian, IBM Smarter Process and some open source solutions like Red Hat, jBPM or Camunda.
"We maintain partnerships with most of these, also with robotic process automation (RPA) specialists like Blue Prism, Automation Anywhere, WorkFusion, and low-code platforms like Pega, Unqork and Outsystems We know that the properties of an automation word problem will really guide our way. If we let the process tell us what it needs, we'll know what tool to reach for. If we face a really complex problem, we might reach for Pega. I feel like I'm an objective architect, eager to do what is right for the customer and what's appropriate for the business' word problem. But I calibrate Pega a little differently from other DPA-type platforms. Pega seems to be the most complete amalgamation of DPA capabilities in one platform.
For insurers, the technical debt they carry is like innovating with a piano on your back, says Price. On the most basic level they need to eliminate paper, something they hold onto stoically in the fear that their older users aren't ready for digital transactions, but he feels that is unfair to the tech-savvy 'baby boomers'. But more carriers are beginning to focus on removing paper-based processes and adopting OCR and ICR, and Process Fabric, a business architecture pioneered by Pega that weaves together business processes, case management, and workflows across all systems and platforms.
"I think insurers are overcoming their fear of artificial intelligence (AI) and the cloud and are less worried that they will be taken somewhere they don't want to go." Virtusa as a long time partner with Google, Amazon Web Service (AWS), SAP and others can be very confident in the security of these cloud environments. "We're seeing that carriers are starting to come along and develop a cloud-first agenda with any modernisation work they're doing."
Pegged to Pega
From what Price says, it is clear that Pegasystems (Pega) has something special. The two companies are more than partners and have an organic relationship going back to 2002. Virtusa is Pega's most tenured partner and the only one to partner with it in developing products for the financial services, insurance, healthcare, telecom, media, and manufacturing industries.
As Pega's Insurance Director, Michelle Gaertner explained: "Nearly 20 years ago, Pega joined forces with Virtusa, at that time a software engineering firm, to help the construction of product level configuration and build out some of our strategic applications. That gives Virtusa's product engineers a unique intimacy with the underpinning of Pega's architecture."
To this day, Virtusa has engineers working inside Pega. It has executed more than 200 DPA programmes that include some of the largest Pega Implementations in the world.
Iyer also is keenly appreciative of the bond between the companies. "As a foundational partner, Virtusa is one of the few who really understand the Pega architecture."
Multi-faceted differentiation
Virtusa stands out in many ways as an enabler for transformation. With an overview from a vantage point of his 30 years in technology services, however, Ganesh Iyer can show how his organisation is uniquely structured.
"When you look across the spectrum, you see at one end the consulting players who tell you how to do it without actually doing it and at the other a number of low-cost outsourcing providers. Virtusa's strategy sits in the middle, so we can consult, design and also execute. That places us in a unique position. Technology used to enable business, now technology is business!"
Iyer says coming out of a software engineering rather than development background gives Virtusa a unique DNA. "We don't see development as a one-time activity but as something we can constantly reuse. What sets us apart more than anything is this DNA, and the fact we are a truly digital engineering company."
This also means that Virtusa is ideally placed to help insurance customers navigate the post-pandemic landscape they suddenly find themselves in. "Insurance carriers are used to making in-person transactions conducted through brokers," Iyer says, "so remote working radically changed the dynamics of an industry that finds itself dealing with customers who expect a seamless experience however that is communicated. This revolution sets us squarely in a place where we can help those many customers who are figuring out how to become truly digitally savvy."
He cites the example of a small insurance group, part of a large Japanese conglomerate, that wanted to modernise and cast off the shackles of tradition. "They looked at how to ensure that their brokers and agents could react seamlessly with their systems. They put in a lot of time and effort into a platform connectivity strategy that we are developing for them to modernise the whole exchange of information between them and all third parties through employee, agent, and other portals.
"At a larger scale, we're helping one of the largest insurance carriers globally to ensure that there is one look and feel for everybody who deals with it and its local companies. Each country may operate its own different systems. Virtusa helped them set up a global service platform, and to conceptualise it from an architectural standpoint. We then set about executing it so they have the same base functionality repeated in every country."
At the end of the day, he concludes, what insurance carriers always have as their priority is user experience. "They are seeking a unified customer experience and a unified view of the customer. A large global insurance company wants multinational underwriting, the ability to manage multiple underwriters using a single contract. We can build for them the most sophisticated platform, future-proofed using the latest technology."