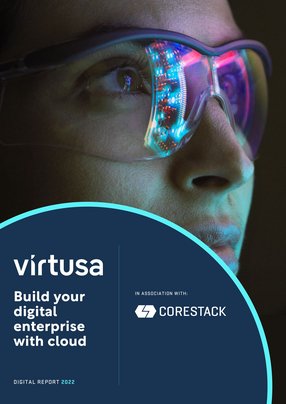 Virtusa: Build your digital enterprise with cloud
Virtusa is driving cloud transformation at the pace and passion of a startup, with expert execution for its customers
Moving to cloud is not a question of if and why, but when and how, is the message from Anirudh Joshi, Senior Vice President and Head Cloud Americas, at Virtusa.
Joshi outlined the benefits of why companies should move to the cloud, pointing out this will give them "scalability, flexibility and the competitive edge" during his timely chat with Technology magazine.
Speaking from his office in Toronto, Joshi highlighted it was more important than ever that organisations move to the cloud as COVID-19 has reshaped the industry landscape and those that had taken the step are proving to be more successful than those who hesitated.
Joshi leads the cloud transformation in the Americas (which makes up 80% of global business). He highlights how Virtusa brings its engineering expertise in cloud transformation to provide digital infrastructure, analytics and intelligence, customer experience, applications, DevOps, and security – to help build the digital enterprises of tomorrow.
"It became very clear during the pandemic that those businesses on cloud recovered much faster than those that were not. They were able to cope with the pandemic, and disruptions, much better than businesses that were not on cloud. This was due to their flexibility, scalability and speed, which cloud offers and is difficult to match by alternate technology.
"The sooner we put our technologies on cloud, and leverage the power of cloud, the easier it will be for companies to accelerate their innovation and gain a competitive edge. This is why moving to cloud is not a question of if and why, but when and how."
Power of delivering digital transformation
Founded in 1996, Virtusa is a strategic digital engineering partner to some of the world's most reputed companies in banking and financial services, insurance, healthcare, telecom, life sciences, media and entertainment and high-tech. Its Digital Transformation Studio (DTS) provides a unique combination of engineering tools, industry assets and an enabled team to drive more than 30% efficiency in speed in delivering digital transformation.
Using a combination of digital strategy, digital engineering, business implementation, and IT platform modernisation services, Virtusa helps clients execute successful end-to-end digital business transformation initiatives.
Virtusa engages its clients to re-imagine their business models by introducing innovative products and services. As a result, its clients are able to drive business growth through digital-first customer experiences, while also consolidating and modernising their IT application infrastructure to support digital business transformation.
"At Virtusa, we drive transformation at the pace and passion of a startup, with expert execution at a global scale," said Joshi, who started with the organisation in October 2020.
"My role is building the solutions and service offerings that we take to our customers and look at how we can partner them in accelerating them on the journey to cloud. We look at how we can help them move faster, make it more efficient and give them an advantage in their business both in the digital and non-digital side."
Joshi said as companies move forward on their cloud journeys, Virtusa has a unique value proposition in influencing those journeys, at scale, in three different dimensions – ideate, accelerate, and optimise.
Combining frictionless technology delivery and deep industry expertise, helps businesses move forward faster. Virtusa helps their clients advance to their optimal business state and achieve quick and continued returns on their investments.
How Virtusa empowers its client relationships:
Speed at scale
Deep engineering history
Business and industry focus
Digital Transformation Studio
Talent development pipeline
Cloud services include:
Strategy and assessments
Migration
Cloud-native engineering
Data and analytics
SaaS applications
Open Innovation Platform
Security
Managed cloud
Virtusa is working to accelerate migration and modernisation of cloud for its clients by pointed solutions, commented Joshi.
"We have built, and we continue to build, specific pointed solutions, which we build ourselves and in partnership with some of the specialist niche companies in the industry. This is so that companies can accelerate the movement to cloud. Building patterns, tools and assets can integrate with the technology so that it meshes seamlessly with how technology is adopted and moved to cloud.
Virtusa's solutions like vPaac (Patterns as a Code - focus on migration and modernisation through IaC) and vGovern ( Multi-cloud governance solution) are examples of solutions that were built to help enterprises to accelerate and stabilise their cloud journeys through automation, DevOps and security.
Automated governance
Commenting on automated governance in a multi-cloud environment, Joshi said: "Companies do not want to put all their eggs in one basket, in terms of putting everything on Azure or AWS or GCP. Private cloud companies are using multiple clouds, so governance cannot just be a certain process practice where people and manual governance is out of the question. When you have such a complex landscape of multiple clouds and multiple technologies, automated governance, which focuses on continuous compliance with security with the data operations, definitely is becoming a necessity and a norm rather than a good to have."
Joshi said the next 12 to 18 months is focused on helping customers scale to the cloud and establish secure, robust operations. "We have to look at how we differentiate the solutions that we have and how we help our customers scale their journey to cloud from pilots to applications. We also have to establish secure, robust cloud operations with multi-cloud governance, which takes care of governance and continuous cost optimisation. Doing both of these will be a very solid foundation of security and compliance. Striking the right mix of rhythm between all these areas is the key for Virtusa moving forward."
Partnership with CoreStack
As a leading services provider, Virtusa has established extensive relationships with prominent technology organisations. One of their key partnerships is with CoreStack, which Joshi said had been successful.
He highlighted the importance of having CoreStack within its ecosystem. "CoreStack's combination of being a startup focused on artificial intelligence (AI) based cloud governance and flexibility, and their vision of how technology would evolve made it suitable for us in terms of our own plan in this space."
CoreStack actualises cloud governance best practices for cloud operations, security, compliance, access and resource by implementing a well-architected framework, which helps to achieve integrated and continuous governance across FinOps, SecOps & CloudOps.
Joshi summed up the urgency for companies to move to cloud, saying it is difficult for a single on-premise system to match. "Cloud offers flexibility in terms of a wide range of innovation services available. Moving to the cloud today is not an option, it's a necessity."