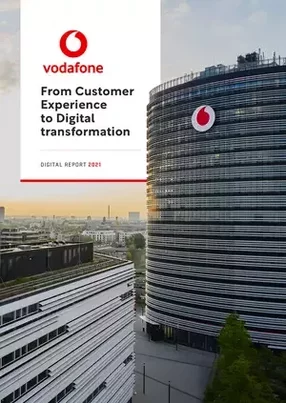 Vodafone: From Customer Experience to Digital transformation
Hüseyin Ipiv, Head of Supply Chain Management, Consumer Business Unit, discusses Vodafone's supply chain digital transformation over the last two years
Head of Supply Chain Management, Consumer Business Unit at Vodafone Germany, and father of three children. Hüseyin Ipiv grew up in the beautiful city of Bielefeld, Germany. "I am a fan of the local football club, Arminia Bielefeld. I would consider myself a European and a cosmopolitan. I studied in Germany and the Netherlands, and I have lived abroad for eight years now, in the US, England or Hungary. So far, I have moved around 23 times in my life, I always say 'change is with me'," says Ipiv. 
"Today, I am working for a fantastic company called Vodafone. I have the privilege of working with a great supply chain team in Germany, managing the entire end-to-end supply chain for all consumer products (smartphones, tablets, accessories, IoT products, and fixed-line products)," adds Ipiv. 
Since joining Vodafone in 2007, not just Vodafone but the entire telecommunications industry has changed during this time. "When I joined Vodafone, there were many companies like Nokia and Siemens Mobile selling mobile phones, however, today most of these organisations have disappeared. Today we have other great companies like Oppo, Xiaomi, Apple, or Samsung, which are now big players in the market. The supplier landscape is very volatile in this business. 
"At the time I joined, it was only possible to make phone calls with mobile phones. Today, you can do everything on your smartphone like using Apps, surfing the internet, watch videos on youtube, paying invoices or making video calls with your friends This became possible with the upgrade of the mobile network. At the time we had 2G or 3G, then 4G and now we have 5G. We used to be a mobile-only company, but today we are also a fixed-line company, you can watch Vodafone TV or you can surf the internet using our cable infrastructure," says Ipiv.
Vodafone's supply chain digital transformation journey
When it comes to digital transformation, Ipiv explains that the first step to success is an effective strategy. "If you have a strategy in place, that is already a big achievement for many organisations. The next step is to drive that plan, determine how you want to implement it, how it can be achieved, what the next milestones are. You need to convince your stakeholders to believe in the goals that you want to achieve because you will need funding from stakeholders. You also need to convince your own team. I believe that is always the most difficult part as your teams can anticipate the challenges ahead since they know your supply chain in detail.
"When you start a journey like this you soon realise that a plan is nice, but the reality is much more difficult. We understood that we had to start with the basics. We upgraded our ERP System from SAP R3 to SAP 4 HANA to enable our digital journey. 
At Vodafone Germany, we have a great Big Data team. Together, we initiated a project to improve our smartphone forecasting accuracy on SKU level which we successfully implemented after 12 months. We have benchmarked our forecasting in the industry with an external consulting company, which showed that we are industry-leading with our forecast process," says Ipiv.
"We have also implemented a digital return portal. If customers want to return their smartphones to us for whatever reason, we need them to use our online platform to provide us with data as to why they want to return their smartphones. Understanding the return reason, we can offer an immediate solution to the customer. This is a win-win situation for customers and Vodafone. The customers might not have to return their smartphones back to Vodafone and we are happy since we retained a customer and avoided process costs. If a customer does wish to return a smartphone, we no longer print return labels anymore, instead they can use their smartphones at a local DHL store, show the QR code and return the product, making it a fully digital process. 
Another step for us was to implement "Click & Collect", allowing customers to choose a product online, and offer the customer a Vodafone Shop to collect their product immediately from. This way we avoid sending the product with a carrier from our central warehouse to the desired address of the customer, which is beneficial for the environment as well as the customer who is able to pick up the product immediately. 
"We have also implemented in-store repair capabilities. Customers can walk into certain Vodafone stores with, for example, a broken screen and we will repair it within two hours. The customer experience is great, and customers love this service. This again furthers our circular economy vision and is part of our planet purpose not to do any business on the cost to our environment. 
"In my opinion simplification is a key enabler for digitisation. During the last years, Vodafone Germany acquired various fixed-line providers like Unitymedia and Kabel Deutschland. Both companies had their own supply chain processes and systems in place. Therefore, we decided to harmonise our supply chain processes for our fixed-line and mobile business. This project is ongoing and beyond what we have done so far in Supply Chain at Vodafone Germany. It will help us to reach the next level on our transformation roadmap delivering business growth by focusing on customer experience."     
Why the people of Vodafone chose to put customers at the centre of its transformation
"People often refer to companies as human beings," says Ipiv. "It's not Vodafone who does something, there is no 'Mr or Mrs Vodafone' it is the human beings working at that company, and usually it needs one or two people to make a change in the company. If you believe improving customer experience is the right strategy, then you should drive for it. 
"Two and a half years ago, we said: 'we need to change'. Digitalisation is all around now is the right time. We developed a cross-functional team from digital, retail, IT and supply chain. We sat down and assessed how traditional supply chain organisations are functioning. They are mainly looking at costs and processes to add value to the company, but we said that one element is missing, and that is the customer.
"This cross-functional team worked together four days a week for three months and defined a customer journey along the supply chain by asking: how should a customer perceive and feel the supply chain when purchasing a product from Vodafone? We used various creativity techniques, developed personas, analysed data, talked to customers, invited our partners to give us feedback on our ideas or talked to various experts to challenge our views. We had a clear focus on improving the customer experience and digitisation was the enabler. This is how we developed our supply chain strategy and transformation roadmap thinking from the customer perspective first. 
"After 2.5 years, we can say that this was absolutely the right approach. The supply chain team is delivering significantly more value to our customers and to Vodafone compared to the "traditional" supply chain approach focusing on cost and process optimisation only."
Vodafone and its partners 
Along the way, Vodafone's partners have been fundamental in its supply chain transformation. "We have a few key partners," says Ipiv, including Arvato, Loxxess, CTDI, COMSPOT, UPS, GLS, and DHL. "These are the biggest partners that we have at Vodafone. In our supply chain functions, we decided to be as lean and as simple as possible, which requires dependence on your partners. You need to trust them and, at Vodafone we do!
"I always say that I want our partners to make Vodafone a better company. They should share the same values and support us in becoming better when it comes to customer experience, reducing costs, increasing efficiencies, and optimising processes. At Vodafone, we want to become better every day, and our partners should support us in that. Our partners should not be silent if they recognise that our processes are not good. This is what I expect from our partners to drive us to become a better company.
"A good example is our very close relationship with Arvato and their continuous support improving the customer experience. Arvato is analyzing our operational performance and providing insights on how to improve especially in the return and after-sales space, which is usually a very critical area of customer experience," concluded Ipiv.