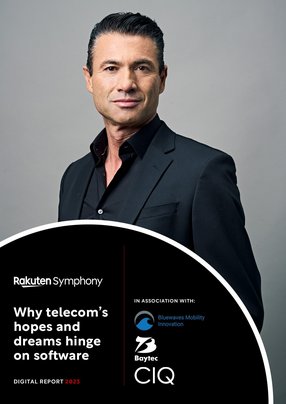 Why telecom's hopes and dreams hinge on software
At a pivotal moment for telecoms, Rakuten Symphony unveils the revolutionary future offered by a Mobile-as-a-Software mindset & modular technology
Cast your mind back over the last forty years of evolution in telecoms – a considerable amount has changed in this time, right?

Though this may appear to be the case, what with the development of mobile phones themselves, the critical layers upon which such evolution has been predicated have actually remained pretty much, well, the same. After all, if it isn't broken, why fix it?

But it's this attitude that has the industry trapped in a vice-like grip, reliant on arduously clunky hardware-based systems that should, by now, have been relegated to the past.

With the very nature of mobile services ripe for a revolutionary reimagination, then, Rakuten Symphony was born. Functioning as the telecoms arm of the Rakuten Group – a strategic B2B, digital bank and ecommerce and digital contents group with more than 1.7 billion members worldwide – its entire premise is based on one radical decision: choosing not to build its mobile network on legacy hardware.

"The idea to move the entire mobile architecture into a software-centric platform isn't a small evolution. It's a revolution of how networks are engineered, built, and architected based on new, modern cloud architecture, in which Open RAN is just one pillar of the many things that we have done," says Tareq Amin, CEO and CTO of Rakuten Symphony.

More than happy to prove the naysayers wrong and propel Rakuten Symphony into a leading position within telecoms, Amin set about building a team, an ecosystem and the network he envisioned.

Truths of telecoms & reimagining mobile networks

It's a truth universally acknowledged (in the telco world, at least) that in its current state, "the industry is in decline".

After failing to evolve alongside the global technological landscape for the past few decades, telecoms has proven slow to change, to drive forward, and to differentiate. This has led to declining revenues and returns amid increasing costs and competition, placing the industry in a precarious position.

Meanwhile, across this same 40-year period, cellular networks and enterprise IT have undergone multiple stages of evolution to reach where they are today – so why is it that progress for the infrastructure itself has stymied? One suggestion is the sheer amount of capital invested in data centre real-estate; another is a collective lack of understanding regarding the cloud. Amin had his own ideas.
"For me personally, before Rakuten, my own mindset was completely opened and transformed by a visit I had to Facebook before it was called Meta," he shares. "Seeing how other enterprise IT companies, hyperscalers, and webscalers run their operations was honestly probably the biggest fundamental transformation in my thinking that has happened because, to date, I lived in a telco life where I was told what to do by existing large vendors. My mind wasn't necessarily open yet to exploring the world outside of telecom, until I went to Facebook.
"And then I started looking at the operations of how they run. I started asking, 'how do they achieve these efficiencies?'. And those questions led me to understand that this is not a technology problem."
Recognising that it's more to do with mindset than technology, a seminal moment in itself, Amin saw a whole new future for the development of telco.
"Look at moments in time that changed the way we consume data on mobile; the moment Steve Jobs talked about the iPhone – we all know that was a game changer. And we all know the impact that this iPhone had in the creation of the new generation of networks, in terms of driving data consumption and acceleration of a data-centric mobile architecture.
"While consumer devices have evolved substantially since the invention of the 1G mobile network in the 80s, the fundamental foundation of these networks has never changed. They are still run on proprietary hardware, have a strong hardware dependency, require long lead times to build, and bring extremely high operational complexity. And thus, here comes Rakuten."

Strategy matters: software vs hardware
"Mobile networks and telecom networks in general, because of the complexity and because of the fact that the technology is quite unique, have not gotten to a level of openness as we have in the enterprise world," explains Rabih Dabboussi, Rakuten Symphony's Chief Business Officer and a keen technologist with an abundance of experience.
"For example, your email application from Microsoft works with my email application from Apple, a radio site that is offered by vendor X with antenna, a base band unit, and associated ancillaries and components, but that cannot be disaggregated – where you select the antenna from vendor X and the basement unit from vendor Y, and other control planes and user plane functions from vendor Z.
"So the idea behind Mobile-as-a-Software is to open up those very interesting and proprietary interfaces that used to be monolithic, breaking them down and disaggregating them through standard interfaces.
"And that's why Open RAN is not something that Rakuten came up with; it's something that the industry demanded, it stemmed out of a need. And although Rakuten advanced it and contributed and participated, this is an industry drive and an industry initiative."
With this new, disaggregated service platform, software-centricity is built into the framework, meaning a lesser reliance on antiquated hardware that's expensive to operate and replete with inefficiencies. But what other benefits can a software-based operational approach provide over traditional hardware?
Dabboussi says: "It's starting to make it more open so that you fuel and accelerate innovation, bringing in diversity and flexibility to the industry. Eventually, the outcome is also going to be reduced cost, because with openness, you create competition, you create new, better, cheaper ways of doing things, and therefore it will all follow through.
"About 15 years ago, we started talking about using cloud for enterprise workloads, and everybody was resistant initially, but then they realised, 'Hey, wait a minute, it's secure, it's highly available and it's cheaper."
Back in telecoms' heyday, every company used to invest in their own traditional data centre with custom-built hardware. Similarly, in the telco world, "the radio network is typically the most expensive asset" because you have to deploy thousands of sites, provide coverage, and place antennas near to customers. Just 20 years ago, the radio access network came from 10-15 vendors; now, only a handful of the original number exists. Thus, as the industry's radio vendors continue to shrink in number, it is coming to resemble "more of an oligopoly with little transparency".
By moving to software, Dabboussi states a belief that Rakuten Symphony can "leverage the industry's innovation in compute and general purpose processors", including silicon chipsets and processors powerful enough for telco workloads.
"Our architectural foundation was around: 'Let's build the network using the latest in industry innovations, and let's not take steps back because we're new in the industry, we want to build something for the future'.
"The first strategic decision was to use a software-only system for the radio access network. And along that, build a unified cloud layer that supports every function in the network with one operating system, with one virtualisation layer eliminating the complexities, but requiring our suppliers and our partners to convert their systems to software-only in the long-run," explains Dabboussi.
"Not just a software system that runs in a big, monolithic, virtualised layer, but we want you to follow the mission to convert it to a Kubernetes-based, containerised-based architecture, because it's lightweight, efficient, very agile, and modular."
He continues enthusiastically: "In the truly cloud-native, you take that monolithic system, you break it into modules and pieces, and then you deploy, manage, upgrade, and patch each one separately. And the granularity of your infrastructure becomes wider, but also gains the ability to be agile, fast, adjust, interconnect."

Welcome to The Symworld Platform
Thus, the concept of Mobile as a Software was born, with Rakuten Symphony planning, designing, and operating "next-generation, software-defined networks". This comes in the form of the Symworld Cloud – the "leading unified telco edge cloud" that links from cell sites to central data centres – and the Symworld Network, with Open RAN 4G, Open RAN 5G, and Symware appliances, leading to the next generation of OSS and BSS.
Dabboussi explains further: "Existing OSS systems are quite complex and quite burdensome, built on element management systems. These are the tools that manage the elements of the network – or the network management system. These are the tools that bring it together at a network level. We eliminated both of these, and we built a complete observability framework that is abstracted from the vendor's specific technologies.
"That abstraction layer is through open interfaces and APIs, which allows us now to say, 'whether you bring a technology from this vendor or that vendor, this supplier or that supplier, as long as they're compliant with those standard ways of managing, monitoring, and configuring those pieces of software in the network, then you don't need anything in between to translate'. And that ultimately resulted in significant agility in our network. This way, we can roll out hundreds of sites a day."
The speed of this solution cannot be overstated: once the cell site has been constructed, it can take just "four minutes to bring a radio site on air" – from the time the labour team installs the radios through to connecting power and networks – because "everything is done automatically".
"That helped us improve the productivity of our operations engineers, with over 300,000 cells managed by a team of only 250 people who are powered 20 times by the Symworld platform. A network of that size in North America has probably a few thousand engineers managing it."
Functioning in individual, virtualised layers allows for a standardised foundation that can be built upon with "off-the-shelf-systems" around the world – adhering, to the nth degree, to Rakuten's guiding principle of openness and Dabboussi's "the future is nothing but Open RAN" mindset.
"The other benefit of this is the ability to automate and orchestrate, to make things faster and roll things out better; to troubleshoot in much quicker ways, identify the issues and fix them much quicker and so on. So that was really the drive behind building the network based on software.
"The aspiration is to have Rakuten Symphony become the de-facto platform for managing the whole lifecycle of a mobile network, from the idea of building a network all the way to the decommissioning, upgrade and refresh of the network, as well as everything in between that takes place," explains Dabboussi.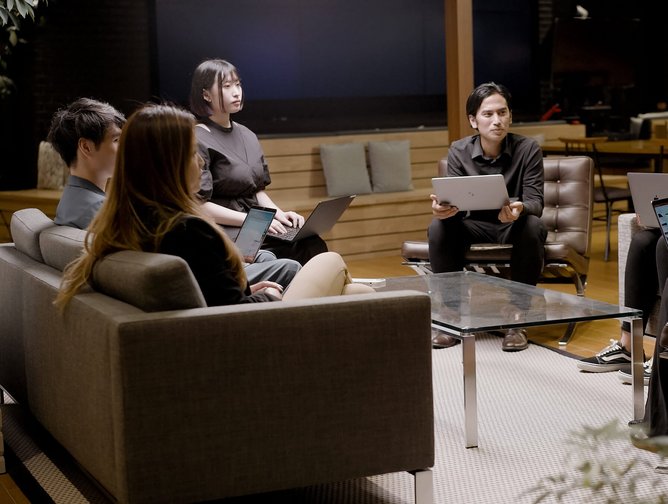 Rakuten Symphony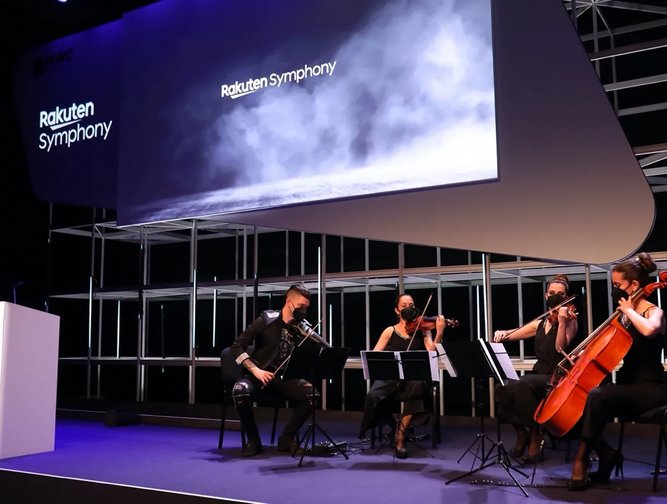 Rakuten Symphony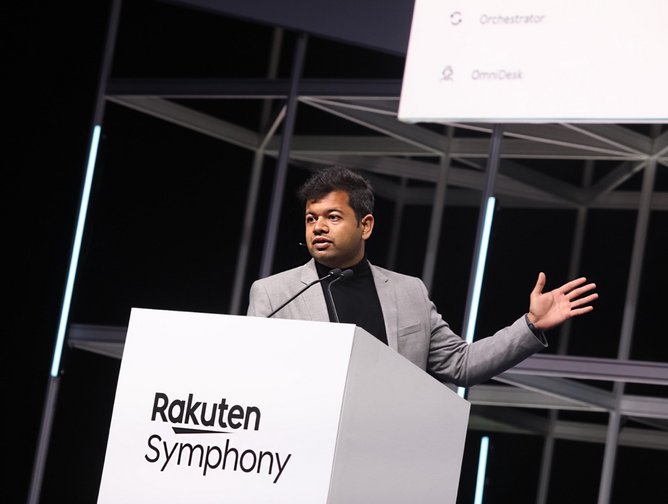 Rakuten Symphony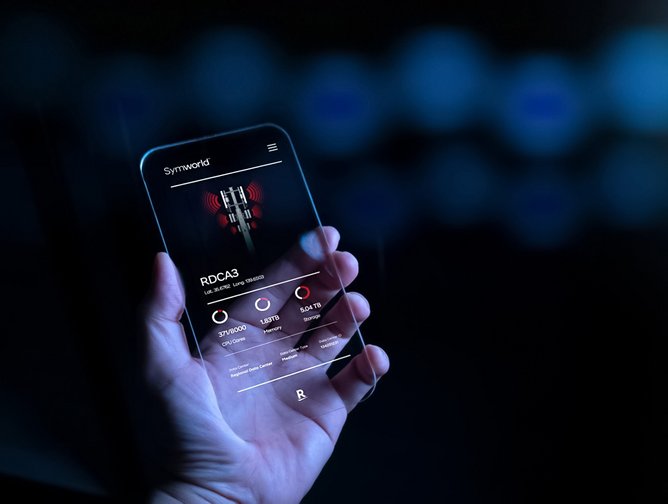 Rakuten Symphony