2021 study shows growth in Alberta's technology sector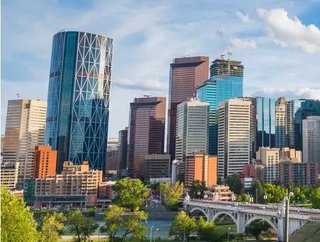 A new study carried out by Alberta Enterprise Corporation uncovers facts about the makeup, evolution, and distribution of technology in the province...
Alberta Enterprise Corporation's (AEC) 2021 Deal Flow Study revealed that Alberta is now home to more than 3,000 technology companies, a 233 per cent increase since 2012. The majority (58 per cent) are located in Calgary, with 30 per cent in Edmonton and almost 13 per cent in other regions of the province.
The survey results suggest that Alberta's technology sector is becoming more mature and established, with almost 40 per cent of the startups surveyed in the 2021 Deal Flow Study reporting greater than $1M in annual revenue (a 66 per cent increase over 2018). 
"It's great to see more than double the number of companies identified in the 2021 Study. Alberta's tech sector is maturing rapidly and it is now a real driver of employment and diversification. We don't just want to be a player in Canada's tech space — we want to become a dominant player going forward," commented Doug Schweitzer, Minister of Jobs, Economy, and Innovation.
One of the data points Alberta Enterprise was watching closely in the 2021 study was on the diversity of founders in Alberta. Two years ago, the report showed 30 per cent of tech companies in Alberta have a female founder or co-founder. The 2021 report showed almost the same proportion of female leadership suggesting inclusivity is one of the cultural advantages of Alberta.
Key study findings
In Alberta, in 2021 there are 3,083 tech companies, compared to the previous 1,238 identified in 2018. Most companies operate out of the two largest cities Calgary: 1,776 companies, Edmonton: 918 companies.
The study found that the average age of Alberta's startup founders is 43 and 68 per cent have previous startup experience. Almost 30 per cent of Alberta companies have female founders or co-founders and 35 per cent of the companies that achieved profitability in the last two years were female-founded.
The number of companies with 25 or more employees has increased by 12 percentage points up to 25 per cent, between 2018 and 2020.
67 per cent of Alberta companies are developing software, many for business-to-business enterprise applications. A significant proportion of companies are integrating digital technologies like artificial intelligence (AI) and machine learning (ML) (36 per cent) and big data (27 per cent) into their products and services. Companies surveyed had customers in the following industries: 34 per cent professional services, 23 per cent in other industrials, 15 per cent in energy and mining, 12 per cent in information and media, 8 per cent health, wellness, and medical, and 8 per cent in agriculture.
AEC commissioned this study to build upon the previous reports from 2012, 2016, and 2018. The studies provide invaluable insights on the participants, types of companies, funding, founder makeup, and more. 
"By thoroughly tracking key data about our technology sector, we are able to see how to wisely support a sustainable technology industry in Alberta," said Kristina Williams, CEO of Alberta Enterprise Corporation. "Looking at a decade of data, we can see the major growth impact that greater access to venture capital has had for our homegrown Alberta technology companies."