TELUS data supply chain aided by Google Cloud and Accenture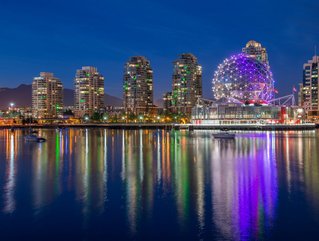 TELUS World of Science - Edmonton
Canadian communications company TELUS has experienced significant growth during the pandemic, partnering successfully with Google Cloud and Accenture
TELUS, a leading Canadian telecommunications company, struggled with its data silos and a lack of data management across teams. Their solution was to embark on an overhaul of their data supply chain. Covering the world's second largest country at 9.98 million square kilometres, TELUS was also recognised as the fastest wireless network in the world in 2020. The company reports CAN$16 billion in annual revenue.
Data scientists at TELUS were looking for ways to create faster, more reliable and easy-to-use networks. As communications service providers (CSPs), one area they can find great gains is by improving data management.
Through Google's Partner Success Services program, Google Cloud and Accenture engineers were able to collaborate with data scientists at TELUS, producing a number of significant successes, including increased effectiveness of automated systems to resolve customer issues by 50 percent, data processing times increased by 20x, and app users went from 400,000 to 1.2 million.
Accenture and Google Cloud also helped design application layers across Google Cloud, adjusting ingestion patterns to optimise the data supply chain.

Speaking to cloud.google.com, Monty Hamilton, Chief Digital Officer at TELUS, said: "We have some of the largest datasets in the world. By strengthening our approach to management through cloud, we can enable our world-class data analytics professionals to unlock the value of information to devise more effective strategies to serve customers."
Accenture offered extensive technical competency, understanding of TELUS data architecture, and business insights to drive coordinated implementation. This helped expedite the process of establishing methods to extract, manipulate, and apply algorithms to data within the pipelines. Discussing the project from a TELUS perspective on cloud.google.com is Dinesh Mahtani, Director, Digital Analytics & Insights, who said: "The scale and speed Accenture offered made the difference in this project, and they continue to support our team. By combining Accenture's expertise and the data unification we've achieved with Google Cloud, we can accomplish truly great things."

On the same website, Steve Choi, Principal - Data Analytics for TELUS Digital, remarked: "People used to run simple queries that could take 48 hours or longer. Now, our processing times are up to 20 times faster, which completely transform the insights we gain and the actions we can take. We can combine data from many sources and get a complete view of our customers in real time."
In an open letter to telus.com, CEO Darren Entwistle, was proud to discuss the company's rapid growth, saying: "Financially, our targets for 2022 include growth in both revenue and Adjusted EBITDA of eight to 10 per cent, capital expenditures of approximately USD$3.4bn, and robust free cash flow of USD$1bn to USD$1.2bn. Notably, when compared to 2019, our targets for 2022 represent 25 to 27 per cent revenue growth, and 15 to 17 per cent EBITDA growth, versus the pre-pandemic period," he said.
Entwhistle continued: "We achieved strong financial results across our business as evidenced by operating revenues, net income and Adjusted EBITDA increasing by 9.8, 35 and 6.4 per cent, respectively. Across TELUS technology solutions (TTech), we generated industry-leading results in 2021. Overall, TTech revenue was USD$15 bn, while Adjusted EBITDA was USD$5.5 bn. Our team drove leading operational and financial results in our fixed portfolio, including data services revenue growth of more than 12 per cent."

For more on the incredible story of TELUS and how they are harnessing the power of network softwarisation to build a better future for its customers, see our special digital report on them here.