Community intelligence paradox: competitor collaboration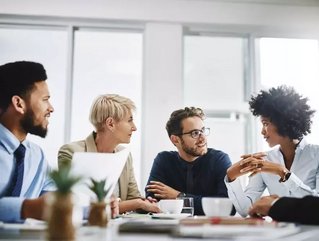 While collective data helps us get ahead, sharing that data with one's competitors can actually be advantageous to your own business...
There's an old adage that states, "None of us is as smart as all of us." This is particularly true in today's modern world, where leading business solutions are driven by data, which is often shared between multiple parties.
Never before have we had access to such a vast amount of data, and it's growing exponentially - with an estimated 2.5 quintillion bytes of data produced by humans each day. On top of this, the speed at which data is being shared is accelerating, and the insights gleaned from shared data is allowing companies to provide superior services to end users in ways which were unimaginable just two decades ago. Drawing on the intelligence of communities in real-time has allowed us to change how business is conducted.
What's most interesting, however, is not just that this kind of collective data helps us get ahead, but that sharing this data with one's competitors can actually be advantageous to your own business. Yes, you read that right – sharing your own company's anonymised, aggregated data with competitors can benefit your organisation, strengthen your proposition, and earn you more trust and more clients. Allow me to explain. 
Sharing non-proprietary data
Sharing useful industry information with one's competitors while keeping proprietary business dealings and trade secrets confidential, can be advantageous to the industry as a whole. 
This has been particularly true during the pandemic where many companies found themselves struggling to source Personal Protective Equipment (PPE). By sharing data on suppliers, companies have been able to identify reputable suppliers outside of their traditional network, and work together to procure these items. 
Another example is that of European GEBE Bank (company name anonymised) where, due to the COVID-19 pandemic, financial health and cost containment became major priorities. Using anonymised supplier data, GEBE Bank could see that many of their existing suppliers were submitting manual invoices to them but submitting e-invoices to other customers. With this information, GEBE Bank was able to increase electronic invoicing by nearly 30% and improve approval cycle times by more than 70%. This not only reduced costs and increased efficiency, but put them in a much better position to support their customers with high-quality services.
In addition, Scheherazade! (also anonymised), a company which leads in developing audio, imaging and special effects for movies and computer games. A winner of 11 Academy Awards and 19 Emmy Awards, Scheherazade! was at the top of its game in the entertainment industry. However, it still faced a massive problem of how much it was spending when it came to management consultancy. 
In order to strategically cut this necessary expense to a more manageable amount, Scheherazade! set about comparing its management consultancy fees against its peers in the industry and found that its use of management consultants was 18% greater than the industry average, with three times as many consultants as was typical of a company of its size within the industry.
Using this information shared by its competitors, Scheherazade! was able to make strategic adjustments to its procurement methods accordingly, which reduced a key area of overspend. Making such an informed change based on shared information is an example of how sharing information can directly improve a company's finances.
Similarly, sharing information can be a massive help when it comes to detecting and eliminating fraud. A leading hospital we worked with, Memorial University Medical Center (also anonymised), had a long-standing relationship with a supplier of x-ray, CT scan, and MRI testing procedures. 
Memorial University Medical Center (MUMC) only realised there was a problem with its supplier when it noticed that other industry rivals had rated the same supplier poorly. Investigating further, MUMC realised that, based on the reviews from its competitors, this particular supplier was 10 times more likely to have something wrong with its invoices – from charging too much to double billing. 
Armed with this intelligence, MUMC immediately terminated its contracts with the supplier in question and was able to save $8 million in payments, while finding a better-rated, less expensive supplier to work with. 
Not only does sharing information help set an industry standard for fairness, it also opens up a whole world of possibilities. By analysing billions of transactions across thousands of companies, and applying AI to analyse the data, you can identify behavioural patterns that make it easier to stop a problem. For instance, you could identify risky suppliers before you pay an invoice, or identify fraudulent behaviours inside your own company and take immediate corrective action. 
This is the power of 'community intelligence', which allows a company to respond quickly and remain agile by continuously course-correcting depending on the data coming back from the community at any particular time. 
Community intelligence can make businesses smarter
While I've given a few B2B examples, data sharing among these kinds of companies is still a relatively rare phenomenon. However, there's a multitude of consumer businesses which are already using anonymised real-time data to make decisions.
In fact, in recent years there's been a dramatic increase in the number of companies asking consumers to share their data with them. Examples include services like Google Maps, which use passively collected consumer data to assess traffic on various travel routes, and companies like Amazon and AirBnB that rely on consumers giving their reviews so that other users can more reliably make a purchase.
Broadly speaking, consumers have been happy to provide this data freely because they trust their privacy will be kept safe, it takes little effort on their part, and they understand the value they gain from it in return - and these reasons are equally applicable when it comes to businesses sharing data.
While the trend of sharing community intelligence has flourished for consumer-facing businesses, there's equally a great deal of value that B2B companies can unlock from industry-wide data sharing.
Ultimately, there's a new understanding that by sharing community intelligence without compromising their own trade secrets or marketing strategies, companies help the industry as a whole. And that's the kind of competitive collaboration that can elevate and transform entire industries.