Data Privacy Week: Totality Service's Top 5 Tips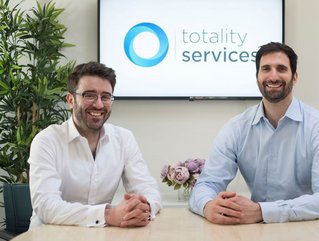 IT experts from Totality highlight risks of data security breaches and the serious impact it can have on individuals and businesses
2021 was open season for attackers around the world. Ransomware gangs targeted health care facilities, schools, and critical infrastructure with number of publicly reported data compromises rising by 17% in 2021 (YOY).
To celebrate Data Privacy Week 2022, Totality Services give Technology Magazine some background information and five helpful tips for online protection.
Your personal information is not safe online

Data breaches happen on an almost daily basis, exposing people's email addresses, passwords, credit card numbers and other highly sensitive data. And as businesses and individuals around the world begin to finally return to the office following over two years of enforced hybrid working, new challenges await for IT security teams.
What are security breaches?
A data security breach is defined as a breach of security leading to the accidental or unlawful destruction, loss, alteration, unauthorised disclosure of, or access to, personal data.
Who is after your personal data?
IT security teams have always had the unenviable job of protecting their networks and sensitive data against a seemingly endless and everchanging array of unseen foes, ranging from small-time high-school hackers to sophisticated cyber-criminal syndicates, to international espionage between nation-states.
Notable recent cases
In 2021, data security breaches continued to rise, including an infamous data breach by Facebook that made headlines around the world, after the personal data of 533 million users (including phone numbers, dates of birth, locations, full names and email addresses) were all exposed.
Serious repercussions
Data security breaches are far from being a victimless crime. If your identity is taken, you may have funds stolen from your online banking accounts, find it difficult to get future loans, credit cards or a mortgage. An identity thief can use numerous methods to find out your personal information and will then look to open bank accounts, take out credit cards, or open government benefits in your name.
Five browsing tips for safer online experience
In an attempt to help prevent individuals falling victim to a data security breach, Charlie Acfield, Technical IT Director at Totality Services – London's leading IT support company - shares five practical tips on what people should be aware of and how they can minimise the risks of being exposed when conducting their day-to-day business online.

#1 Think before you click

Beware of emails, texts or other promotions that seem "off" or encourage you to urgently click on links. If you receive an enticing offer, do not click on the link. Instead, go directly to the company's website to verify the offer is legitimate.
#2 Do your homework

Fraudsters are fond of setting up fake e-commerce sites. Prior to making a purchase, read reviews to hear what others say about the merchant. Check trusted sources, land in addition, look for a physical location and any customer service information.
#3 Consider your payment options

Using a credit card is much better than using a debit card; there are more consumer protections for credit cards if something goes awry. There are now many services you can use to pay for purchases – like Google Pay – without giving the merchant your payment information directly
#4 Watch what you give away

Be alert to the kinds of information being collected to complete your transaction. If the merchant is requesting more data than you feel comfortable sharing, cancel the transaction. You only need to fill out required fields at checkout and you should not save your payment information in your profile.
#5 Keep tabs on your financial statements

Be sure to continuously check your accounts for any unauthorised activity. Good record-keeping goes hand-in-hand with managing your cyber-security. Another tip for monitoring activity is to set up alerts so that if your credit card is used, you will receive an instant message with the transaction details.
Fraudsters are getting better and better at what they do by the day

Totality Services Technical Director, Charlie Acfield, said: "The reality is most people aren't aware of how their personal information is collected, stored and used by many modern organisations. That said, with Data Privacy Week 2022 now kicking off, there's no better opportunity for individuals and businesses to learn more about this topic.
Unfortunately, fraudsters are getting better and better at what they do by the day. Cyber-criminals and their attacks are increasingly more sophisticated, no longer do we see so many giveaways such as spelling errors or suspicious looking links. Instead, they are researching and impersonating well-known companies and people.
However, we hope by highlighting the above five simple – but important tips, people will be better able to educate themselves and be less likely to be caught unawares when conducting their business online."