Equinix: Inspiring the next generation of UK tech leaders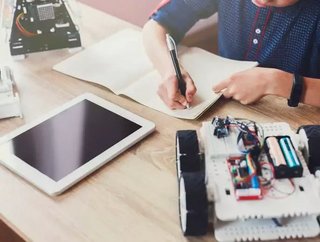 In November 2017, the UK Government's Industrial Strategy stated that 40% of employers reported a shortage of science, technology, engineering and mat...
In November 2017, the UK Government's Industrial Strategy stated that 40% of employers reported a shortage of science, technology, engineering and maths (STEM) graduates as being a key barrier in recruiting staff. Each year, the UK is short of 40,000 STEM graduates. If these figures aren't alarming enough, job requirements in STEM fields are expected to rise at double the rate of other occupations between now and 2023.
The STEM skills gap is both a problem for businesses, and a missed opportunity for graduates. Currently, the UK's productivity lags at 15% behind that of other G7 countries and the skills gap will only exacerbate this figure. It will also impact the speed at which the UK can adapt to technological advancements such as AI and IoT, two growing industries which will require specific STEM skillsets.
At the World Economic Forum in Davos at the start of the year, Theresa May delivered a keynote speech where she pledged, as part of her promise to make the UK a world leader in technology, £20 million investment for the UK's first Institute of Coding, while also committing to the establishment of a world-first national advisory board for AI – the Centre for Data Ethics and Innovation (CDEI). This was followed by a further announcement in June that technology firms are set to invest £2bn in the UK creating 1,600 new jobs, alongside several government-funded initiatives to help British start-ups and attract foreign talent.
The Government estimates that mastering AI technology could add £630bn to the UK economy by 2035. If the UK is going to reap these benefits, the STEM skills gap needs to close.
See also:
Engaging young people
The most effective way to do this is by encouraging more women and young people to engage in STEM subjects at school, but the challenges they face around discrimination and the gender pay gap are proving to be a major blocker. A recent survey conducted by New Scientist showed that women in the UK who are working in science and engineering can expect to earn a fifth less than their male colleagues – a figure that increases with age and experience. In mainland Europe, the figure is 19% and in the USA it's 11%. It should therefore come as little surprise that women account for only 14.4% of all STEM workers in the UK, despite making up almost half of the workforce.
Equinix has launched several initiatives to ensure we have a balanced workforce where all people feel at home. The Equinix Women Leaders Network (EWLN) is one such measure, set up to promote gender diversity and female leadership in Equinix's workforce. The EWLN is centred around the core themes of promoting, connecting and empowering our female colleagues, no matter where they are based or which role they're in. We run a variety of events and initiatives to drive a meaningful dialogue, build leadership skills and promote a collaborative working environment for all our employees, for example the panel discussion we held in June to celebrate International Women in Engineering Day. The EWLN has been successful in attracting women to work at Equinix — since the creation of the network we have seen female applicants for roles at Equinix increase significantly.
Laying the foundations
For the skills gap to improve, children must be encouraged and enthused to study STEM subjects at school. At Equinix, our employees are involved in initiatives that encourage children aged 12-18 to channel their interests in studying STEM subjects, including a student mentoring scheme, work experience opportunities, and 'world of work' days which give children an insight into working at Equinix and the variety of careers we offer. The EWLN has proven to be particularly successful in supporting these initiatives, by enabling the next generation of young female scientists to meet inspiring role models they can relate to.
Back in 2011, we identified the need for a recognised data centre technician qualification, and developed our own programme for UK apprentices to become certified Data Centre Technicians. We've doubled our apprentice intake this year and now provide four separate training opportunities: an Electro-Technical apprenticeship, a Mature Student apprenticeship in the Facilities Team,  a Customer Operations apprenticeship in the Operations Team, and a Business Administration apprenticeship for office-based roles. These have proved incredibly popular, not least because they offer an alternative route into employment for those who might not want to go down the path of higher education.
This was certainly the case for Tom Davey, who was part of the first intake of UK apprentices back in January 2012. Tom wanted to study multimedia, film and TV at Oxford Brookes University but at that time there were 17,000 applicants for every job in that industry. Consequently, Tom decided to take on an apprenticeship with Equinix instead. Now, six years and several promotions later, he is still with us and is building an incredibly successful career as a Controls Engineer.
Tom is just one example of how the people, businesses and the technology sector as a whole can reap the rewards from a greater investment in skills, especially if qualifications and careers in this industry are presented as enticing options for everyone, regardless of their background. Getting this right now means laying the foundations for an increasingly digital and inclusive future. Getting it wrong risks our sector and indeed the UK being left behind as the global competition for STEM talent continues to pick up pace.
Russell Poole, UK Managing Director, Equinix