Future farming: Can drones solve the global food crisis?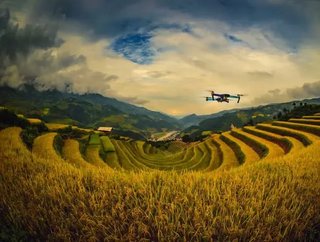 The world is in crisis. In 2018 approximately 113mn people in 53 countries experienced "accute food insecurity," with a further 143mn people on the...
The world is in crisis. In 2018 approximately 113mn people in 53 countries experienced "accute food insecurity," with a further 143mn people on the verge of starvation, according to a United Nations report. In an age where food shortages, an increasingly unstable climate and a rapidly expanding global population are putting increased pressure on the global food supply, increasing efficiency and transparency across the entire field of industrial agriculture is more of a priority than ever. 
Around the world, farming is happening at a greater and greater scale. Currently, about 37% of Earth's land is used for agriculture (approximately 11% for crops and 26% for livestock grazing), a figure that is determined by myriad factors ranging from social, political, and economic factors, to land tenure patterns, soil quality, climate, population density and environmental regulations. The story of farming has been one of humans using new technologies to expand the amount of land that can be farmed effectively; only about 3.5% of the Earth's surface is suitable to be farmed without any constraints. 
According to The Habitable Planet, "these physical constraints mean that not all farmland is equally productive, even with modern techniques and inputs. In areas where land is less productive, agriculture requires more techniques and inputs to address limitations such as poor soil quality." 
Precision farming
In Italy, the hazelnut industry produces over 100,000 tonnes of nuts every year, a process that consumes a colossal amount of water and covers vast areas with orchards. Tending to these orchards using traditional methods runs the risk of inefficiencies; a farmer with a single hazelnut tree can perfectly judge the correct amounts of water, pesticides and pruning for the tree to produce an ideal crop, but in an orchard with thousands of trees, every plant ends up receiving the same treatment, whether it needs it or not. 
In order to bring human expertise to individual trees on an industrial scale, academics and farmers at the research hazelnut orchard in Ronciglione are turning to emerging technologies in the same way that medieval Chinese farmers turned to the horse collar to plow their fields. Today, robots equipped with multiple high-definition cameras are giving Italian hazelnut farmers a never-before-seen level of insight into their operations. 
"Precision farming allows us to carry out targeted treatments at the right time with the right quantities, depending on the actual needs of the plant — something that traditional agriculture today tends to neglect." - Valerio Cristofori, agronomist at Tuscia University in an interview with EuroNews. 
Unmanned aerial and ground robots built by the Pantheon project will "move within the orchard to collect data and perform typical farming operations. The information is then collected in a central operative unit that integrates the data to perform automatic feedback actions (e.g. to regulate the irrigation system) and to support the decisions of the agronomists."
Italian hazelnut farmers are far from the first to explore the potential benefits of drones in farming. As mentioned by Cristofori, the desired result is referred to as Precision Agriculture, n approach "based on observing, measuring, and taking action based on real-time crop and livestock data. It erases the need for guesswork in modern farming and instead gives farmers the ability to maximize their yields and run more efficient organizations, all while enhancing crop production. In recent years the cost of agriculture drones has rapidly declined, which has not only led to the explosion of drone use cases in agriculture but has made it a no-brainer investment for modern farmers," writes Jeremy Jensen for UAV Coach. 
SEE ALSO: 
Full autonomy 
Founded in 2016, Massachusetts-based drone maker American Robotics is one of the companies at the leading edge of drone applications in the agricultural space. Founded by Carnegie Mellon and Stanford roboticists with the goal of delivering real world applications for drones, American Robotics boasts fully autonomous UAVs and "no piloting. Ever." 
"Once installed, Scout systems will run missions autonomously, collecting, processing, and analyzing data. Never touch a remote control again." - American Robotics
"Scout drones live in your field inside a ScoutBase, a weatherproof charging and data processing station. With the help of proprietary software and hardware they are able to operate without the need for a human pilot. Interact with one Scout, or a fleet of Scouts, from your office remotely via ScoutView, our web and mobile application." Users can then send out Scouts to collect data on a schedule or initiate missions with the push of a button. 
Autonomous, self-sustaining drones that can provide instant, actionable insights to farmers could go a long way towards increasing crop efficiency and yield. 
Hyperscale solutions for hyperscale challenges 
The need for precision agriculture, to use technology to bring the attentiveness and expertise of small scale farming to industrial mass production, is perhaps more evident in China than anywhere else on the planet. The biggest population on Earth, coupled with the changing tastes of a booming middle class, means that demand upon the country's agricultural sector is facing increasing pressure to innovate. 
This week, Chinese agricultural technology giant XAG announced that its Unmanned Aerial System (UAS) crop protection services have reached a new milestone, covering an accumulated area of farmland equal to 20mn hectares, amid a large-scale cotton defoliation operation in Xinjiang, China. Among the first to introduce fully autonomous drones to transform the way crops are grown, XAG has become one of the world's largest agriculture drone manufacturers and service providers. Its crop spraying drones have operated in 38 countries including South Korea, Japan, Australia, Vietnam, Brazil, Mexico and Zambia.
Founded in 2007, XAG is of the world's largest industrial UAS manufacturers. Through empowering farmers with precision technologies such as drones, artificial intelligence (AI) and Internet-of-Things (IoT), XAG has been committed to improving the productivity, quality and sustainability of agricultural production. Currently, it has established global partnerships with industry leaders and research institutions, such as Bayer, Alibaba, Huawei, Harper Adams University and Sydney University, to promote digital farming and enhance food safety.