Hitachi Vantara: Unleashing the power of intelligent innovation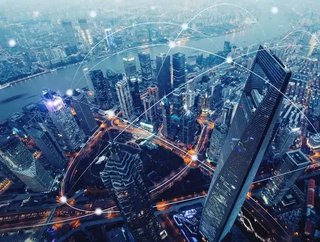 Wael Elrifai, VP for solution engineering, Big Data, analytics & IoT, discusses how Hitachi Vantara is cutting through the noise by merging operatio...
Wael Elrifai, VP for solution engineering, Big Data, analytics & IoT, discusses how Hitachi Vantara is cutting through the noise by merging operational and informational experience.
"If you want to deploy a new technology it's best to think of a pain point you want to solve or a business outcome you want to achieve and work backwards," advises Wael Elrifai, VP for solution engineering, Big Data, analytics & IoT at Hitachi Vantara.
He's well-equipped to offer this guidance; Hitachi Group has been revolutionising industries across the globe for over a century. In fact, Elrifai contends that no other company has such a trusted track-record in both information technology (IT) and operations technology (OT). "Our competitors in the industry tend to be either IT companies or OT companies but what makes us unique is that we have in-depth experience with technologies like big data, artificial intelligence and machine learning as well as in specific verticals," he says.
Now applying its unique skills to the world of the Internet of Things (IoT), the group has created Hitachi Vantara, a subsidiary which aims to unify the business' efforts in IT, OT and IoT. Bringing together three different firms – Pentaho, Hitachi Insight Group and Hitachi Data Centres – 2017 marked the genesis of the California subsidiary, and it's been on an upward ascent ever since. "I'm involved in solution engineering whereby we speak with companies who may not necessarily know how to attack a problem; they may think that big data or artificial intelligence can help but they may not know how to approach it," explains Elrifai. "We help them understand how technology could help and prototype solutions for them."
SEE ALSO:
In the railway sector, for instance, Elrifai highlights how industrial IoT (IIoT) can help businesses predict when maintenance will be needed so that downtime is reduced. This has massive consequences for businesses and citizens alike. "When a train fails it's detrimental because people may be stuck on the train and you've also taken this billion-dollar asset offline," he says. "It has knock-on effects on the country and its citizens."
"Today, around 10% of global GDP is related to logistics and, in some cases, poor logistics chains may cause your milk to go up by 10p, for instance. This may not impact you if you're living in an affluent area but if you're living in a developing region then this could mean you have less money to spend on food, textbooks, hospitals and building materials. It can really impact people living on the edge," he explains. "The use of technologies like IoT, artificial intelligence, and machine learning can help to reduce downtime and cost of delivery whilst dramatically impacting people's lives."
Data and IoT could also be adopted widely by the agricultural sector to make a big difference, contends Elrifai. Take Meat & Livestock Australia (MLA), for instance, who were recently awarded the first annual Hitachi Transformation Award. Partnering with Hitachi Vantara, the public authority used data analytics and IoT-led decision-making to drive productivity and enhance the profitability of the Australian red meat and livestock industry. "We saw a sea change in agricultural production in the 1900s and we are about to see that again," asserts Elrifai. "Today, IoT and machine learning can help optimise agricultural land usage based on the weather and it can also help us use the optimum amount of pesticides or water, for example. There is a social and moral imperative to use technology in the sector and therefore, we call it social innovation: the idea that there's a financial bottom line and there's also a corporate social responsibility (CSR) bottom line." Indeed, social innovation is a well-versed mantra at the group and this hasn't gone unnoticed by the international community either with the firm recently being placed on the Thomson Reuters 'Top 100 Global Innovators' list.
Hitachi Vantara has etched a unique path in the IT and OT space, paying particular attention to the rise of IoT. The benefits of the technology are well-documented: in fact, recent research from Forbes Insights found that 45% of executives surveyed identified IoT-enabled manufacturing as a high or very high priority for their enterprises. But, for companies wanting to take the first step on their IoT-led digital transformation, where should they begin? "A good place to start is to look for a business process which you already do like managing a fleet or restocking shelves and find a way to do it better through prediction," Elrifai suggests. "We talk a lot about disruption but most companies want an evolution."
From manufacturing and supply chain, to energy and healthcare, IoT is set to up-end all our preconceived notions of how to run a business, unlocking a new level of productivity. Hitachi Vantara may be only three years' old but with a rich roster of clients under its wing, it's proving to be a frontrunner in the space. Elrifai contends that this is all down to the business' practical industry expertise, it's unprecedented data analytic capabilities as well as it's cutting-edge technologies like its IoT platform Lumada. "Hitachi has a background in building real-life solutions in the real world. We have a 110-year pedigree in operational technologies and manufacturing, as well as around 60 years in information technology which puts us in a unique place," he says. "We build solutions for power plants, transportation and more – it impacts people's everyday lives."