How Infosys is helping companies tap into Big Data and the art of the possible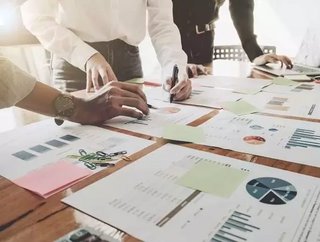 Satish H.C., Executive Vice President and Head of Data Analytics at Infosys, discusses how data analytics offers endless opportunities but hurdles such...
Satish H.C., Executive Vice President and Head of Data Analytics at Infosys, discusses how data analytics offers endless opportunities but hurdles such as a widening skills gap may stand in our way...
'Are you ready for the era of Big Data?': it may be a daunting question for many businesses but it's a necessary one. Reams of data are now at our fingertips, with 2.5quintillion bytes of the stuff being created every day, according to Forbes. It's an exhaustible resource which can help to deliver incredible customer experiences, new revenues streams and more. So, whilst you may be unprepared for this new age, it's likely that the competition isn't.
Infosys is just one company that is helping businesses transition into savvy data-native enterprises, offering technology services, consulting, and other services. Rather than blindly helping to execute digital transformation strategies, Infosys felt it really needed to understand how companies plan to use data analytics today and tomorrow. To tackle this, thee firm conducted an in-depth study which offers a 360-degree look at how data analytics is set to reshape the business world.
In a recent study entitled 'Endless Opportunities with Data', Infosys spoke to over 1,000 senior executives whose organisation's generated over US$1bn in revenue every year. Whether they were located in the US, EU, Australia or New Zealand, these leaders echoed the same sentiment: the possibilities with data are limitless. They highlighted out how data analytics could offer a helping hand with risk mitigation, experience enhancement, the creation of new business models as well as revenue and profitability maximation. Yet, whilst many participants had meticulous roadmaps and strategies underway, executing them was another matter.
SEE ALSO:
A seasoned professional in the data analytics space, Satish HC, Executive Vice President and Head of Data Analytics, highlights that data analytics is a mounting challenge because businesses "aren't just dealing with more data within the enterprise, they're also dealing with data coming from outside the business." In fact, the survey found that some of the biggest challenges facing companies stemmed from integrating multiple datasets from a variety of sources, according to 44% of overall respondents. However, this is merely one of a handful of challenges facing businesses as they prepare for today's digital age: many executives also pointed out that they were overwhelmed with the number of tools and technologies on the market and admitted that they felt their current systems architecture and technologies weren't mature enough.
Interestingly, but perhaps unsurprisingly, one of the biggest takeaways from the report underlined the widening skills gap. Businesses admitted that they struggled to make the most of the opportunities presented by data analytics because of this, with two-fifths (40%) of leaders identifying a lack of analytics skills in their organisation. "In today's world, the paradigm has completely changed," observes H.C. "Now, if you don't know programming you can't be very successful in data analysis." He explains that unlike older perceptions of data analytics (whereby if you're good with technology packages and if you knew the business, you would be successful), "today's new wave of skilled professionals will need much stronger knowledge of programming and underlying platforms". On top of this, the type of work that data analysts are doing is changing rapidly. "What this means is that the composition of skills that we need is changing; we need a larger proportion of people who are programming- savvy and we need analytical skills more than ever," he explains. "Apart from this, we're also just dealing with greater and greater amounts of data which poses challenges."
The ever-growing skills gap is well documented. For instance, in a recent report, McKinsey estimated that the U.S. will soon face a shortage of approximately 175,000 data scientists. So, what can be done to address it? With over two decades of experience at Infosys, H.C. believes the firm is well equipped to take on the challenge. "To address this for our clients, we have invested very heavily to create these skills from within through training. More and more of our clients are asking us to train their existing workforce."  For instance, the firm has developed a corporate learning solution called Wingspan which facilitates learning, offering a voice-enabled 'earning assistant' for guidance. Infosys is also working shoulder to shoulder with academic institutions to further learning and it's also experimenting with the idea of creating an AI Centre of Excellence for its clients.
Through its research, Infosys spoke to senior leaders from a variety of industries including energy, retail, logistics, healthcare, among others. However, despite this range in perspectives, the sentiment remained the same: data analytics is firmly top of the agenda when it comes to digital transformation. It's already being effectively used for functions like financing and accounting, marketing and operations, and it's become increasingly more interconnected with other technologies both at the core and at the edge. Indeed, it's no surprise that when asked to pick the digital technology with the greatest impact on data outcomes, respondents cited several innovations including artificial intelligence (37%), Internet of Things (19%), cloud technologies (16%) and big data (12%).
SEE ALSO:
With a market valuation of US$41.6 bn, Infosys has put its technological heft firmly behind data analytics, creating cutting-edge solutions such as a data analytics workbench. "This automates the data science lifecycle end-to-end so that you don't have to spend a lot of time on data ranking and creating semantic layers. Instead, you spend more time on building a model and generating insights," explains H.C. During the current analytics lifecycle, around 80% of the time is spent on data acquisition and preparation whereas only 20% is actually spent on analytics. This platform reverses this equation and aims to empower self-service analytics. Infosys hopes to apply this same way of thinking to AI by working on a new AI workbench too.
Looking at the future of data analytics, Satish sees three key trends emerging on the horizon. First, more businesses are seeking to become more analytics-driven and the sector is also seeing a greater converge of data and digital ware. Finally, Satish says that "as the digital economy grows, it will lead to a new economy – the data economy, which is powered by AI." He forecasts that this will "have a more disproportionate impact on the overall economy of the world". Indeed, it's clear that the data analytics boom is here to stay and, not one to rest on its laurels, Infosys has no plans to slow down its momentum when it comes to investment in the field.
"Unless we are proactive, unless we have the ability to be there every step of the way on their journey, we will not be relevant," concludes H.C.
"At Infosys, we're competitive because we're investing in digital transformation all the time. We have created this value network to enhance human capital or innovation capital. We're helping to solve the big problems facing our clients."