How to stop a porch pirate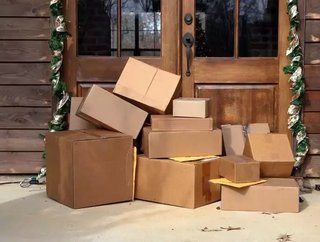 A record $9.2bn was spent in the United States on Cyber Monday 2019 and this week, billions of parcels are making their way around the world, with billi...
A record $9.2bn was spent in the United States on Cyber Monday 2019 and this week, billions of parcels are making their way around the world, with billions more ready to be sent in the run up to Christmas. 
Last year, more than 87 billion packages were shipped around the world and this year, with record breaking ecommerce holidays like SIngles' Day, Amazon's Prime Day, Black Friday and Cyber Monday, that figure is expected to climb. 
However, not all packages reach their destination. As ecommerce deliveries have become increasingly common around the world, next-day delivery culture has given rise to a new form of criminal: the 'porch pirate'. 
In the same way that the invention of the train gave rise to the first train robbery (for a more modern example, how about last year's revelation that around 30% of delivery drivers have helped themselves to a free meal, or exploited a loophole in UberEats' policy to score free food? Not that these figures suggest much more than the fact that delivery drivers are being underpaid to the point where snatching a handful of cold fries is an effective replacement for dinner, but we're not here to talk about that, so anyway) the digital disruption of ecommerce has created a new type of crime and criminal with a specific target. 
I the run up to the holiday season, research firm C+R released its package theft statistics report, which found that 36% of respondents reported having a package stolen from their porch at least once. Of the 2,000 individuals included in the report, 9% reported having more than five packages stolen, and the average cost of replacing a stolen item came to just under $110. 
Given that - to briefly harness the power of quick maths - if an estimated 11mn Americans had a package stolen in the past 12 months, and the C+R report pegged the average online order at around $222, then porch pirates are costing the US economy (that's to say nothing of other major delivery markets like China and the UK) about $2.4bn every year, and that figure is (while probably erroneous) definitely on the rise. 
SEE ALSO: 
In response to this trend, a few enterprising people have started to take matters into their own hands. Following the theft of a package from his doorstep - and the blunt refusal of local police to do anything, despite having door cam footage of the thief's face - a frustrated ex-NASA engineer turned science Youtuber turned his impressive combination of technological expertise and, frankly, pettiness to the challenge. 
Last year, Mark Rober created what is known as a 'bait box' that not only projects a genuinely upsetting amount of glitter all over the unsuspecting porch pirate, but adds insult to injury with the repeated application of a fart-scented perfume. This year, he made a new and improved version and, while it is very sadly not on sale anywhere, is a delightful piece of engineering. 
There are also plenty of companies that take a less combative approach. The ever popular door cam company Ring has been providing home security systems for several years now, and in January this year, Canadian company Parcel Guard launched an ultra safe deposit box for packages. 
However, 'the world's smartest mailbox' costs just under $550 and, for most people, the inconvenience of losing a pair of slippers that make your feet look like flamingos might not outweigh that price tag, even though C+R reported that the average person who invested in anti-theft measures following being robbed spent about $191. Personally, I recommend the age old solution of hiding round the corner of your house drenched in fake blood, carrying a slingshot and a bucket of dismembered Barbie doll parts. It also deters carollers. Humbug, etc.