5 reasons why your team should attend Technology & AI Live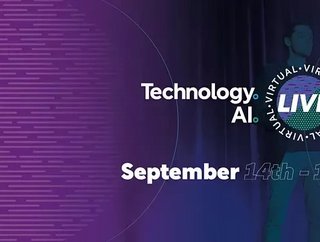 Join us from 14th - 16th September 2021 for the ultimate Technology & AI event, streamed live from London's Tobacco Dock
Technology & AI Live is the must-attend event for leaders and technical specialists in forward-thinking enterprises. Your team will leave with the motivation and practical roadmap to drive technical efficiencies and innovation across your organisation. 
Powered by leading magazines in the Technology and AI sectors, this event will give your team direct access to our community of C-Suite executives at the world's largest and most innovative companies. They will absorb ideas and ask questions of people who have faced and overcome the same challenges that affect your business.
1.

 

Learn
As an employer, it is vital that you invest in motivating, educating and engaging with your staff. This then enables you to increase employee satisfaction alongside providing your employees with the opportunity to gain new insights that they can feedback to help grow your business. 
Technology & AI Live is an event that will acquire expert leaders globally, who will be sharing knowledge straight from their businesses, allowing your employees to gain insider information and network with industry leaders, providing them with the tools and direction they need to think like a CXO and transform your business. 
 

2. Network
Networking at conferences is key, and without being at a conference in person, the ability to meet and interact with other attendees can be lost. There's an incredible amount of sharing, learning and benchmarking that can happen at an event, and that's why we have made sure that attendees will be able to have 1-2-1 video conversations with as many attendees as they want during Technology & AI Live. Not only this, our platform will implement sophisticated AI to match your employees with like-minded professionals attending the event, opening a strategic gateway to networking. Your employees will have the ability to forge meaningful business relationships that simply can't be duplicated via email or telephone conversation. A spontaneous conversation at an event may just lead to a long-term business relationship for your company.
3. Content
We are actively encouraging attendees to create their own content around Technology & AI Live. Make sure you're asking your team, "what content will you bring back?". This could include one-of-a-kind content like:
Live coverage:

Your employees can post updates on social media throughout the event – everything from Instagram photos to tweets featuring quotes from a keynote speech. 

Video:

Our live events offer a number of opportunities for unique videos. Your employees can capture key moments from the conference. 

Blog posts:

Following/During the event, your employee can publish a follow-up blog breaking down key takeaways and top moments for those who cannot attend and also to boost engagement on their own social channels. 
4. Share
Sending your employees to Technology & AI live will provide your business with ample opportunities for growth. Through the valuable insights and extensive networking opportunities provided, your staff will have a fount of knowledge at their fingertips─knowledge that they can take away and implement into the company strategy and share with colleagues, ensuring that the whole team benefits from this first-class professional development gateway. 
Within the first few hours of day 1, they will have already gained real-world insights into:
Cyber security

Cloud integration

Digital transformation in analogue organisations

Women in technology

IoT
By the end of the event, we'll hear from Nick Giannakakis, Global Chief Technology Officer at Motor Oil; Angela Yochem, EVP Chief Transformation and Digital Officer at Novant Health; Kary Bheemaiah, Chief Technology & Innovation Officer (CTIO) at Capgemini Invent; Wayne Butterfield, Global Lead, Intelligent Automation Solutions at ISG Automation and Tom Raftery, Global Vice President, Futurist & Innovation Evangelist at SAP. And that's just to name a few. 
5. Save
Save 10% on each ticket when you send three or more members of your team. Send us an email to events@bizclikmedia.com. So your staff make the most of the opportunity (and you make the most of your budget!).
To buy tickets for this unmissable event, head over to our Event Page.