Autonomous retail startup Sensei plans European expansion
3 min
Sensei, who provides autonomous store technology, has just raised $6.5 million in funding and are planning on expanding across Europe...
Lisbon-based computer vision startup Sensei, who provides autonomous store technology to deliver ubiquitous check-out-free purchasing systems, announced that it raised $6.5 million (nearly £4.7 million) in funding.
This is the seed round secured by a Portuguese company to date and it is the first European autonomous retail technology vendor to get funding.
The investment round was led by Seaya Ventures and Iberis Capital alongside participation from 200M Fund managed by BPF and existing investor LeadX Capital. It brings the overall funding raised by the company to $7 million (nearly £5 million).
Sensei aims to use the funding to scale its ability to expand R&D, meet increasing demand and speed up new store launches. They are also actively eyeing to expand into the UK and European markets including France, Germany, and Spain.
Vasco Portugal, Sensei's CEO and Co-founder : "We're thrilled to have secured this investment with new and existing investors, and have big ambitions to use it to change the way the world shops with autonomous stores. Sensei's technology will help level the playing field for retailers to compete against digital giants such as Amazon. We aim to enhance the familiar and enjoyable customer shopping experience, making it seamless, convenient, and safe."
What is Sensei?
Sensei was founded in 2017 and deploys a technology platform, which uses a blend of cameras, sensors, and AI algorithms. It can automate stores, both new and existing, to provide a fast, convenient, and seamless shopping experience.
Sensei's proprietary "computer vision-first" solution can retrofit easily in existing establishments and allows retailers to offer a seamless and more efficient shopping experience to their customers, which is completely check-out free. Retailers can manage their inventory in real-time and get access to unique data insights about their customers and how they interact with their store and products.
Sensei currently works with all sizes of grocery, convenience, grab-and-go stores, and other retail formats.
Future of technology and retail
Across various industries, technology is reshaping the way we do business. Mckinsey in 2020 that the UK had gone further in adopting online shopping than any of its Western peers (20% of UK consumers shop entirely or mostly online).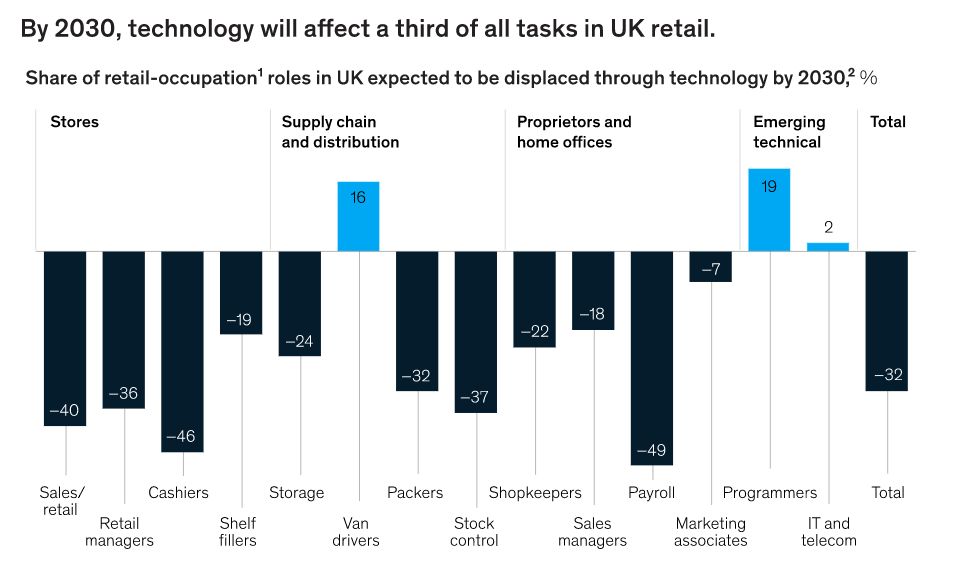 The pandemic was a catalyst for online shopping, contactless payments, and touch-free retail technology. Smart stores have been a recent topic of new shopping technology.
Amazon has been opening physical Amazon Go convenience stores and Amazon Go Grocery stores across the US and it has launched a UK store, branded Amazon Fresh.
You scan the app as you enter the store and then the technology can detect when products are taken or returned to the shelves and keeps track of them in your virtual cart. When you leave the store with your goods, your Amazon account is charged and you are sent a receipt.
The COVID-19 pandemic has brought extreme challenges for the retail industry but has also brought progress and improvements in terms of technology over the past year. Tools like machine learning, data science, computer vision, augmented reality, and more have shown that 2020's challenges have been an opportunity for improvement and that the future of the retail industry could be very different.
Microsoft: Building a secure foundation to drive NASCAR
3 min
Racing fans can expect the ultimate virtual experience as a result of the partnership with Microsoft and NASCAR
Microsoft is a key partner of The National Association for Stock Car Auto Racing (NASCAR) and together they are driving ahead to create an inclusive and immersive new fan experience (FX).
These long-term partners have not only navigated the challenges posed by the COVID-19 pandemic with the use of Microsoft Teams and Microsoft 365, but are now looking to a future packed with virtual events to enhance the FX, well beyond NASCAR'S famous Daytona racetrack. 
"Together, we've created a secure environment that's allowed for collaboration, but the future is all about the fans", said Melinda Cook, General Manager for Microsoft South USA Commercial Business, who cited a culture of transparency, passion, adaptiveness, and a growth mindset as to why this alignment is so successful."
"We've partnered to create a fluid, immersive experience for the users that is supported by a secure foundation with Microsoft in the background. We are focused on empowering and enabling customers and businesses, like NASCAR, to reach their full potential. We do this with our cloud platform which provides data insights and security."
"Our cloud environment allows NASCAR to move forward with their digital transformation journey while we are in the background," said Cook who highlights that Microsoft is helping NASCAR
Empower employees productivity and collaboration

Improve fan engagement and experience

Improve environment security and IT productivity

Improve racing operations
Microsoft Teams, which is part of the Microsoft 365 suite, enabled employees to work remotely, while staying productive, during the pandemic. "This allowed people to provide the same level of productivity with the use of video conference and instant messaging to collaborate on documents. Increased automation also allows the pit crews, IT, and the business to focus on safety, racing operations, and on the fan experience," said Cook.
"We have started to innovate to create a more inclusive fanbase, this includes using Xbox to give people the experience of being a virtual racer or even leveraging some of the tools in Microsoft Teams to have a virtual ride along experience."
"These environments are how we create a more inclusive and immersive experience for the fans. We're working on a virtual fan wall which allows people from new locations to participate in these events," said Cook, who pointed out Microsoft was also helping bring legacy experiences alive from NASCAR's archives. 
"At Microsoft we can take it one level further by letting fans know what it's like to see the pit crew experience, the data and all the behind-the-scenes action. We will continue to improve automation with machine learning and artificial intelligence, from marketing to IT operations to finance to racing operations," said Cook.
Christine Stoffel-Moffett, Vice President of Enterprise Technology at NASCAR, said: "Microsoft is one of our key partners. They have been instrumental in helping the NASCAR enterprise technology team re-architect our Microsoft systems to ensure an advanced level of security across our environment, contribute to our business outcomes, and focus on fan experience."