Behind the scenes at EHang, the autonomous aerial vehicle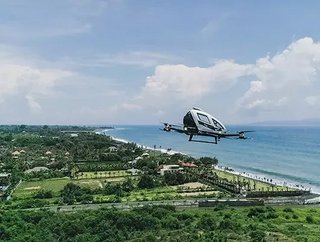 Edward Xu, Chief Strategy Officer, EHang tells us about the concept of AAVs, taking us behind the scenes of EHang's Yunfu production facility in China
Urban-air-mobility, a concept that could have been plucked straight out of a sci-fi movie, is much closer to reality than ever before. Today, there are currently around 250 companies in the research and development of electric flying vehicles and the infrastructure to use them.
As the desire for on-demand services rises alongside the heightened focus on sustainability, organisations with their new availability in funding are increasing their investment in urban-air-mobility, ramping up the research and development progress being made.
"There's been a convergence of several trends in recent years. First, on-demand services have changed the way we think about mobility. Second, there's a focus on sustainability, which these vehicles support. Third, there's a lot of funding available - investors who want to be a part of the next big thing. And lastly, the technology is finally there to do this at scale," reflects Robin Riedel, a McKinsey Partner.
"Totally agreed, but the fundamental one for me is really battery technology. We are finally reaching the density and affordability of batteries where the physics and economics of powering one of these vehicles starts making sense," adds Shivika Sahdev, McKinsey Partner.
As the investment continues to pour in (totalling over US$8bn at the end of March 2021), the industry edges ever closer to the commercialisation of such technology, the use case that has seen the most investor interest is people transport.
Fly into the Future
Edward Xu, Chief Strategy Officer of EHang, recently invited Manufacturing Global behind the scenes of the company's factories to see what it takes to manufacture such a product.
As a world leading autonomous aerial vehicle (AAV) technology platform company, EHang's mission is to enable safe, autonomous, and eco-friendly air probability for everyone. The company provides its customers in multiple industries with AAV products and commercial solutions (air mobility, smart city management, and aerial media solutions).
"As the forerunner of cutting-edge AAV technologies and commercial solutions in the global Urban Air Mobility (UAM) industry, EHang continues to explore the boundaries of the sky to make flying technologies benefit our life in smart cities," says Xu.
In January 2016, EHang debuted the world's first passenger-grade AAV - the EHang 184, single seat model. Two years later (2018), the company unveiled a dual seat model for testing, training, and demonstration purposes - the EHang 216, as well as a number of non-passenger-grade AAV models suitable for a variety of industrial and commercial applications.
"Unlike manually controlled UAVs, our intelligent AAVs can fly and operate autonomously. Our proprietary in-flight operating systems and on-the-ground infrastructure enables reliable and simultaneous control of a large number of AAVs," says Xu.
Manufacturing an AAV Mobility Solution
When it comes to the manufacturing of this kind of solution, Xu explains that "EHang strives to design safe, reliable and functional products. At our design and testing centre, we have established a multitude of AAV flight tests, including climbing flight tests, high maneuverability tests, speed tests, night flying tests, as well as flight tests in harsh weather conditions. Our passenger-grade AAVs conducted trial or demo flights in eight countries across Asia, Europe and North America, predominantly in China. These trial or demo flights include passenger-carrying flights and flight tests in winds of up to 70 kilometres per hour, in fog with a visibility of approximately 50 metres, and at a flight altitude of 4,100 meters above sea level.
Discussing the technology behind the solution, Xu continues to explain that there are proprietary in-flight operating systems installed in the AAVs, as well as on-the-ground infrastructure that have been designed to allow the AAVs to operate in various scenarios.
With both its AAV operating systems and infrastructure for different AAV commercial solutions sharing the same underlying technological architecture, Xu says: "our AAV operating systems include an autopilot and flight control system, a communication system, a battery management system and a safety management system, among other things. The AAV operating systems are installed on each of our AAVs to enable autopilot, navigation, real-time control and performance adjustment. Human control can be exercised from the ground using smartphones, tablets or computers as well as through our command-and-control system, meeting the varied demands of our customers."
Inside EHang's Yunfu Production Facility
Approximately 24,000 square metres in gross floor area, the EHang Yunfu production facility is home to the company's major AAV production process from manufacturing of key components and carbon fiber composite airframes to AAV assembling and flight testing.
EHang announced its plans to construct the facility in July 2020, supported with US$6mn in investment from the local government. The aim of the construction was to establish an industry leading AAV production centre that includes R&D for air mobility solutions, and a training centre for operations and technical talent.The initial annual capacity for the facility was 600 units. 
"The increasing market demands and commercialisation of AAVs in China are driving us to expand our production and upgrade our manufacturing capabilities. The EHang Yunfu facility serves as an expansion of our existing facility and will support the growth of our air mobility business in China," said Huazhi Hu, EHang Founder, Chairman and CEO in the announcement.
At the beginning of 2021, EHang released an update on the construction of the facility, detailing the expectation that Yunfu - which was three times the size of its then facility in Guangzhou (8,750 square metres) - will commence its production of AAVs in the second quarter of 2021. 
As scheduled in July 2021, EHang started production at the facility in late June 2021 representing a scale-up of its production capabilities. Today the company is operating the whole production process from components manufacturing to aircraft assembling from Yunfu as well as training.
Using EHang's AAVs in Real-World Applications
As EHang progresses with its developments and key industry applications the company looks atAAV including passenger transportation, tourism, sightseeing, logistics, and medical aid.
"As we progress, we have applied our EHang AAVs in various use cases including aerial sightseeing, and medical emergency transport etc. For example, EHang set up aerial emergency channels to help fight coronavirus in Guangdong in June 2021. EHang 216 and EHang 216L AAVs built emergency air transportation routes across the Pearl River in Guangzhou, successfully completing multiple 'contactless' relief and support tasks in the quarantine and containment zones," Xu.
Ensuring Sustainable Practices in AAV Production
With transportation being a large contributor to the global carbon footprint, enthusiasm has been placed on electrification. "As we all know, urban congestion and pollution have become a headache for most metropolises around the world as there are more and more people and private cars," says Xu.
With AAVs being a much more sustainable option compared to helicopters, Xu emphasises that "as the ground traffic is coming to its max capacity, the full potential of the air above us remains unexplored and it explains the promising future of eco-friendly personal air travel serving as a really feasible use cases of urban air mobility (UAM)."
Ehang aims to seek cost-efficient solutions for many of the challenges of urban life through its AAV platform. AAVs can shorten travel time, reduce pollution, expedite emergency services, increase convenience, and save individuals and businesses time and money.
To ensure that it is sustainable in its operations, EHang's AAVs use electric power to reduce environmental harm caused by emission. "Electrically-powered UAM vehicles are eco-friendly, with zero emissions, a tremendous advantage over the majority of current land and air vehicles that continue to run on fossil fuels," concludes Xu.