COVID-19 and the future of customer experience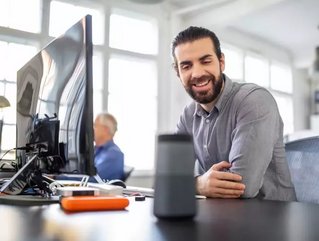 We take a closer look at evolving approaches to customer experience through technologies such as APIs, AI chatbots and RPA...
Customer experience, often abbreviated as CX, describes all the ways in which a customer interacts with a company, whether calling a customer service helpline or buying a product in a store, and everything in between. While the old mantra of 'the customer is always right' might still serve as a guiding principle, increasingly the customer experience is ran by technological and automated means.
According to Chris Duddridge, Area Vice President & Managing Director of UKI at UiPath, a number of issues are critical for customer contact centres in providing the best level of customer service. "There are an estimated 14 million contact centre agents globally across a variety of industries, company sizes, and countries. While each industry faces its own unique problems, the frustrations around customer contact centres are global for businesses and customers alike. Today, contact centre leaders face three main challenges to ensure they remain competitive: Retaining customers, improving agent effectiveness and modernising operations."
Solving those three problems simultaneously is RPA, or robotic process automation. "RPA presents contact centres with a low-risk approach to transformation that applies intelligent automation across the entire customer service lifecycle," says Duddridge, giving examples such as chatbots for customer self service, arming agents with intelligent attended robots and automatically handing off between chatbots and live agents.
Automation also assists with the changing behaviour of customers, who are increasingly shifting to digital channels. According to Michael Scharff, CEO, Evolv, the pace of customer evolution requires automation to keep up. "An experience that delivers results today, such as lots of conversions, may no longer move the needle next month, or even next week. Companies should ingest engagement data and design great experiences based on that information, but they must also deploy predictive modeling so these experiences evolve over time."
Increased automation need not represent a lack of care for the customer, however, and can instead improve customer's attitudes. "It can negate the need for customers to take multiple manual steps such as filling out multiple forms, or engage with several stakeholders within the organisation during their digital journey," says Ian Fairclough, VP of EMEA Customer Success, MuleSoft. "It's therefore no surprise that automating as much of the customer's journey as possible is a hallmark of 'digital native' organisations, such as fintech challengers."
Lee Whittington, customer experience consultant at Pegasystems, concurs: "Without automation, businesses have to take an old-school approach to customer interactions. Do you remember carpet bombing - agents asking the same questions at each contact and being resold something you have already bought? Automation keeps customer-facing professionals at the top of their game, alerting them to changes in a customer account and when they need to take proactive action."
Alongside RPA, other technologies are proving highly valuable in the sector. Take machine learning, for instance, capable of emulating human approaches to things like optimisation. "While most companies think A/B testing is the ultimate way to sort through lots of ideas and find the winning ones, traditional testing is simply inadequate to help you find that needle and especially if the goal is growth," says Scharff. "AI-driven optimisation, on the other hand, focuses on the goal itself and not a specific test or experiment. It can evaluate thousands of user experiences and find the needle, fast — and then find it over and over again in every new haystack you encounter."
Another important trend has been in getting human employees the data they need to deal with customers most effectively, with application programming interfaces (APIs) being key to this. "They play such an important role in enabling organisations to deliver the connected experience that customers increasingly demand," says Fairclough. "To get around their data integration challenges, many organisations have been experimenting with APIs. By placing them in front of the systems they need to connect, a loose coupling between the organisation's various sources of data can be created. With this in place, organisations can quickly and easily draw the information they need from disparate systems scattered across the business."
While customer experience was heading there already, the ongoing COVID-19 pandemic has accelerated existing trends towards digitalisation, with knock on effects for how customers experience products and services. "Consumer reliance on digital services has soared. As the demand for these services has risen, so too has the expectation for those services to offer a sophisticated, connected experience," says Fairclough. With the twin pressures of increased demand and increased expectations, organisations of all stripes have had to turn to automation technologies to thrive. "From contact centres to hospitals, to government agencies and humanitarian organisations, RPA turned out to be one of the only tools in the toolkit to respond to the impacts from the crisis," says Duddridge.
It's also highlighted the importance of understanding in customer experience, as Whittington explains: "The CX empathy approach is a major asset to retaining customers and forging the potential for new sales as well. Where, during the pandemic, businesses needed to put their focus on supporting customers through economic uncertainty rather than simply trying to upsell, empathetic treatment of customers did not go unvalued. Companies which used AI and RPA to be proactive and choose the most appropriate action for each customer in real time, whether they needed to adopt equipment for a home working environment or freeze their non-essential subscriptions due to financial restrictions, were able to get it right the first time and hold on to customers for the long-haul."
The impression, then, is that companies that embraced the digitalisation of the customer experience prior to the pandemic were much better prepared to face it. Regardless of whether it was in their plans, companies worldwide are now all but forced to bring in automation and other technologies to meet customer expectations.