$180mn round values food deliverer Deliveroo at over $7bn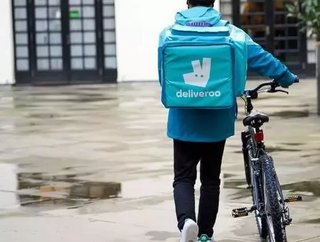 Deliveroo said it would use the funds to drive growth and enhance services such as grocery deliveries and its subscription service...
London-based Deliveroo operates one of the UK's most popular food delivery platforms.
With backers including the likes of Amazon, which has a 16% stake in the business, it's business model has been one of the few to find success during the ongoing COVID-19 pandemic, with food delivery allowed to continue even when restaurants themselves have had to close.
A technology unicorn
Since its foundation in 2012, the company has raised across 10 funding rounds. Additionally, Deliveroo has just announced a new Series H round worth $180mn, led by Durable Capital Partners LP and Fidelity Management & Research Company LLC. The latest funding sent its total valuation to more than $7bn.
In , Founder and CEO Will Shu said: "At Deliveroo we are always focused on developing the best proposition for consumers, riders and restaurants. This investment will help us to continue to innovate, developing new tech tools to support restaurants, to provide riders with more work and to extend choice for customers, bringing them the food they love from more restaurants than ever before. We are really pleased our shareholders see the opportunity and growth potential ahead of us."
Future growth
The company said it would use the funds to drive growth and enhance the service it provides, giving examples including the expansion of on-demand grocery deliveries, a geographical extension of its subscription service, and further support to its "riders".
The company outlined some of the steps it had taken during the pandemic, including reducing "onboarding" fees for restaurants and charging 0% commission on pick up orders.
Henry Ellenbogen, Managing Partner and Chief Investment Officer at Durable Capital Partners LP, said: "I have been impressed with the team's ability to spot opportunities, innovate and adapt to changes in the market. The online food delivery market is nascent and underpenetrated. We believe Deliveroo has the potential to become a much bigger company over time."
(Image: Deliveroo)