Exec Q&A with Karl Cheng, TMT Sector Leader of EY-Parthenon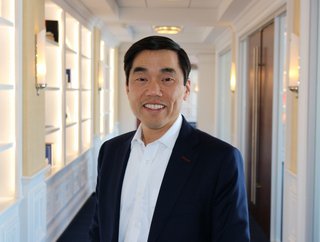 Karl Cheng is Americas Technology, Media and Entertainment and Telecommunications (TMT) Sector Leader for EY-Parthenon, the global strategy consulting firm
One of the largest global strategy consulting organisations, EY-Parthenon help CEOs and business leaders design and deliver transformative strategies across the entire enterprise and build long-term value for all stakeholders.
Part of Karl Cheng's job is to enhance connectivity between the market and people in our organisation who can best help clients with their specific challenges, which could involve developing growth strategies, providing transaction support, assisting with post-merger integration and more.
EY-Parthenon has thousands of people in the U.S. and sometimes finding the right people for the right opportunities isn't the most straightforward task. When an opportunity comes in, whether it's big or small, it's up to Cheng to find the right people and the right team to pursue it.
He tells us more about life at one of the Big Four...
In your conversations with clients, what's top of mind for technology C-suite leaders today?
Most conversations revolve around trying to keep up with the pace of change. That could involve how consumers behave, which of their competitors are coming up with new and innovative products or services or what start-ups are developing things that may just be ideas today but might put them out of business in a few years.
Given my role with EY Strategy and Transactions, a lot of talk centres around M&A - what other companies are buying, who's selling, what are they selling and what should a company acquire. Companies are asking questions like "What capabilities do we need?" "Is there something that we can acquire?" or "Is that something that we can develop internally ourselves?"
Today, CEOs aren't just running companies, they're also managing complex ecosystems. That means they need strategies to maximize the opportunities ahead and advice on how to rapidly reset their strategies to compete in in a constantly evolving business environment.
What are your priorities for 2022?
My first priority is to grow revenue for the TMT sector but also to make sure we match the right capabilities to our client's needs. This involves looking not just across Strategy and Transactions, but across the entire firm to ensure we're doing our best work together. For example, we have an initiative that teams up EY Consulting with Strategy and Transactions to maximize market opportunity and remove barriers so we can work more effectively across our organisational boundaries.
Talent, of course, is high on my list and I really enjoy the "people side" of the equation – recruiting and retention – although my main focus involves identifying senior and executive talent available on the market and bringing them into the firm.
Finally, I'm always working with our Brand, Marketing and Communications teams to get our best thinking to the market. We do this through conferences and events, white papers, thought leadership like our recent EY-Parthenon Digital Investment Index, which measures trends in digital investment and transformation, media interviews, marketing and advertising. But there's always more to do.
In a competitive market, how does EY set the bar?
We stay ahead of our competition by being more effective, productive, providing greater insights and helping companies develop a strategy to achieve their bold ambitions. EY-Parthenon is all about identifying previously unimagined opportunities for organsiations across the globe, helping to solve the complex challenges that go with them and, ultimately, transforming a bold vision into long-term value.
We work with clients by providing technology, data and experienced teams, which enables them to achieve unprecedented levels of growth, out-run their competitors and achieve new sources of value creation for the short and long term.
This strategy has brought some really impactful change to our clients and I think most of our competitors would struggle to bring everything together in one place
What exciting technology do you use to help stay ahead of the rest?
Whether a company is looking to acquire or undertake a merger, they're awash in data and it's hard to draw insight from it. Technology like artificial intelligence can help sift through the mountains of data, like contracts, that would otherwise require considerable time and resources.
We also employ EY Embryonic, a powerful, cloud-based platform that can map the flow of funds and M&A transactions and can visualize the relationship between traditional and innovative companies.
It consists of more than 90,000 publicly listed companies, 10.4 million private companies, and 4 million start-ups. It also holds more than 2.2 million transactions from the past 20 years — including merger, acquisition, joint ventures, investment, partnership and strategic alliances across corporate, private equity and venture capital.
When we combine EY-Embryonic with our industry expertise and transactions experience, it provides clients with insights to help leaders make fact-based decisions on where to invest or transform their business.
What's your outlook for the rest of 2022 and what three key things will you be looking for?
Despite what's happening with stock market volatility, trade disruption and rising interest rates, I'm still relatively bullish and don't think those factors will significantly slow down M&A activity.
Our US EY CEO survey, which was released in January, showed 60% of US CEOs saying they are actively pursuing M&A over the next 12 months and, while factors like geopolitical concerns may have impacted that statistic, I think there are enough good investments to be made, and buying opportunities are still out there.
I'll also be looking at things like total deal volume in the TMT sector, how many deals of various types are happening, and, of course, valuations.
Finally, I'll be watching hiring and retention trends and employment statistics closely to get a better sense of where our business, our clients' businesses and the overall market are headed from a talent perspective.