Facebook launch VR remote work app, Horizon Workrooms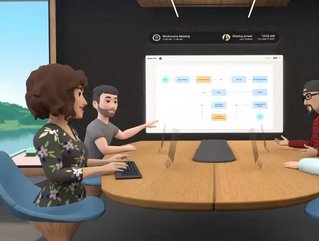 Facebook has launched a test of a new VR remote work app where users of the Oculus Quest 2 headsets can hold meetings as avatar versions of themselves
Facebook is debuting Horizon Workrooms, a free app that is part of the company's effort to create a broad "metaverse" in which physical distance is removed as a barrier for those who want to interact with one another.
The app has launched in open beta, available for free to download on Oculus Quest 2 in countries where Quest 2 is supported.
It works across both virtual reality and the web and is designed to improve your team's ability to collaborate, communicate, and connect remotely, through the power of VR— whether that's getting together to brainstorm or whiteboard an idea, work on a document, hear updates from your team, hang out and socialise, or simply have better conversations that flow more naturally.
"Using features like mixed-reality desk and keyboard tracking, hand tracking, remote desktop streaming, video conferencing integration, spatial audio, and the new Oculus Avatars, we've created a different kind of productivity experience. We've been using Workrooms to collaborate here at Facebook already, and we think it's one of the best ways to work if you can't be physically together," Facebook said in a blog.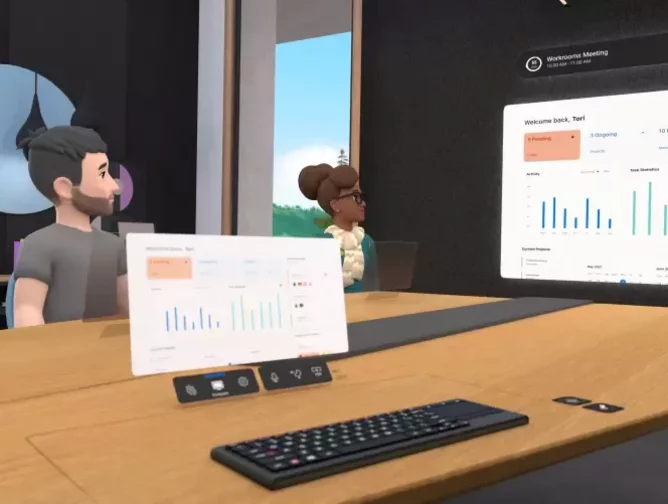 What are the features of the product? 
Workrooms is a virtual meeting space, you can join a meeting in VR as an avatar or dial into the virtual room from your computer by video call. 
Here's a look at all the new features:
Bring your desk, computer, and keyboard into VR with you:

Workrooms is a mixed reality experience, letting you bring your physical desk and compatible tracked keyboard into the virtual room with you, where you can see them sitting on the virtual meeting table in front of you. Combined with the new Oculus Remote Desktop companion app for Mac and Windows, you'll have fast one-click access to your entire computer from VR. You can take notes during your meetings, bring your files into VR, and even share your screen with colleagues if you choose. 

Feel like you're together with avatars and spatial audio:

Feel more connected and have more natural conversations using the new and improved Oculus Avatars and spatial audio technology. 
A virtual whiteboard as big as your ideas:

Every room in Workrooms offers infinite whiteboard space so you can sketch things out together in real time. For the first time, you can use your controller in a new way by flipping it around and writing with it like a pen, either on the physical desk in front of you or standing with others at the whiteboard. You can also pin images from your computer on the whiteboard and then mark them up and review with colleagues. 
Join in VR or by video call:

Not everyone will always have a VR headset handy, so you can also dial in to a room from your computer by video call. You can invite guests to dial in too, just by sharing a meeting link. It can support up to 16 people in VR together, and up to 50 people total on a call, including video participants.
Meeting notes, file sharing, calendar integration, and chat:

Every room in Workrooms comes with a place on the web to capture notes and action items while you're in a meeting, share links and files, and chat with your team. You can also sync your Outlook or Google Calendar to make it easier to schedule meetings and send invites.
Using Workrooms requires a Workrooms account, which is separate from Oculus or Facebook accounts, and to experience Workrooms in VR, you'll need to access the app on Quest 2, which requires a Facebook login.
"We think VR will fundamentally transform the way we work as a new computing platform, defying distance to help people collaborate better from anywhere. Horizon Workrooms is a big first step towards this vision, and we look forward to hearing your feedback," Facebook added in their blog.