Funding sees Coinbase-backed cryptocurrency hit $1 billion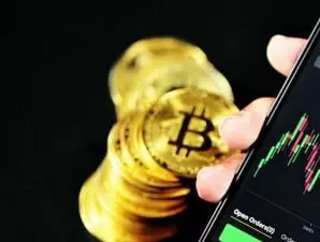 Cryptocurrency financial services firm Amber Group raises $100 million as investors rush to back cyber coin companies.
The investment bank, China Renaissance, led the round with participation from other high-profile investors, including New York-based Tiger Global Management. Existing investors, which includes Coinbase's venture arm, were also involved and as a result of the fresh funding, the Hong Kong-based start-up is now valued at $1 billion.
This latest funding round continues a flurry of funding activity in the cryptocurrency industry.
According to data from PitchBook, in the second quarter of 2021, venture capital investment into cryptocurrency and blockchain start-ups totaled $14 billion. That compares to just $600 million in the same period last year.
Interest in cryptocurrencies - and particularly in bitcoin - rose this year as institutional investors and large corporations jumped in. Among the companies which have purchased bitcoin are payments processor, Square, and electric vehicle maker Tesla. However, after touching a record high of $64,829.14 in April, bitcoin has since plunged by nearly half.
Who is Amber Group?
The company has typically sold products to institutional investors, as well as wealthy individuals, including algorithmic trading and lending products. It is described by its CEO, Michael Wu, as bringing a private banking experience to everyday customers, rather than being a cryptocurrency exchange that allows users to trade individual digital coins. He says the company is on track to book revenue of $500 million by the end of this year and has been profitable 'since inception'.
Wu adds between 70 and 80% of its revenue derives from so-called net interest margin, which is a measure of lending profitability. Amber Group takes on customers' deposits and offers an interest rate, then lend out the money from a pool of deposits to other entities at higher interest rates and makes money from that spread. In the region of 15% of revenue comes from trading fees.
Strategic acquisitions
The CEO added that fresh capital raised will be used to hire 'even more aggressively and make strategic acquisitions in areas such as cybersecurity. Regulation around cryptocurrency investing differs globally and is also quite fragmented. Wu went on to say this was a challenge due to the global nature of the industry and it was important to stay aware of the different regulations.