The future of food and drink franchising with Big Data
By Rachel Ann Kreis, Communication Manager at Geoblink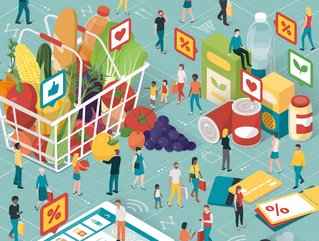 Going back as far as the Singer Sewing Machine, the franchise model began to take momentum in the 1960s. What made this cleve...
Going back as far as the Singer Sewing Machine, the franchise model began to take momentum in the 1960s. What made this clever growth hack so attractive to many brands was its ability to help them rapidly scale whilst evenly distributing costs at the same time. To franchisees, the marketing materials and strong support of the franchise brand were enough to convince them to make the investment and bet on a winning horse. This is how world-renowned franchises such as Papa John's, KFC and McDonald's were able to quickly make a name for themselves and prove the franchise concept as a solid expansion tactic.
While these success stories are what everyone aspires for their companies to become, the franchise market also has its caveats. This is especially true for the Food and Drink sector. In 2017 alone, the food and drink market accounted for £243 billion and created more than 800,00 direct jobs. However, this explosive growth has also brought forth fiercer competition, increasing food prices and skyrocketing commercial rental rates for everyone involved.
So, what then, can franchisors do to keep their accounts healthy in this hyper-competitive marketplace? In many cases, staying profitable is contingent upon a brand's ability to analyse and interpret data and use that insight to guide their strategy.
Consumer trends and their volatility
What consumers want never stays the same. With growing expectations about where food is sourced, sensitivity to price and concerns regarding nutritional value, franchisors need reliable data to anticipate these variations in consumer "appetite" and align their products with new trends. When exploring franchise business models that have lasted throughout time—such as Wetherspoon—Peter Martin, Vice President at the food and drink consultancy CGA, says they have remained successful by "adapting to changing tastes".
Take Wimpy restaurants as an example of what happens when franchises don't keep their menu in-line with consumer values. At the height of their empire, Wimpy had over 500 outlets across different towns in the UK. But by failing to detect major changes in consumer preferences towards more quality burgers, the gourmet hamburger experience was introduced to the high street by competitors such as GBK, Honest Burgers and Hache. If only the Wimpy management team had had the information they needed to forecast this paradigm shift ahead of time. Maybe then, the low-calorie menu they launched sometime after could have stood a chance. Over the course of a few years, their franchise network has dwindled down to only 80 left standing in the whole nation. The devil was definitely in the data for Wimpy restaurants. Unfortunately, their attempt at adapting their product offering to fit the new scope of dining consumption was just a little too late to the table.
The success of the franchisor is that of the franchisee
The secret to profitable franchising is equal to the sum of the successes of each franchisee. In other words, a franchise is only as good as the parts that make up its foundation, a collective whole. This makes it essential for franchisors to help their franchisee counterparts reach their maximum potential to support the growth of the entire network. So, how can franchisors do this?
Oftentimes, the answer lies in one key—yet overlooked— element: the catchment area. The distance customers are willing to travel to buy a certain brand's product matters when defining an effective rollout plan. Just ask Starbucks. After carrying out an aggressive expansion plan in which their former CEO outwardly embraced self-cannibalisation, sales eventually hit a wall. Suddenly, this legendary coffee franchise experienced a quick turn of good fortune incited by an insatiable need for growth. One that clouded over tried and tested reason and led to oversaturation as a result of too many franchisees competing against one another. To put it simply, the Starbucks network collapsed in on itself.
SEE ALSO:
Defining a franchise's catchment area comes in great part from the collection and analysis of customer data and past sales for profiling purposes. This information is then crossed and enriched by external data on market conditions such as disposable income, footfall traffic and more to draw the parameters that make up a specific catchment area. However, knowing how to transform those numbers into actionable information can be a cumbersome activity for many franchises as the amount of customer data they have accumulated for their large networks is nothing short of monumental. Is there a way to automate the process and make defining catchment areas both easy and efficient?
Big Data for big franchise networks
Advancements in the field of Big Data are yielding attractive solutions for franchisors in search of integrating new technologies into their business strategies to become more data-oriented. This technology's capacity to crunch multitudes of large datasets at a time has proven to be highly beneficial for franchises whose networks span across different territories and involve many franchisees.
But what happens when this kind of Big Data analysis can be connected to a current or potential point of sale? Taking the data down to a site-by-site basis is what can really give franchisors an extra edge when looking for zones that will benefit the network most. This kind of "Location Intelligence" all boils down to understanding how different factors in a territory affect the performance of a business.
Having objective data that illuminates the unique market conditions of a defined area—whether it be a city, neighbourhood or even a 10-minute walking distance—is a game-changer for the industry. It's this type of shrewd business acumen that could have helped Wimpy restaurants to pinpoint the new trends taking hold of consumers' consciences around their points of sale or allowed Starbucks to foresee that self-cannibalisation as a result of overlapping catchment areas would negatively impact the network.
One thing is certain: the complex challenges of franchising today call for more sophisticated solutions. And those who are capable of gleaning the most value from this "data-driven" landscape will become the food and drink franchises of the future.